4" Double Action Spring Hinge | Saloon Door Hinge (Oil Rubbed Bronze)
SKU:

4HDCOMM ORB

Availability:

Ships Same Day or Next Day

Bulk Pricing:

Below are the available bulk discount rates for each individual item when you purchase a certain amount

Buy 15 - 29 and get 5% off
Buy 30 - 49 and get 10% off
Buy 50 - 100 and get 15% off

Hardware Type:

Swinging Door Spring Hinges

Door Width:

Up to 24 in

Door Width:

Up to 26 in

Door Weight:

Up to 30 lbs

Door Weight:

Up to 50 lbs

Door Weight:

Up to 75 lbs

Hardware Finish:

Oil Rubbed Bronze

Hold Open Feature:

Non-Hold Open

Door Thickness:

3/4 in-1 in

Door Thickness:

1-1/16 in-1-3/8 in
4" Oil Rubbed Bronze Double Action Spring Hinge | Saloon Door Hinge | Cafe Door Hinge | Swinging Door Hinge
These hinges are sold individually.
Standard Shipping is USPS Priority Mail Shipping 2-3 Business Day
This hinge is a 4" oil rubbed bronze double action hinge that is spring loaded and can be used in many application such as: a cafe door hinge, swinging door hinge, saloon door hinge or a gate hinge.
Specifications
• Double action spring hinge which swings door both directions
• Adjustable spring tension returns door to opening at desired force
• Commercial Grade
• Oil Rubbed Bronze Finish
• Fits door 7/8" to 1-3/8" thick
• Holds Doors up to 60 lbs and 2' (24") wide – requires two hinges
• Doors up to 75 lbs. and 2'2" (26") wide – three hinges
These spring loaded hinges require a total clearance of 7/8". If your total gap allowance is less than 7/8" then you will need to mortise the hinges.
Example: 36" wide door opening => Each door (assumes two doors) will be 17.5625" wide. (That leaves enough clearance between the doors and for the hinges to mount)
Hinge Installation Instructions
Quick Shipping!
Here are a few reason to choose Swinging Cafe Door Double Action Spring Hinges:
Competitors' Hinges

Swinging Cafe Door Hinges


Die Cast Hinge Design – Less Precise not as Strong

Columns are smaller at the top and bottom of the hinge

Critical Hinge Components made of Machined Steel producing a more precise and stronger design

Visually more appealing to the eye because columns are all one size

Highest Quality
Swinging Cafe Door Hinge Oil Rubbed Bronze (shown below):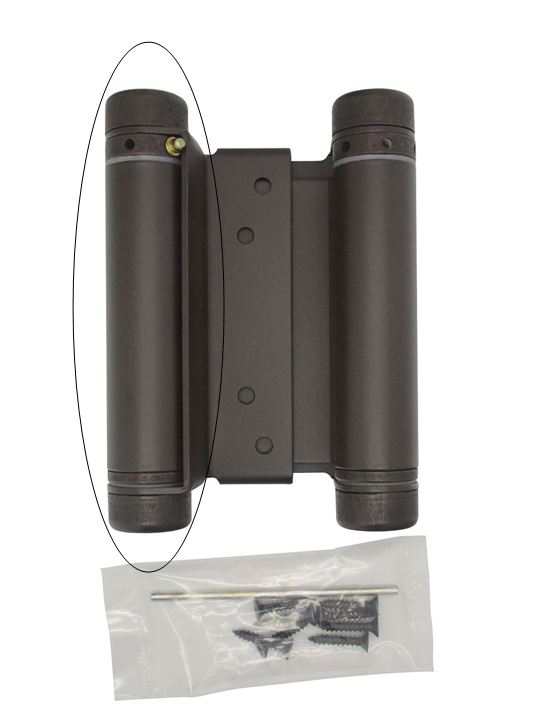 We offer a 30 day return policy, restocking fees may apply.