Modern Interior Doors
The practice of interior design is as old as human habitation. Interior design encompasses many design aspects, including doors.
There are many interior design styles trending today. You'll want to consider all aspects of your interior design, including interior doors.
Are you unsure which doors to use in your contemporary interior home design? Swinging doors are one of the hottest trends right now. But swinging doors come in many styles and it's essential you choose the best doors.
These modern interior doors will make your contemporary home look catalog-worthy!
Double Swinging Glass Interior Doors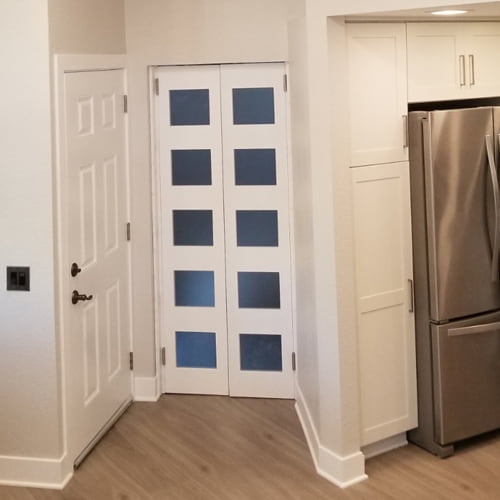 Glass doors are some of the most eye-popping doors in interior design. Glass panels look sleek and match with all interior décor. The glass will also make your room look wide-open and receive more light.
Swinging doors are convenient for the home, specifically a closet or the bathroom. Swinging doors are easy to open and offer hinges that automatically return to their closed position (even offering a hold open feature).
It's best you opt for glass panels instead of an all-glass door. A wood door is sturdier and offers more support. The glass panels will give the door more depth and style.
Double Swinging Interior Slat Doors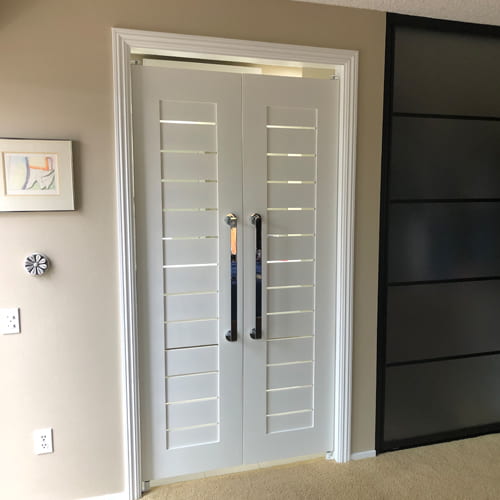 Modern horizontal slat doors display details that create a unique design fit for any room. When you choose a high-quality custom door company, you'll receive doors handcrafted from solid wood.
The modern slats offer clean lines that create a dramatic effect. Sturdy rails and stiles surround the slats, creating a unique texture that you will love. The slats are visible on both sides, allowing for more light and air to pass thru them while also creating a visible barrier. The result is a stunning look for any room in your house.
Slats are eye-catching but are thin enough to still maintain privacy and they will also let light and air in, perfect for a small space.
Double Swinging Contemporary Chevron Doors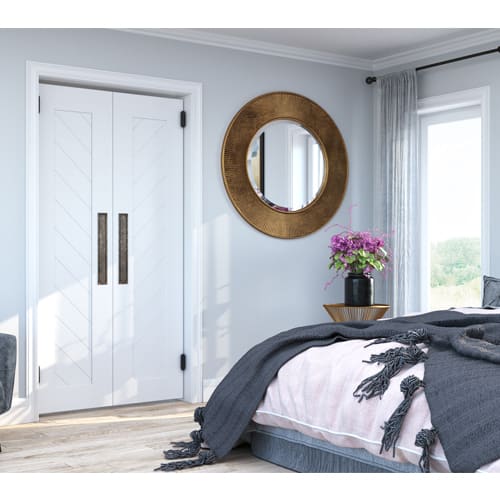 The farmhouse look is a serious trend! If you're redesigning your home for the rustic look, you'll love these double swinging chevron doors.
Chevron is a unique modern design where the slats are an inverted v-shaped pattern. The design itself is simple but adds a little touch of modern elegance to any room.
When customizing your doors, you have many chevron interior door options that can complement your home's interior.
There are plenty of wood options, such as Poplar, Soft Maple, Eastern White Pine, and Red Oak. You can also choose between unfinished and professionally finished doors to achieve the look you desire. The swinging function allows for you to simply push the doors open and the doors will automatically close with the hardware included.
Are You Looking for Modern Interior Doors?
We entered a new year! Is an interior redesign one of your goals? Don't forget the modern interior doors! There are many style options and swinging doors are a serious trend now.
If you're looking for modern interior doors, we offer all of the swinging door types mentioned in this article. All of our doors are customizable.
Are you ready to get a custom door you will love? Get a quote today!