What is a Flush Door?
This detailed guide will explain the differences between flush and panel doors. Plus, some great design options for flush doors.
Doors can be an overlooked design element in your home or room. As you look around doors should be an important element of your design. Adding upgrade doors to your home is a perfect way to increase value as well as add a new design element.
A door is a necessary element, so let's make it a great design element as well. Doors come in a wide variety of styles and materials nowadays. When considering the different design choices, make sure to include a flush door design. Flush doors and panel doors are the most common door design, we will discuss and provide an in-depth analysis of flush doors and their features.
Let's delve into the topic and learn which one you should choose.
Flush Doors
A flush door is a type of door that is consist of a single piece of wood veneer for minimal architectural elements in its construction. Each side is coated in an adhesive layer of plywood, veneer, or laminate. Its simple appearance works well in various settings, including exterior and interior doors including closets, bathrooms, pantries, and bedrooms. These elegant modern doors will add a contemporary feel to your space. These mid-century vibe doors add a minimalist approach to your home/room feel. These doors can either have a solid or hollow base. Due to their luxurious appearance, flush doors are contemporary modern style doors that add to the home's overall modern appearance.
Types of Flush Doors
Interior flush doors are becoming popular again in modern contemporary homes. These simple doors allow for a sleek design in any space. Flush doors are not boring, there is a wide variety of veneers to allow for rich wood tones or bright colors to reflect an ultra-modern décor. The right flush door may make all the difference in the aesthetics of a room, so let's figure out what it is.
Cellular Core Flush Door
The cellular core is created by putting together planks of wood or plywood. Each void does not exceed 25 cm2 in area, and the battens have a minimum width of 25 mm. Plywood sheets or cross bands and face veneers are glued under pressure onto both sides of the core to make the door shutter. These flush doors are most suitable for indoor installation. Therefore, a flush door is the most cost-effective option because of its aesthetic and long-lasting quality. If you're in the market for new doors for your home, familiarizing yourself with the various flush door options is an excellent first step.
Solid-Core Flush Door
This model of the flush door is the industry standard. These entrances are laminated flush doors, another name for them. A solid-core flush door is just what it sounds like: a door with a solid block of wood in the center. Doors with a solid core are more secure and quieter than hollow core doors. The stiles, top rail, and bottom rail on the flush doors are all at least 7.5cm wide. Because of their durable construction, they are an excellent choice for the exterior of a house.
Hollow Core Flush Door
Doors with a hollow core have nothing but a honeycomb framework to hold them together. Frame components for a flush door with a hollow core must measure at least 7.5 centimeters in width, including stiles, top, bottom, and intermediate rails. The core is subsequently covered with either plywood sheets or crossover bands and front veneers glued under pressure. Because of their low weight, these doors are perfect for interior room entrances with butt hinges. Double Swinging and Pivot Doors are also made from hollow core to allow for a lighter yet sturdy door design. The interior frame of the doors are strong and withstand the wear and tear of residential and commercial applications over the years. Hollow core doors are standard in most modern doors interior doors.
The Best Interior Flush Door Designs
All share the desire for an elegantly designed home. Doors are a significant focal point in interior design. A wide variety of sophisticated flush door styles are available for your home. Let's brush up on the finest examples of modern flush doors.
Trendy Polished Wood Flush Doors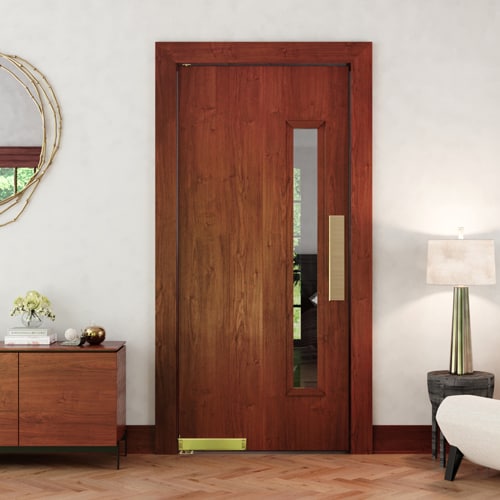 A polished wood flush door can't be surpassed when it comes to beauty. Traditional and contemporary aesthetics are equally present in the flush doors' polished wood design, which features a smooth surface on both sides. Painting your front door with a glossy wood coat makes a stunning overall impression. The door's polished wooden frame accentuates sophistication. The Mid Century Contemporary 1 Lite Flush Swinging Pivot Butler Door is a perfect example of a finished wood contemporary door look.
Natural Texture Flush Doors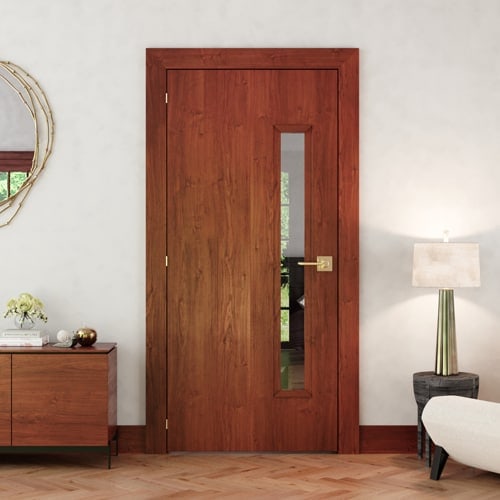 Want to give your home a unique interior?
Then, when planning the rest of your home's decor, keep a flush door design with natural textures in mind. This will be appropriate for a home with a rustic or boho design theme.
Colorful Flush Doors
A stylish color flush door is another great design idea for a door that may go with any interior design style. Depending on your whims, the colors can range from grey to white to light blue to teal and beyond. It is possible to apply these hues with a matte or glossy finish. Each of these colorful doors will be a welcome addition to the simplicity of your flush doors. The Mid Century Contemporary 3 Lite Flush Swinging Pivot Butler Door will make an entrance look elegant with its clean simple lines.
Simple Yet Elegant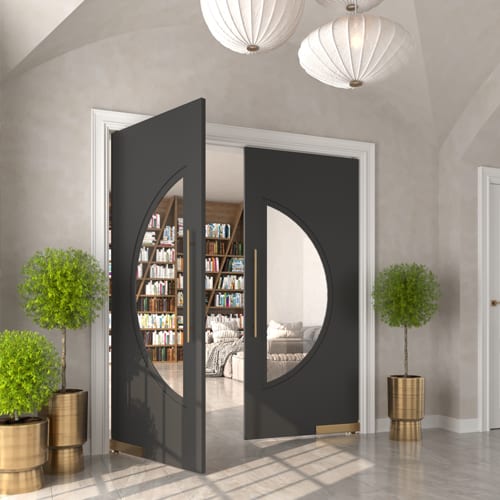 You may have dreamed about decorating your home in a cottage style. This can be done with a simple flush door design. A natural hardwood treatment in contrasting brown and greyish tones can lend your home an unfinished, architecturally appealing look. The Lunette Sunburst Modern Half Moon 2 Lite Flush Swinging Pivot Door can be installed as single or double doors, these large opening make a bold modern statement.
What is the difference between flush and panel doors?
Many of you are confused between flush doors and panel doors.
Let's separate the two of them.
A Flush door has a smooth, uninterrupted surface without any panels or decorative trim. Panel doors have rails, stiles, and raised or shaker panels are the essential wood joinery components used to construct a panel door.
It's been found that flush doors are excellent soundproofing measures, whereas panel doors are just not.
In terms of aesthetics, panel doors are superior to Flush doors.
In contrast to panel doors, flush doors offer protection against termites.
There is a significant price difference between Flush and Panel doors.
Flush doors are simple to produce. Panel doors are intricate in design, and their production is time-consuming and labor-intensive.
Compared to Panel doors, Flush doors are less of a hassle to keep tidy.
Final verdict
Now that you've read this detailed analysis of flush doors, you should be able to comprehend why they're so popular in modern residential construction. People want beautiful homes with varied-style flush doors since they are easy to make and last a long time. The production process for panel doors is more time-consuming and costly than flush doors, yet the former is universally preferred. That's why so many people find flush doors to be ideal. You can use any flush door, whether inside or outside your house.