Why Saloon Door Baby Gates are a Must Have
Besides providing the perfect safety tool to prevent your little one from danger, discover the plethora of benefits that saloon door baby gates provide.
In the United States, people had 3.8 million babies last year. Learn about why saloon baby gates are the best option for parents with small children.
When people become parents, they become more concerned about safety and quality. Many people don't realize this, but standard baby gates aren't so great.
Saloon-style baby gates have much more to offer than generic baby gates. You and your child deserve the best, so why continue to miss out?
Here's why you need saloon baby gates:
Saloon Doors 101
What are saloon doors? Saloon doors are a set of 2 doors you can enter from either side. The hinges are bi-directional so the doors can swing both ways easily.
Saloon doors are also known as cafe doors.
Saloon doors are similar to dutch doors. However, dutch doors are split horizontally. Saloon doors are split vertically down the middle.
You might recognize saloon doors from their namesake: saloons. Nonetheless, saloon doors have evolved and now come in many different forms. This now includes baby gates.
Saloon-style baby gates are the answer every parent has been waiting for.
Saloon Baby Gates Are Stronger
Most tension baby gates are flimsy. All it takes is a little pressure for this kind of gate to fall over. You have to keep putting this baby gate back in its place for it to work.
Meanwhile, saloon baby gates stay in whatever place they're installed. They're also made with more sturdy materials than other baby gates are, solid wood and tongue and groove construction.
The fact that saloon baby gates are stronger supports the following point:
More Security and Safety
As a parent, it's important to make sure your little one stays away from stairs and other hazardous places. Saloon baby gates are your best bet for safety.
Due to their strength, saloon baby gates are more secure than traditional baby gates. Thus, saloon baby gates do a better job at keeping your young one in a safe place.
Even babies can sometimes figure out how to get past a regular baby gate. The chance of this happening is less likely when you have a saloon door baby gate with a latch. Saloon door baby gates are also easier for parent or grandparents to operate. The saloon doors can be pushed open, which avoids having to climbing over a standard baby gate.
More Style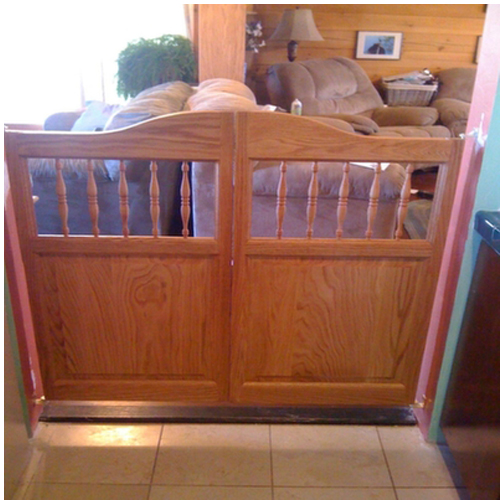 Regular baby gates don't offer much variety. That's because they're not usually designed with aesthetic appeal in mind.
One of the benefits of saloon doors is how many different designs are available. The same applies to saloon baby gates.
Saloon baby gates come in a greater variety of colors and designs compared to regular baby gates do. Plus, with custom made doors, you can even choose a design of your own. Saloon door baby gates can be custom made to perfectly fit your current door opening, no additional shimming or cutting necessary.
Play It Safe For Your Baby's Sake
Each year, stair falls result in over 1 million Americans getting injured. Saloon-style baby gates are important because children under 3 have some of the highest stair-related injury rates in the country.
Saloon baby gates also benefit your pet. They're good for keeping pets out of certain areas.
Stay safe and stylish: Get a custom quote now. It's the best decision you'll ever make. Learn more about Saloon door baby gates