Saloon Doors: The Benefits of Swinging Kitchen Doors for Home or Business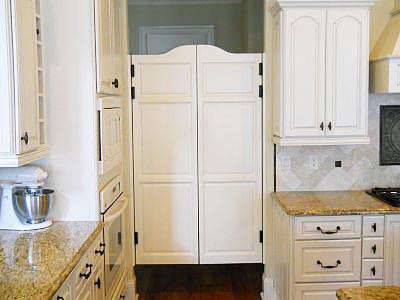 Saloon doors can offer a range of benefits. Whether its swinging kitchen doors or cafe doors in the home or business, we look at the key benefits of these doors.
When you're looking for a functional and fun upgrade to your kitchen or restaurant, you really can't go wrong with saloon doors. Whether you call them swinging doors, swinging kitchen doors, saloon doors, or cafe doors they provide the same function. Double action hinge doors, that self return to center allow for great function for swinging kitchen doors.
These swinging kitchen doors are an excellent touch whether you need to spruce up your home kitchen or give your coffee shop some pizazz. However, you need to learn as much as possible about these doors to be sure you're getting the best results.
Follow the tips below to learn more about the benefits of saloon doors and how they can be an asset to your property.
Swinging Kitchen Doors Are Fun and Allow Traffic to Flow
If you'd like a break from the norm, you can't go wrong with saloon doors. Installing a set of these cafe doors for your home or cafe allows you to add some charm, while also enhancing the flow of traffic.
These doors open and close easily so that you can get in and out without spilling your food or drinks. They are a virtual must-have for your restaurant kitchen if you constantly have waiters and waitresses milling about. The doors required no handle to open, the saloon doors can be pushed open. The doors also self-return to center.
By getting better control of your traffic and enhancing the look and feel of your kitchen, it frees up space and reduces the chance of accidents.
These Doors Are Efficient and Cost-Effective
One of the best features about swinging kitchen doors is the easy operation of our saloon door hinges, either gravity or spring hinges. Swinging Cafe Doors offer a wide vareity of saloon door hinges.
Getting in and out with ease lowers stress and confusion on your property while preventing accidents.
What's more, these doors are incredibly cost-effective. Since they can be custom built, installing swinging kitchen doors completely eliminates the need for trimming or shimming, which saves you lots of money. Easy installation with no extra prep work required.
It Gives a Stylish Feel
Flat out, installing saloon doors are worth it for the upgrade in style alone. Imagine having saloon doors for your man cave. Not only do you have a sanctuary to watch the game, but you can also do it in style by adding the accents and touches that truly make this room your own.
These doors can be custom built to give a western feel or a bit of the Modern Classic Style. This versatility allows you to breathe new life into any room. The doors are custom built for your opening. You can customize the material, door opening size, door height, hardware and hardware finish making them a perfect match for your home or business.
The doors add a level of personality that you just won't get everywhere. Before you get an installation, make sure that you're looking at door styles and color schemes until you find exactly what you need.
Shop for the Best Doors on the Market
Now that you know the sheer value of swinging kitchen doors, what's stopping you from taking the next step?
To install these saloon doors for your home or business, you'll need assistance from professional door experts. Here at Swinging Cafe Doors, we have all the information and inventory you could possibly want.
All you have to do is take a look at our website to get a feel for what we offer.
Stop by our site, get a free custom quote and touch base with us for more information.