5 Things You Need to Know About Swinging Doors
Swinging Doors come in a variety of styles, sizes, and finish options. This new "trend" will allow your doors to speak and swing for themselves. Swinging doors will add some flair as well as function to your door opening. Saloon doors are great options for narrow, wide, awkward, or normal openings. These saloon style doors are great for bathrooms, laundry rooms, bedrooms, kitchen, or flex space. There are endless possibilities for a stylish or funky swinging door.
1. Function of Swinging Doors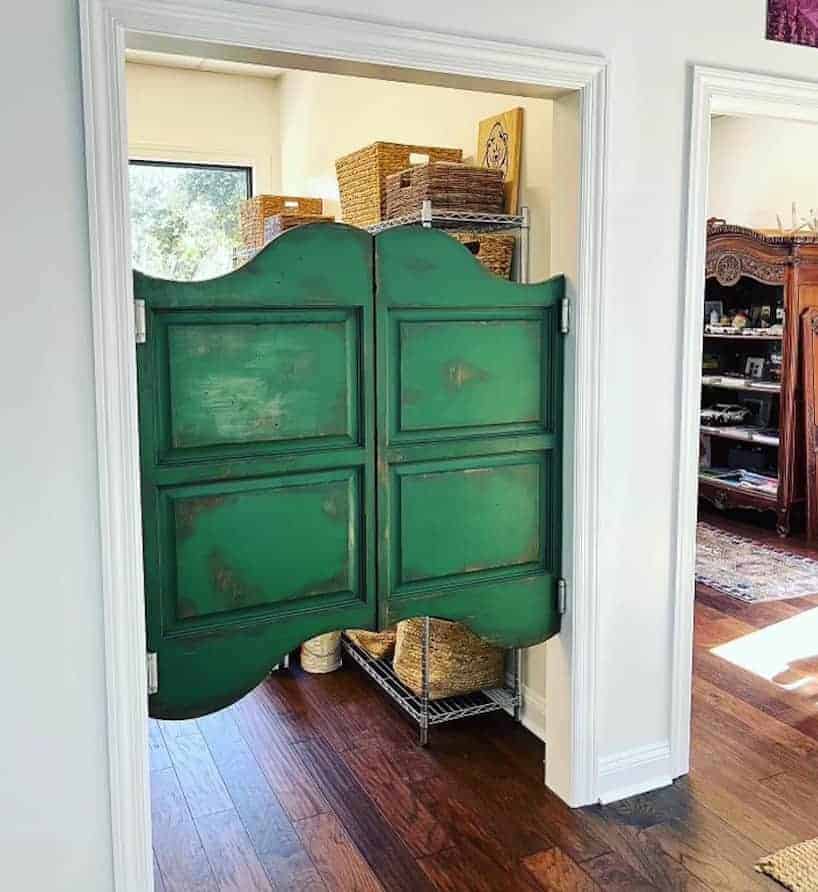 These double swinging doors use double action hardware in an opening allowing for dual swing doors, with an automatic return to center. These doors can function will ease in any space including bathrooms, pantries, closets, or kitchens. These doors can be installed in a variety of settings, including narrow or wide openings, and are available in a range of styles and finishes, including swinging wooden doors. Saloon doors need to be attached to stud or trim boards, but no traditional door jamb is required. The ease of use and installation make saloon doors great options for your interior door project adding some privacy and separation of space. Swing doors can be double or single swinging doors. Double swing doors are a popular choice for homeowners who want to add some flair and function to their interior doors.
2. Ease of Use
One of the key benefits of double swing doors is their ease of use. They can be installed without a traditional door jamb, which makes them a great option for those who want to avoid complex installation processes. Double swing doors can be used to provide easy access to any room or space and can be customized to meet your specific needs.
Do you have a door that is never closed? An interior swinging door is a door that swings back and forth to the center closed position. These double swinging doors can be installed in laundry rooms, bathrooms, kitchens, pantries, etc. The doors will allow you to walk thru in either direction or then the door will swing back to close. Several double action hinges allow for a hold open feature at 90 degrees in either direction. These hinges will ensure that the doors are closed and can help to add privacy or conceal prep spaces. The gravity hinge on swinging wooden doors offers a soft gentle swing that is perfect for either residential or commercial applications.
3. Unlimited Design Options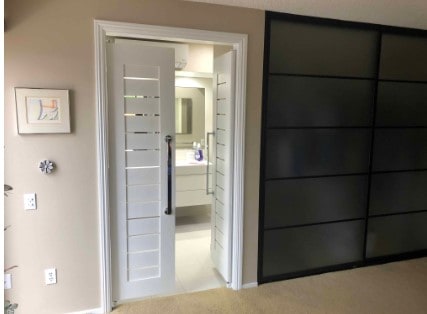 Saloon doors no longer look like you are walking into a western saloon. These swinging doors can have glass panels, shaker panels, raised panels, etc. Maybe you will match your current door design or go for a unique door design. Swinging Café Doors offers over 80 swinging wooden door designs, these designs can be further customized by wood species, door width, door height, and hardware options. The doors will be a perfect fit for your opening and style. Our door style can also be combined in a custom quote to ensure the perfect design is possible. Whether you pick a full-length swinging door or a saloon style swinging door, we can help you design the perfect one.
Some popular options for double swing doors include bi-swing doors, double swing pantry doors, and interior double swinging doors. These doors can be installed with a range of hardware options, including dual swing door hardware, to provide added durability and functionality.
4. Custom Made for Your Door Opening
Swinging doors are installed into an existing door jamb, a new door jamb, or a hallway or untraditional opening. Since these openings are not pre-construction sizes, offering custom size swinging doors to ensure the best fit. We recommend that doors be installed into the wood if possible, adding trim boards can help in non-traditional openings. To ensure a perfect fit we would recommend measuring at the top, middle, and bottom. The doors will be made to the smallest of measurements to ensure they fit and can swing back and forth.
5. Simple Easy Installation
Swinging Café Doors helps to design the doors, build the doors, and prep the doors for installation. Swinging doors can be installed into your current opening, no construction, full jamb is required. Once the doors have arrived you can review the instruction and any video to help with installation. With swinging hardware, alignment is one of the most important factors when installing the doors. Once the doors are aligned and installed you can start enjoying your new doors.
Overall, if you are looking for a stylish and practical solution for your interior doors, double swing doors are a great choice. They offer endless design possibilities, are easy to install, and can be customized to fit your specific needs. Learn more about the total swinging door experience from Swinging Café Doors. We are experts with double action hinges and swinging doors. Let us help you have the best swinging doors possible.