Best Tips to Designing a Closet to Maximize Space & Style
Your closet is the first thing you see before you head out the door, and the last thing you see before going to bed. But if your closet looks like a bomb went off in there, it's probably not giving you the warm and fuzzy feelings it should.
Closet organization is all about making your life easier, so that means there is no "one-size-fits-all" solution. You have to find an approach that works best for you, which can be different from someone else's approach. With these tips, though, you will be on your way to an organized, planning, and achieve a clutter-free closet.
Purge Unworn Clothes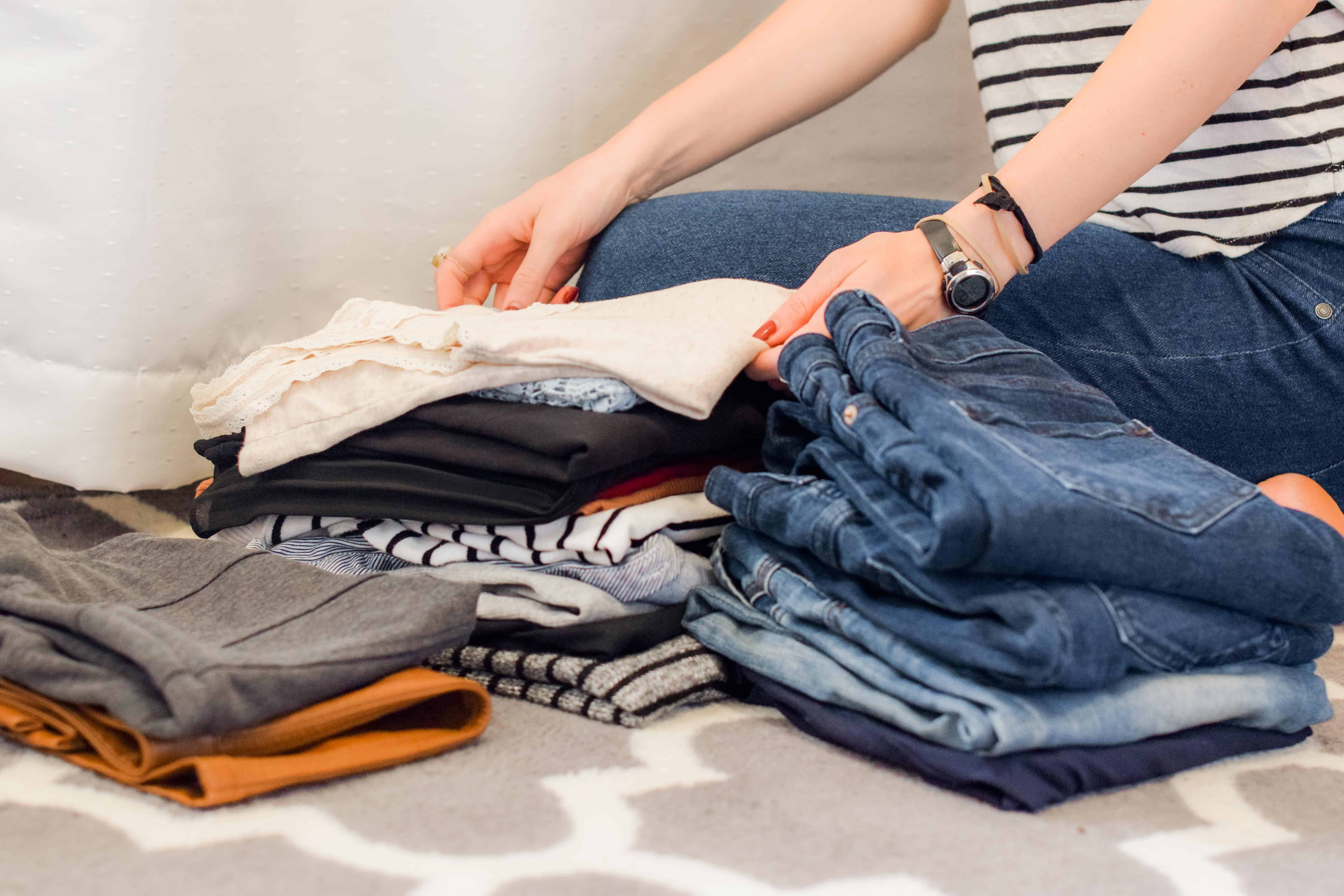 The first step toward a more organized closet is getting rid of anything you don't use or love. You may have spent good money on clothes that just aren't doing it for you anymore, but if they're not adding value to your life, they need to go! Start by removing everything from your closet and only replacing items that are still useful. Think about donating clothes that are still in good shape so someone else can benefit from them. Knowing that the clothes will go to good use can help to help purge your closet.
Create a Zone for Each Item in the Closet
In order to keep your closets organized and accessible, it's important to think about how you're going to use each section of your closet. For example, if you have a small closet, consider making a "zone" for each type of item you plan on storing in there—this way, you know exactly where to look when you need something specific. You can create zones by using hanging rod dividers or even just putting items into labeled bins and baskets. This will also make it easier to access what you need without having to dig through everything else.
Create a zone for each item in the closet. Purses, hats, shoes, sweaters, pants—each of these items has its own zone. Keep them separated and grouped for easy access.
What will you need to complete the space?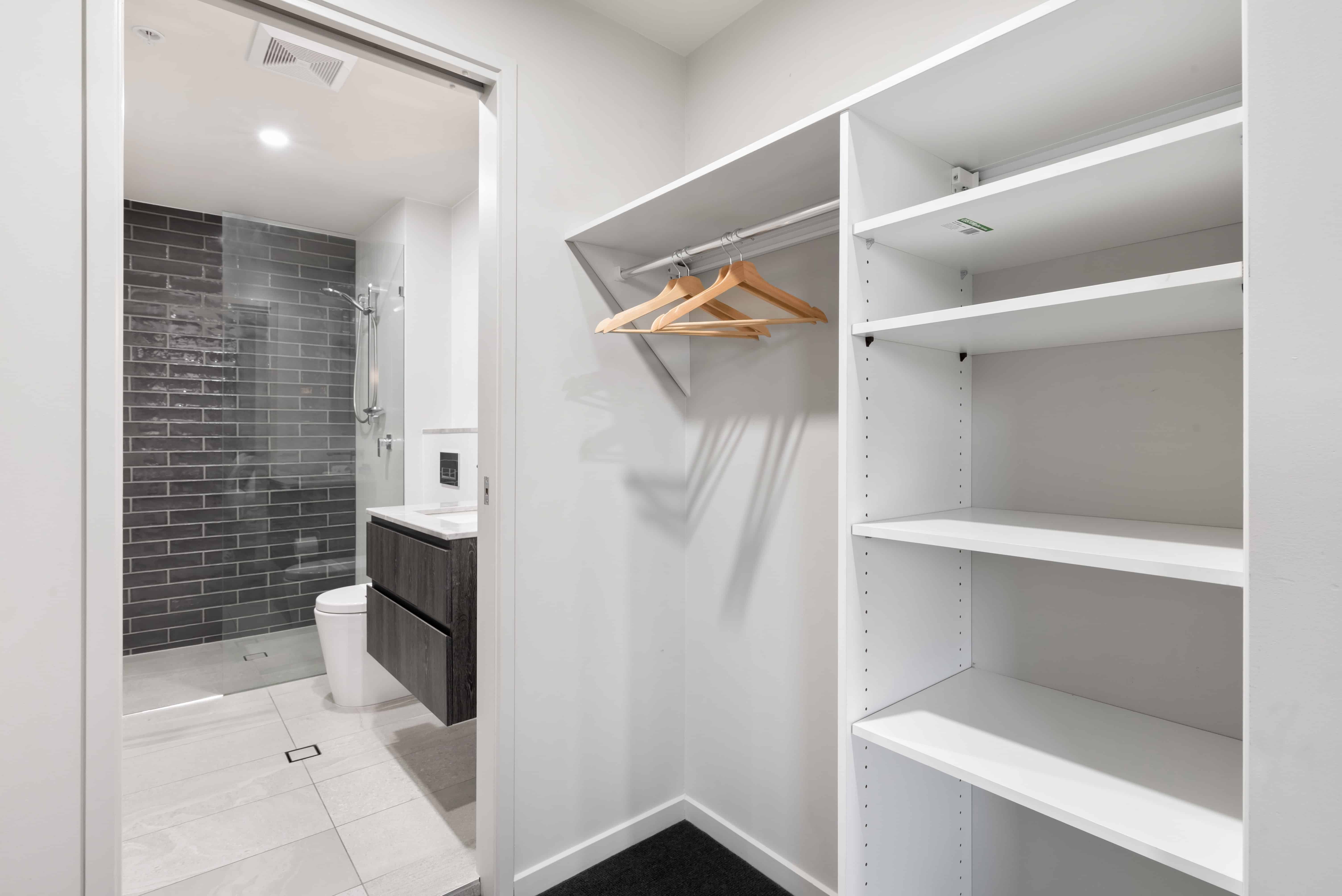 When you're planning to tackle a project like closet space, you need to think about the things that you need to have in order to complete this project. Below we recommended some of them:
● Rods, shelves, and organizational bins are essential for any closet makeover. Without these elements, you won't be able to organize your clothes neatly.
● Lighting is also a must-have. The best lighting option would be strips of LED lights that can be mounted or placed on the floor of the closet.
● Decorative design elements are helpful if you want a more welcoming atmosphere when opening up your closet. You could add some flowers or even a small rug.
Planning the Space
Planning your closet space can be an easy project to tackle without breaking the bank. You might start with updating your current closet and making it a beautiful space that you love is a great way to change the mood of your room. Adding updated fixtures, freshly painted walls or even new shelving will change the space entirely. These updates will change the space entirely. Incorporating your style into this space will also allow you to feel more at ease when getting dressed, or when organizing and cleaning.
Here are some design elements you can add to maximize space and also style in your closet:
1. Wallpaper- Wallpaper can give an otherwise bland or boring space an infusion of personality. You can also use wallpaper in just a small section of the closet or just as a patterned accent wall.
2. Decorative Items- Decorative items like baskets, statues, and mirrors can add interest to your closet while also serving a functional purpose.
3. Throw Rugs- One way to maximize closet space is by using rugs to cover the floors. If you have a large closet, you may need multiple rugs to cover the floor area. Also, be sure to choose rugs that are made from materials that are easy to clean and won't trap dirt and dust between fibers.
Adding Organizational Elements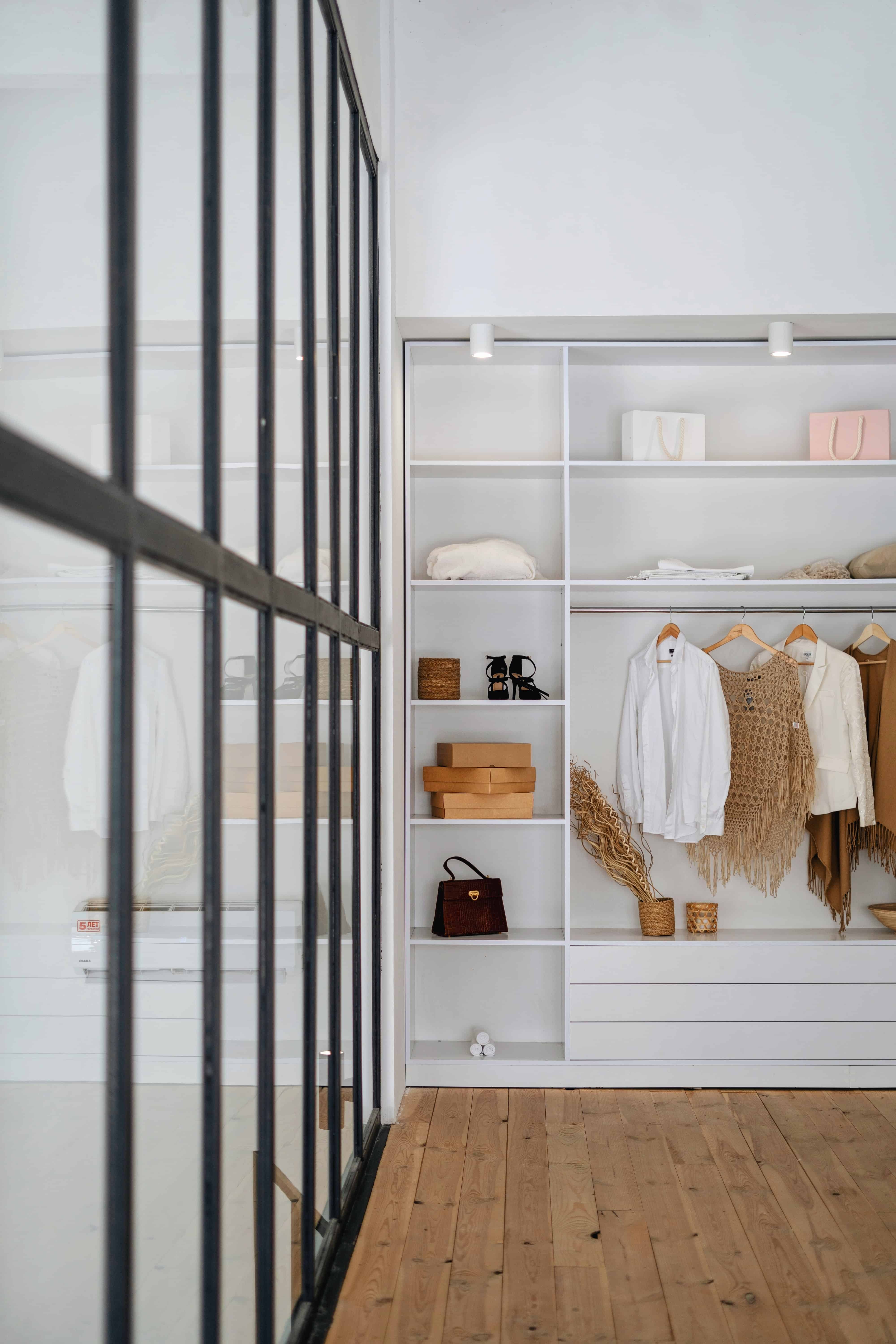 Here are some of the most common organizational elements for closets, and they can be used in a variety of ways to optimize your closet space.
Cubes
They can go on the floor, on a shelf, or hung up (you may need to drill holes into the wall for that one). You can use them to organize your shoes, purses, scarves, hats… anything you're willing to fold up and stick into one!
Shelves
Shelves are an excellent alternative to hanging rods if you want more room for extra storage. Since shelves are flat, you can easily store sweaters, jeans, and other items that get hung up in the way of clothes on hanging rods. If you have an irregular-shaped closet space—one that's too narrow for a shelf or cube unit—you can also build custom shelves out of planks of wood that fit perfectly into the space, you need.
Hooks
Hooks are great for hanging up bags, scarves, ties, or anything else that would otherwise take up too much space on a shelf or in a drawer. While standard hooks will work in many cases, some people find it helpful to use special hangers that can hold multiple bags or ties together.
Drawers
When you're sorting your clothes into piles, drawers can be a great way to ensure that like-minded items stay together. Use them to store socks and underwear, or as a place to keep your belts and ties.
High Storage
If you have a lot of vertical space in your closet, make sure to take advantage of it! High storage is great for lightweight items like sweaters and t-shirts that can easily be stacked.
Create Racks/Rods
If you hang up most of your clothes after you wash them, racks and rods are the way to go. You can use them to organize seasonal pieces as well - just swap out the contents of your hanging closet components every few months!
Bins
Bins are great for two types of items: items you don't want people to see (like extra toiletries), and items that don't hang or fold well (like bulky blankets).
Design Elements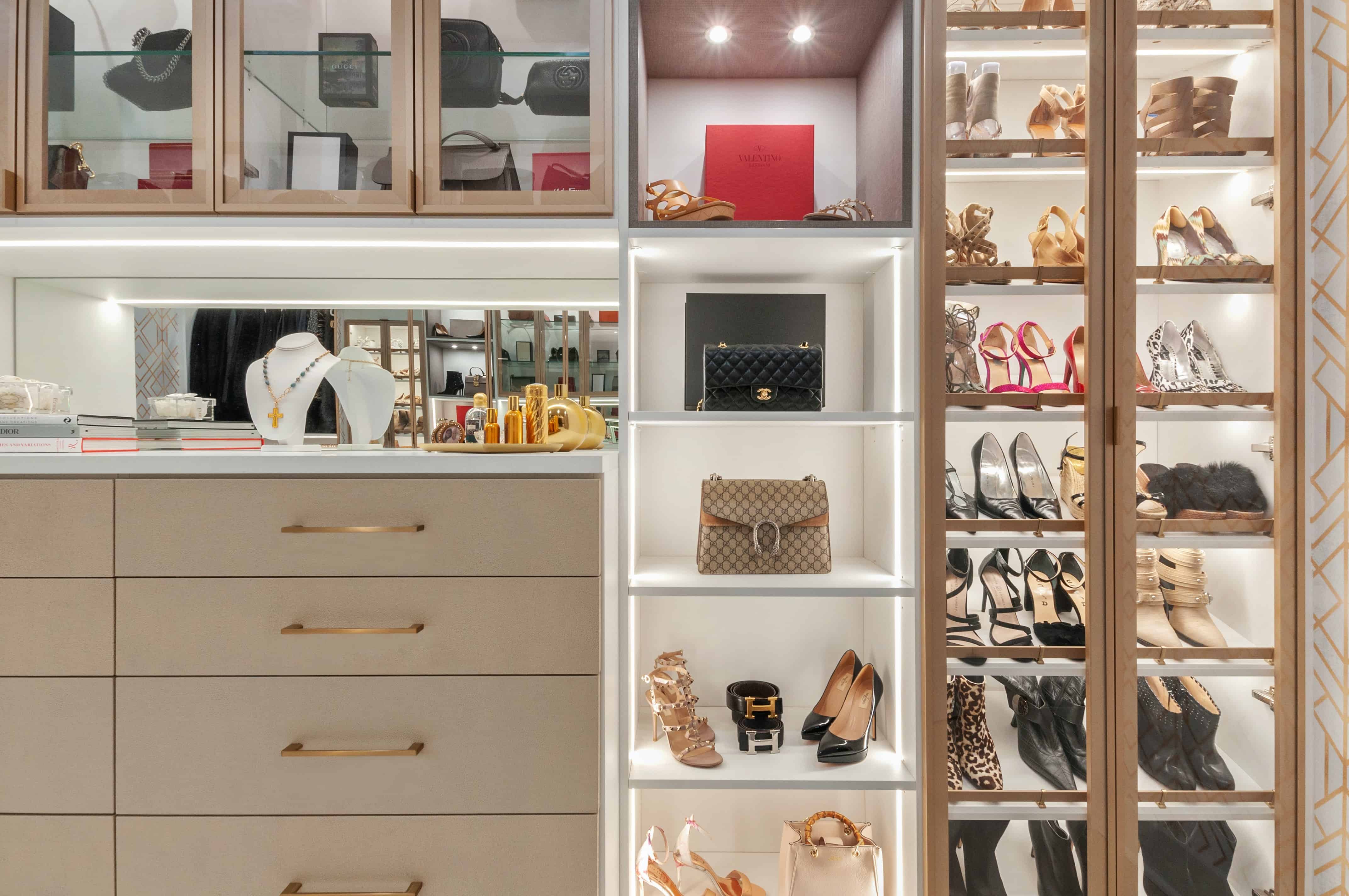 Closet design is about more than just how well your dresses hang. It's about the whole experience. We've compiled some of our favorite closet design elements to help bring the magic alive.
Jewelry Showcase
If you have a large collection of jewelry—or if you aspire to one day have an impressive collection—a jewelry showcase is an absolute must-have for your closet. With glass display cases and floating shelves, there are so many different ways to display your necklaces, earrings, and bracelets.
Lights
Don't underestimate the power of lighting when it comes to revamping your closet. Lights brighten up the space, making it easier to navigate. They also improve visibility so that you can really see what you have when selecting outfits.
Mirrors
Maybe even more important than lighting is how it reflects off of mirrors! Make sure to include plenty of mirrors in your closet so that you can see how gorgeous you look from every angle!
The doors to your closet are important. You want to get dressed in the morning, so you need easy access! You also need to make sure that the doors don't take up a lot of space or you'll never be able to get into the room.
Swing doors are a great option for closet doors because they open fully, so you can easily see what's inside, but they also don't take up a lot of space in your room. They're a great way to make sure you have easy access to your clothes and are practical for any size closet!