Arch Top Raised Panel Saloon Doors | Swinging Café Doors
SKU:

SXPP24-60-38H-80H

Custom/ In Stock:

Custom Made

Material:

Poplar

Material:

Pine

Material:

Ash

Material:

Soft Maple

Material:

Red Oak

Material:

Sapele

Material:

Rustic Alder

Material:

Cherry

Material:

Red Oak Stained

Material:

Pure White

Material:

Snowbound

Material:

Creme

Material:

Proper Gray

Material:

Gauntlet Gray

Finished:

Stained

Finished:

Pure White

Finished:

Snowbound

Finished:

Creme

Finished:

Proper Gray

Finished:

Gauntlet Gray

Door Opening Size:

Door Openings Between 24"-36"

Door Opening Size:

Door Openings Between 36"-42"

Door Opening Size:

Door Openings Between 42"-48"

Door Opening Size:

Door Openings Between 48"-54"

Door Opening Size:

Door Openings Between 54"-60"

Door Style:

Raised Panels

Door Feature:

Arch Top

Door Style:

Full Length
SOLID WOODEN RAISED PANEL ARCH TOP WESTERN SWINGING CAFE DOOR / SALOON DOOR SET
for any 24"- 60" door opening
Doors will be custom made to fit any door opening between 24" - 60". We do the hard work for you.... we will calculate the correct door sizes allowing clearance for the hardware and between the swinging doors. Sending you a ready to hang set of beautiful doors perfectly sized to fit your opening. No cutting, shimming or demo work required.
Select door height from options listed above. The default height is 38" (at the tallest point).
Purchase includes a pair of doors as shown in the image.
Raised Panel Arch Top Saloon Door Featu

re

s
• HAND CRAFTED from SOLID WOOD- Many Wood Options to choose from
• Raised Panels on both sides of the doors
• Strong 1 3/8" Thick Doors
• Custom Made to fit your opening and delivered in Perfect Condition
• Doors are Made in the USA in a small woodshop with American Hardwood!
• Easy to install
• Doors are completely sanded and ready for you to paint or stain unless you opt to choose our stain upgrade (for Red Oak only), or our professional paint upgrade (for Maple).
• For Home or Business
• Provides privacy, yet allows light, air, & conversation
• Doors swing both ways & automatically returns to center
Raised Panel Arch Top Saloon Door Wood Material (See Examples Above)
All doors are custom created using the finest natural woods available and are finished by hand.
• Poplar– A strong hardwood that is creamy white in color and may include streaks varying from pale yellowish brown to olive green (Paint Grade)
• Eastern White Pine - Commonly has knots and is a pale brown, with occasional reddish brown streaks (Stain Grade)
• Ash – A light color to nearly white with heartwood varying from grayish to light brown. The wood is generally straight grained and uniform in texture (Stain Grade)
• Red Oak– Medium range of color variability from lighter tan tones with pinkish highlights to darker browns. (Stain Grade, Professional Staining Available)
• Soft Maple- Mostly straight grained with sapwood is light blond, with a grey cast sometimes; heartwood color varies from light to dark reddish brown with occasional dark brown flecks (Stain Grade)
• Sapele– An African hardwood, highly sought after and similar to Mahogany. Sapele's colors are slightly redder than that of Mahogany (Stain Grade)
• Professionally Finished Doors- Maple wood will be painted with lacquer paint spray finish - Pure White- Sherwin Williams 7005, Snowbound- Sherwin Williams 7004, Proper Gray Sherwin Williams 6003, Gauntlet Gray-Sherwin Williams 7019 Custom Color - We can match any Sherwin Williams color. Red Oak Stained- minwax stain colors. Natural (209), Golden Oak (210B), Provincial (211), Red Oak (215), Puritan Pine (218), Ipswich Pine (211), Sedona Red (222), Colonial Maple (223), Special Walnut (224), Red Mahogany (225), Early American (230), Gunstock (231), Red Chestnut (232), English Chestnut (233), Cherry (235), Fruitwood (241), Golden Pecan (245), Pickled Oak (260)

Raised Panel Arch Top Saloon Door Hardware

(See Examples Above)- All hardware is double action; allowing the doors to swing in both directions and self return to center
• Standard Gravity Hardware- Hinges available in Brass, Satin Chrome or Oil Rubbed Bronze
• Premium Gravity Hinges- Heavy duty hinges includes "hold open" feature (Brass Finish only)
• Commercial Grade Spring Hinges- Non-Hold Open, adjustable tension; Available in Brass, Gloss Black, Satin Chrome, & Oil Rubbed Bronze
• Commercial Grade Gravity Hinges- Allows for wider doors and includes "hold open" feature; Available in Brass, Gloss Black, Satin Chrome, & Oil Rubbed Bronze
Raised Panel Arch Top Saloon Door Upgrades
The following upgrades can be added to your cart with this set of doors. (Scroll down to the bottom of this page to choose from the options below or Click on "Saloon/Cafe Door Upgrades" sub-category at the top of the page under DOORS.)
• Commercial Grade- 30% Stronger Doors
• Trim Boards- to finish your door opening, trim boards will be fastened to the wall; the door hardware will to be fastened to the trim boards
Customer Testimonial
Customer ordered Poplar wood with 60" Height and Commercial Grade Spring Hinges. "Thanks Todd for all your help. Doors are beautiful." -Troy, MI
Customer ordered Poplar Wood Doors with 60" Tall upgrade Franksville, WI
Customer order Poplar Wood Doors "They were installed as bathroom stall doors... Thank you again for everything."-Woodstock, NY
Customer order Poplar wood doors "I'm very pleased with the saloon doors that we ordered from you. They arrived in a timely fashion, were well packed, and are very well made. We wanted something that would showcase the nice stone work in our shower and these doors do well. I will most definitely order from you in the future." - Newcastle, OK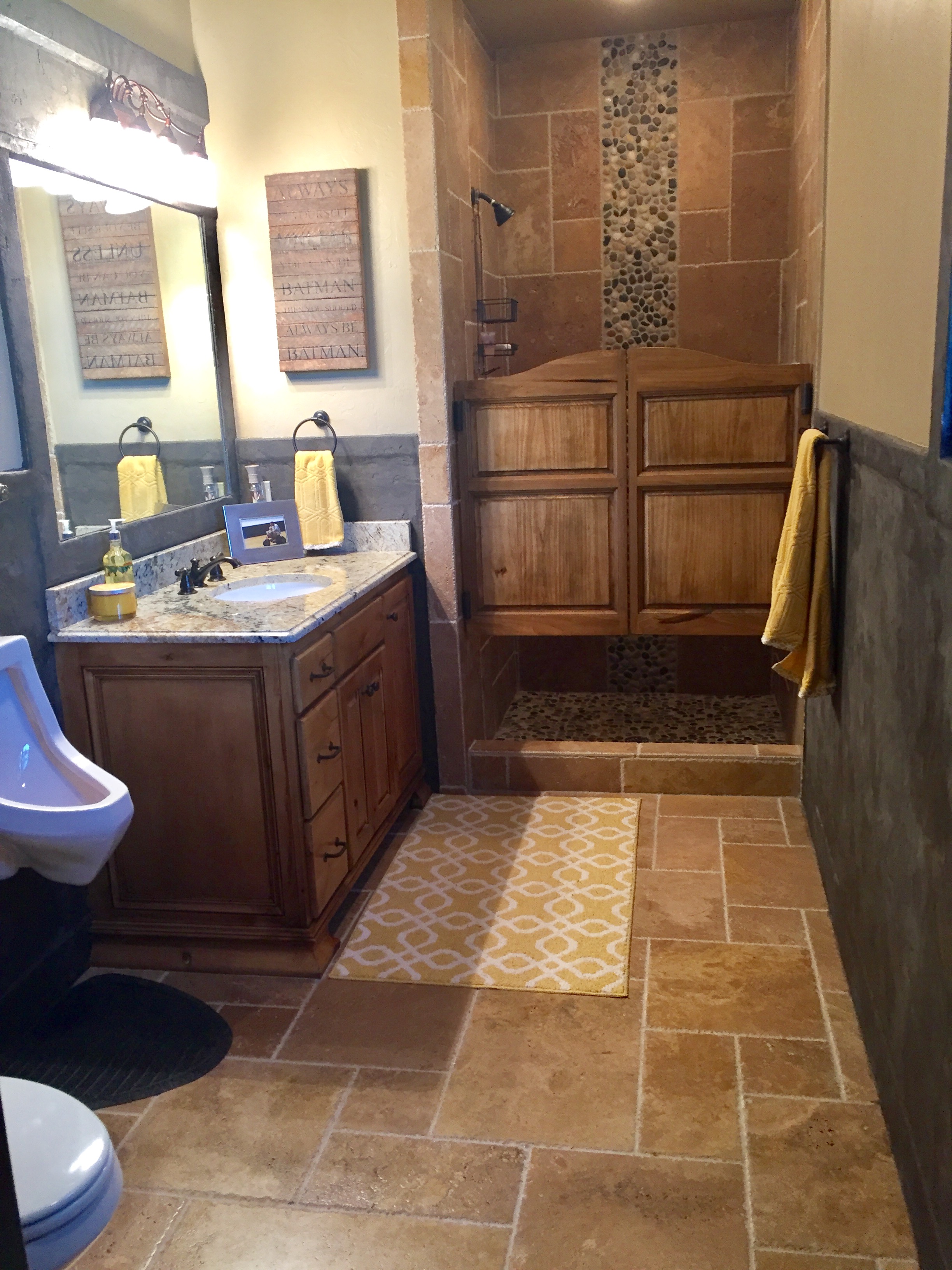 "Here are a couple pictures for you to share, if you'd like, of the doors we installed at Newnan Country Club."-Norristown, PA (Doors over 54" wide are double panels in width)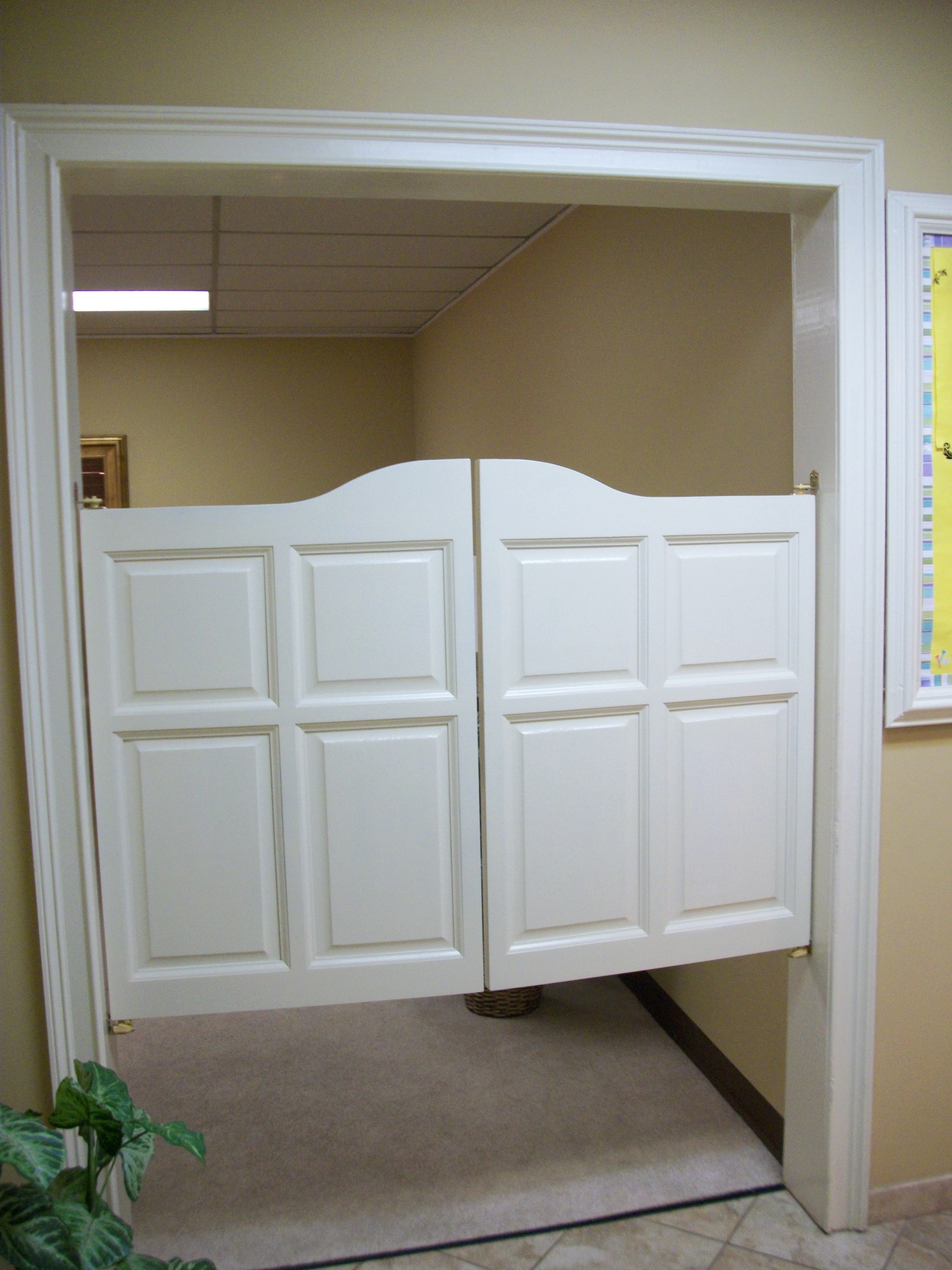 An example of Stained Oak Arched Top Door installed in a restaurant.

Custom Designed for one of our customers! Full Length with Arched Top "Here are few picks for your archive." -Glendale, CA
"Doors arrived today, and they look very good -- very nice proportions with the extra-wide rails." -Yorktown Heights, NY