5 Mid-Century Modern Door Ideas to Elevate Your Home
Mid-century modern doors can be the perfect way to uplift both the architecture and interior of your home. Initiated in the 1950s, the style maintains a timeless charm that impresses even today. From giving the perfect finishing touch to your Mid-century-inspired abode to adding more character to your space, Mid-century doors can give the perfect punch to your home. The doors are characterized by clean lines and crisp details that allow you to make a big impression on the entrance or lend a stunning update to your interior space. Following are some great mid-century modern door ideas to elevate your home.
Combine Wood and Glass for classic Mid-Century appeal:
Exploring a wide range of materials, Mid-century designs stand out with a mixed use of materials. One of the most classic mid-century inspired combos remains wood and glass. Opt for wooden doors with glass inserts to bring modern character and functionality to your home.
The opacity of wood creates a visual contrast with the transparency of glass to offer added dimension and style. A wooden door with glass inserts can open a wide range of design possibilities to bring Mid-century flair to your home. The combo also delivers elevated functionality. Glass inserts can be a great way to visually connect rooms. Upon the entrance, glass inserts can flood the entryway with natural light. It can also be a great way to brighten up rooms that have less natural light. Offering Mid-century century charm, visual connectivity, and natural light, wood and glass doors can be a great option for your home.
Embrace linear details and crisp lines:
Mid-century modern designs heavily rely on clean and crisp lines. Doors with linear details can offer a modern touch to your home. Opt for doors with strong vertical or horizontal lines. You can use glass inserts, paneled doors, or even wooden slats to add linear detailing to the door. The linear details can be a great way to bring a sense of order and rhythm to a modern space.
Mid-century modern doors also incline towards modular patterns and cutouts to offer a crisp and linear look. A door with a square or rectangular grid instantly delivers Mid-century vibes. You can arrange square-shaped, glass inserts in the center or all over the door. A paneled door with a modular pattern can also accentuate the clean lines to make a modern statement. Opt for doors with linear or modular details to echo the architectural style of the era and add visual interest to your space.
Give a Mid-Century refresh with sidelights:
One of the most common design features of Mid-century doors remains sidelights. It refers to the stationery and vertical glass inserts within a door. Generally, sidelights are narrow and long, covering more than half of the door's height. It can be arranged symmetrically on either side or only be placed on one side of the door. Adding sidelights to a door can bring Mid-century charm and elevated functionality to a space.
Sidelights remain a hit with front doors. Allowing natural light, the design feature is perfect for brightening up an entryway. If you have a privacy issue, consider using stained glass. Sidelights in an exterior door can also be a great way to connect the indoor or outdoor space. While front doors usually employ two symmetrical sidelights, an interior door can benefit from a single sidelight. It can be a great way to add dimension and linear character to your space. Sidelights within an interior door can visually connect rooms and allow them to share natural light.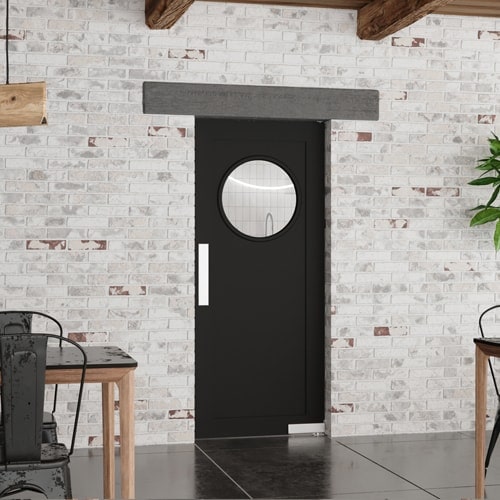 Make a visual impact with bold geometric shapes:
Besides linear details, Mid-century modern doors are also characterized by the use of bold geometric shapes. Pure geometric shapes and cut-outs can bring added interest and charm to both your interior and exterior doors. One of the most common and popular shapes seen in Mid-century designs is diamonds. Continuing the clean lines, diamond-shaped cut-outs can bring modern drama to your door.
If you are willing to make a bold statement, then opt for a circular cut-out. A circle can create a beautiful contrast with clean lines of the door, making a stunning impact. A great idea remains to arrange a circular glass insert in the middle of a double door. This way the door maintains drama and integrity even when you swing open one side. You can also asymmetrically arrange a semi-circle upon the door to add a stunning visual to the space. If you are willing to make a statement, then doors adorned with geometric shapes can be the perfect option.
Add a bold pop of color to your door:
Another interesting take on Mid-century modern doors is the bold play of colors. Rather than using earthy tones and natural wood textures, consider adding a rich and solid hue to your door. Colors such as ochre, coral orange, mustard yellow, and turquoise all remain in sync with Mid-century aesthetics. It can be great for injecting a dose of vibrancy into your home.
A bold pop of color upon the entrance can add interest and serve as a great delectation of the time. It can do wonders in a neutral landscape where a richly-colored front door can offer the perfect punch. It can serve as a stunning focal point for your Mid-century-inspired home. In an interior space, a door with a vibrant pop of color remains perfect for infusing personality into a compact room.
Mid-century modern doors can be the perfect way to add more character and personality to your home. Opt for the classic wood and glass doors to bring Mid-century style and elevated functionality to your space. If you prefer a sleek and modern look, consider doors with linear details and modular patterns. Sidelights that were popular in Mid-century modern doors are perfect for adding linear character and natural light into the space.
For adding more drama to your Mid-century style home, use bold geometric shapes and cut-outs in the door. In the choice of color, you can choose both earthy and natural tones and vibrant colors. To make a strong impact upon the entrance use doors with a bold pop of color. Use elements and design features of Mid-century design to elevate the presence and impact of your interior and exterior doors.
We at Swinging Cafe Doors invite you to check our wide range of Mid-century inspired doors. From sliding doors to single and double doors, each one offers Mid-century character to step up the style and functionality of your home.