Best Application for Swinging French Doors
Swinging French doors are great for both interior or exterior application. These french doors will have glass panels or lite panels. These panels can be one large panel or separated by mullions. French doors will allow for lots of light to flow thru these lite panels.
French doors can be installed in many application as single or double doors, with a wide range of hinge options. Double French doors make a grand entrance to your space. Interior French doors can be installed with butt hinge and double action hinges.
Their elegant design and ability to allow natural light to flow between rooms make them a versatile option.
Here are the Top 9 best applications for interior French doors: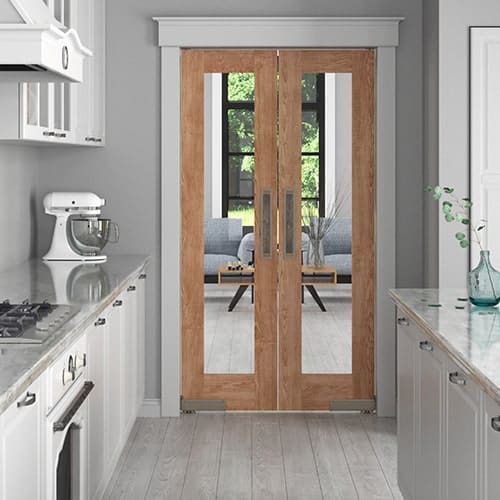 Living Room to Sunroom (Enclosed Patio): French doors leading from the living room to an outdoor patio or garden area can create a seamless transition between indoor and outdoor living spaces. This is particularly popular in areas with pleasant weather, as it allows for easy access to the outdoors and provides a great view.
Dining Room to Kitchen

: Installing French doors between the dining room and kitchen can create an open feel while still allowing you to separate the spaces when needed. This is especially useful for formal dinners or when you want to contain cooking smells.
Home Office: French doors can be used to create a private home office or study space within a larger room. The glass panels allow natural light to enter the workspace while still providing a degree of separation from the rest of the house.
Between Bedrooms: In homes where bedrooms are adjacent to each other, French doors can be used to connect them. This is especially popular in children's bedrooms, where the doors can be left open to create a sense of shared space, or closed for privacy.

Home Library:

If you have a home library or a reading room, French doors can add a touch of sophistication. They can create a sense of grandeur and make the space feel more intimate and cozy.

Closet Doors

: French doors can be used as closet doors in bedrooms. They add a stylish touch to the room and allow you to showcase your wardrobe while keeping the contents neatly tucked away.

Bathroom Entry

: In larger bathrooms, French doors can be used as an entry point. Frosted or stained glass panels can be used for privacy while still allowing light to filter through.
Pantry Doors: Allow to separate main kitchen from the pantry area. Frosted Glass can allow for the light to be filters and have no mess showing thru.
Laundry Rooms: Adding glass doors to a smaller space will allow for the space to appear larger, the swinging doors are easy to operate and automatically return to center making sure the laundry area is separated from the other rooms.
Remember, the best application for interior French doors depends on your specific needs and the layout of your home. Consider factors such as the amount of natural light, the need for privacy, and the overall aesthetics of your space when choosing where to install French doors.
Exterior French doors are a stylish and functional addition to any home, providing a seamless transition between indoor and outdoor living spaces.
Here are some of the best applications for exterior French doors:
Patio or Deck Entry:

Exterior French doors leading to a patio or deck area create an elegant entrance and allow for easy access to outdoor entertainment spaces. They provide a wide opening, making it convenient to move furniture, food, and guests between indoor and outdoor areas.

Garden Access:

French doors opening onto a garden create a picturesque view from inside the house. They allow you to enjoy the beauty of your garden from the comfort of your home and invite natural light into your living space.
Balcony Access: If your home has a balcony, French doors offer a charming way to access this outdoor space from bedrooms or living areas. They enhance the aesthetics of the room and provide a lovely view of the outdoors.
Entryway to Backyard: Installing French doors as the main entry point to your backyard can transform your home. They make a strong design statement and enhance the curb appeal of your house. Consider adding sidelights and a transom window for a grand entrance.

Pool Area Access

: If you have a pool in your backyard, French doors leading to the pool area add a touch of luxury. They provide an elegant entry and allow for a clear view of the pool and surrounding landscape.
Indoor/Outdoor Dining Area: If you have an indoor dining area adjacent to an outdoor patio or deck, French doors can create a seamless transition between the two spaces. This setup is ideal for entertaining, allowing guests to move easily between the indoor and outdoor dining areas.
When choosing exterior French doors, ensure they are made of durable materials, provide proper insulation, and are fitted with secure locking systems to enhance both aesthetics and security. Additionally, consider the climate of your region to select doors that offer energy efficiency and weather resistance.
Swinging Cafe Doors is proud to offer swinging interior French Doors, allow for light to pass thru, easy to use, and a great upgrade to your interior space. Use our French Doors in your home or business today.