Best Barn Style Doors for Homes 2021
Barn style doors are still a trending installation product for your home in 2021. The design of barn style doors is still evolving and will continue to evolve with today's new trends. Barn style doors are a staple in the farmhouse design as well as the modern design. Barn style doors might not be the best option for all door openings, but they are still a great option for many spaces.
Sliding Barn Doors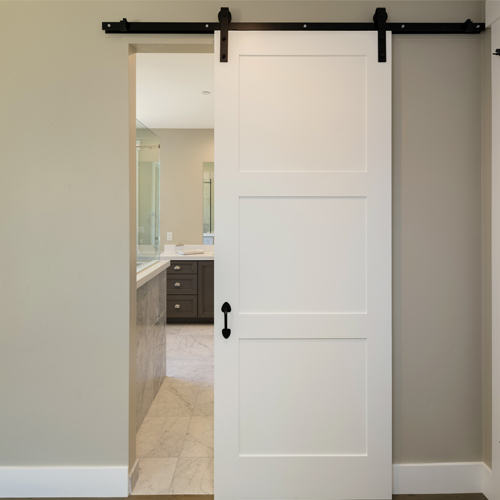 One of the most attractive options for installing barn doors is the use of a sliding track. The option of a sliding track has the advantage of being an ultimate space saving door. The sliding barn door is a perfect option for separating small spaces including a closet, storage room, pantry, or small bathroom. The doors do require some space for sliding open but do not swing into a room freeing up valuable floor space.
Swinging Barn Doors
If you do not have the wall space for a sliding barn door, there is still the option of a swinging barn door. These swinging doors can be double swinging or single swinging barn style doors. The double swinging barn doors is a saloon style door that fits in a door opening. These doors can be full length doors or half doors; many options are available. The single swing door is a traditional door that is built using a barn style design. This design can be a simple board and batten, x design, or a British brace design. The swinging barn door allows for the best function and best style options for some applications. Double swinging doors can be installed in a non-traditional door opening with the use of trim boards.
Modern Barn Doors
The newest trend for sliding doors is a modern sleek design. Modern doors are offered as a shaker panel, glass option and some metal as well. The modern door can be a more updated version of the barn style doors. These modern barn doors still use a tracking system to install the door(s) and provide a sleek design option. Modern barn doors will continue to ensure that barn style doors are installed for years to come.
Interior Barn Doors
Whether you are going for a farmhouse chic design or a modern sleek design, sliding doors should not be overlooked. These doors are a very good option for small interior spaces and will continue to be installed for years to come. New upcoming trends show that sliding doors will continue to evolve and be used for years to come.
Single Barn Doors
Single barn doors are great for opening 36" wide or less. The single barn can slide open and allow for the a clear opening. The sliding doors provide extra space in tight opening, because no swinging space is required for these style of doors. Many design options are available in both double and single barn doors.
Barn doors are an awesome style of doors, that will help to great a beautiful solution to your door openings.