Best Interior Doors for Modern Homes
Adding a modern touch to your home's interior is a great way to update your space. Whether you are thinking of glass doors or a mid-century design let's explore the best door designs for modern homes.
French Doors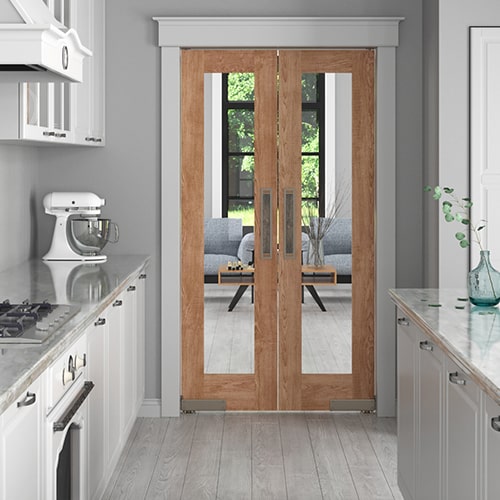 French Doors are a traditional and classic design that will make a huge impact on your home. French doors are traditionally double doors, installed with a jamb. French doors are meant to maximize light entering the room. Today French doors are taking on a new twist including double swinging doors, sliding doors, and full glass options. The addition of glass to the doors will allow more light between both spaces and still provide a separation of space. The French Style Doors are a perfect option for a closet, kitchen, pantry, butler pantry, home office, or bedroom door. This door style will make the space feel more open and allow for maximum visibility.
Mid-Century Doors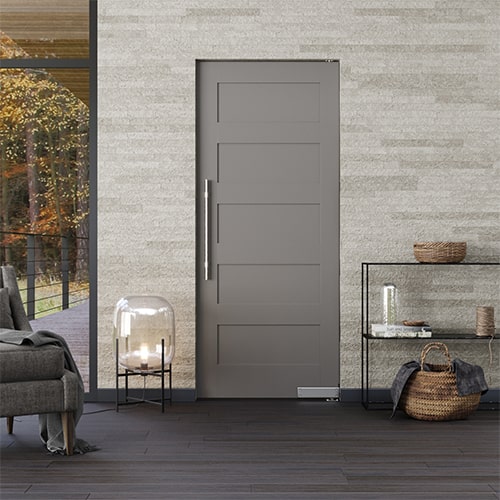 Mid-century design is continuing to be incorporated into today's homes. The modern mid-century design is most known for clean lines, a retro design, and a organic feel. Adding doors with a mid-century design will ensure the doors are not only trendy but will be a lasting beautiful design element to your house. The mid-century door design offers equally sized panel doors, 5 panes of glass doors, and porthole doors. These doors are without any decorative embellishments and offer simple lines staying true to the modern mid-century design. These doors can work in almost any interior application in your home. The most popular mid-century door designs are Modern Equal Panel Double Swinging Interior Doors, Custom Modern Barn Doors, and Single Mid Century Modern Door 5 Equal Panels.
Glass Doors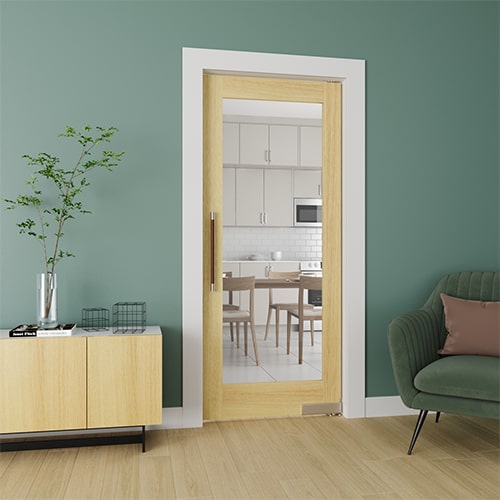 The main advantage to glass doors is the natural light that will flow thru the glass. Adding glass to your doors will brighten up your space, add energy to your space, create a beautiful sound barrier, and create a convenient flow thru your home. Glass Doors come in a variety of door designs at Swinging Café Doors. These double action doors can have a single pane of glass or multiple panes of glass. These are our most popular glass door designs: Swinging Contemporary Modern Interior Door | Butler Door, Modern Contemporary Glass Double Swinging Interior Doors and Swinging Modern Interior Shaker Panel Doors with Glass Window.
Slat Doors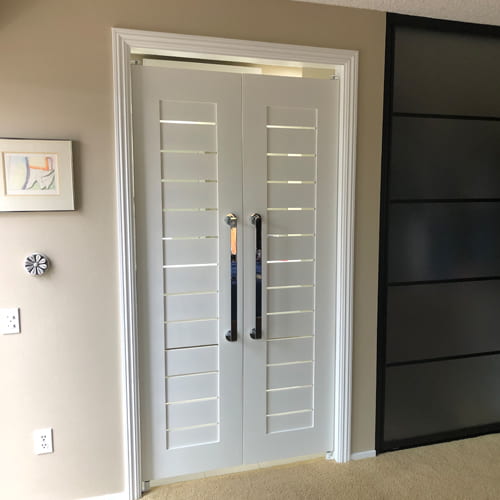 A great modern contemporary design are slat doors. These slats will allow additional light, conversations, and air to flow thru the door opening. This style of doors will allow for partial views but add a modern contemporary design to a traditional louvered door. This provides an updated modern version of a slatted door.
Porthole Doors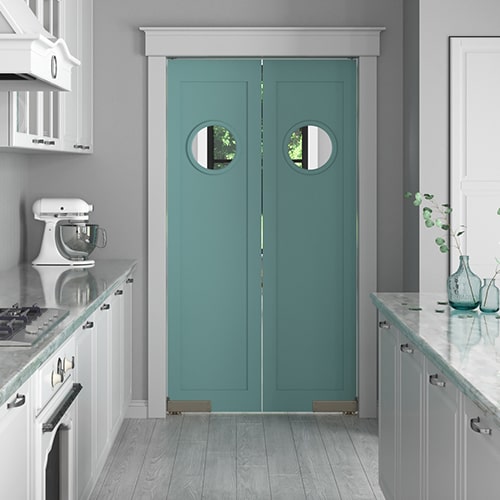 The porthole doors are a beautiful modern door design. These doors are great for residential and commercial applications. We offer custom made porthole doors for your openings up to 72" wide. We offer a single porthole door or double porthole doors. These doors are perfect for a kitchen, laundry room, closet door, or pantry. Adding a fun bold color will make the doors a statement piece in your home.
All our door designs can be installed with double action hinges, single action hinges, or a sliding barn track trail system. Whether you are considering double action hinges or standard butt hinges let us quote these modern doors for your next project. We strive to offer one of the fastest lead times in the custom door industry. The doors will be custom made for your door opening. We offer custom designs and a wide selection of wood options including painted and stained options.