Beyond Boring: Stylish Pantry Door Options for Any Home
Ever get sick of staring at that boring slab of wood or metal that passes as your pantry door? It's time for an upgrade. You spend so much time in your kitchen, you deserve a space that makes you happy. Why settle for drab when you can have delight?
Pantry Doors for Today's Home
There are so many stylish options for pantry doors these days that add visual interest to your home and reflect your personal style. From rustic barn doors to sleek glass panels to chalkboard doors for the ultimate DIY space, you have a world of choices. Stop depriving yourself of a little daily inspiration and pick a pantry door that makes you smile. Whether your taste runs more farmhouse chic, mid- century modern or industrial cool, there's a perfect door out there calling your name.
Arch Top Raised Panel Saloon Doors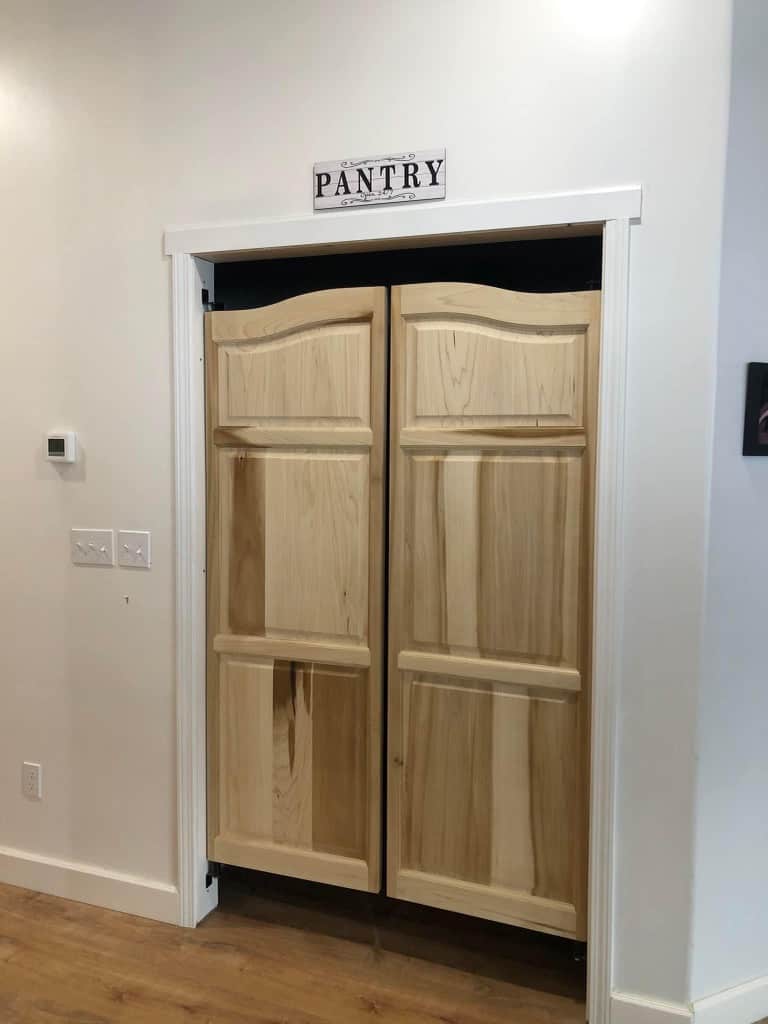 Saloon doors are a stylish choice if you want to showcase a beautiful pantry. The arched top and raised panel design give them a rustic, old-world feel that works in both traditional and modern farmhouse kitchens.
Size and Installation
Saloon doors come in standard widths to fit most pantry openings. You'll want to measure your opening carefully to get the right size. These doors are designed to slide or swing open, so you'll need enough clearance on the sides for them to operate properly.
Installation is pretty straightforward for DIYers. The doors come pre- assembled in the frame, so you just need to attach the entire unit to your pantry opening. You can mount them to swing left or right, or to slide open. Sliding doors require a track at the top and bottom to guide the doors. Either way, saloon doors make a pantry space easily accessible while keeping contents neatly concealed behind a stylish facade.
Material Options
Saloon doors are commonly made of wood, MDF, or vinyl. Wood doors have the most authentic look but require more maintenance. MDF and vinyl are lower-maintenance but can look obviously manufactured. For the best of both worlds, choose wood doors with a vinyl or laminate veneer.
These provide the handsome appearance of wood with the easy-care of vinyl.
Whatever material you choose, saloon doors make a stylish pantry solution for any home. Their charming good looks and smooth operation are sure to impress.
Glass Pantry Doors: Sleek Transparency
Glass pantry doors are a stylish choice that allows you to show off your organized pantry goods. The sleek, transparent material gives a modern look while still keeping everything dust-free.
Glass doors come in a range of styles to suit any home. Frosted or etched glass provides privacy while still letting in light. Clear glass doors show off your pantry organization in full view. Tinted glass, like bronze or gray, offers a touch of color. You can also choose glass doors with grid or crosshatch patterns for a touch of farmhouse style.
For easier cleaning, look for glass doors that are tempered or laminated. Tempered glass is heat-treated to be stronger and safer. Laminated glass has a plastic interlayer that prevents shattering. Either type is a good, low-maintenance choice.
When choosing glass pantry doors, consider the surrounding decor and cabinetry. Stainless steel or black hardware pairs well for a contemporary look. For a rustic kitchen, wood frames and knobs complement the glass nicely. You'll also want to measure carefully to get doors that fit properly. It may be best to have a cabinetmaker craft custom doors to fit your exact pantry opening.
Maritime Double Porthole Nautical Swinging Doors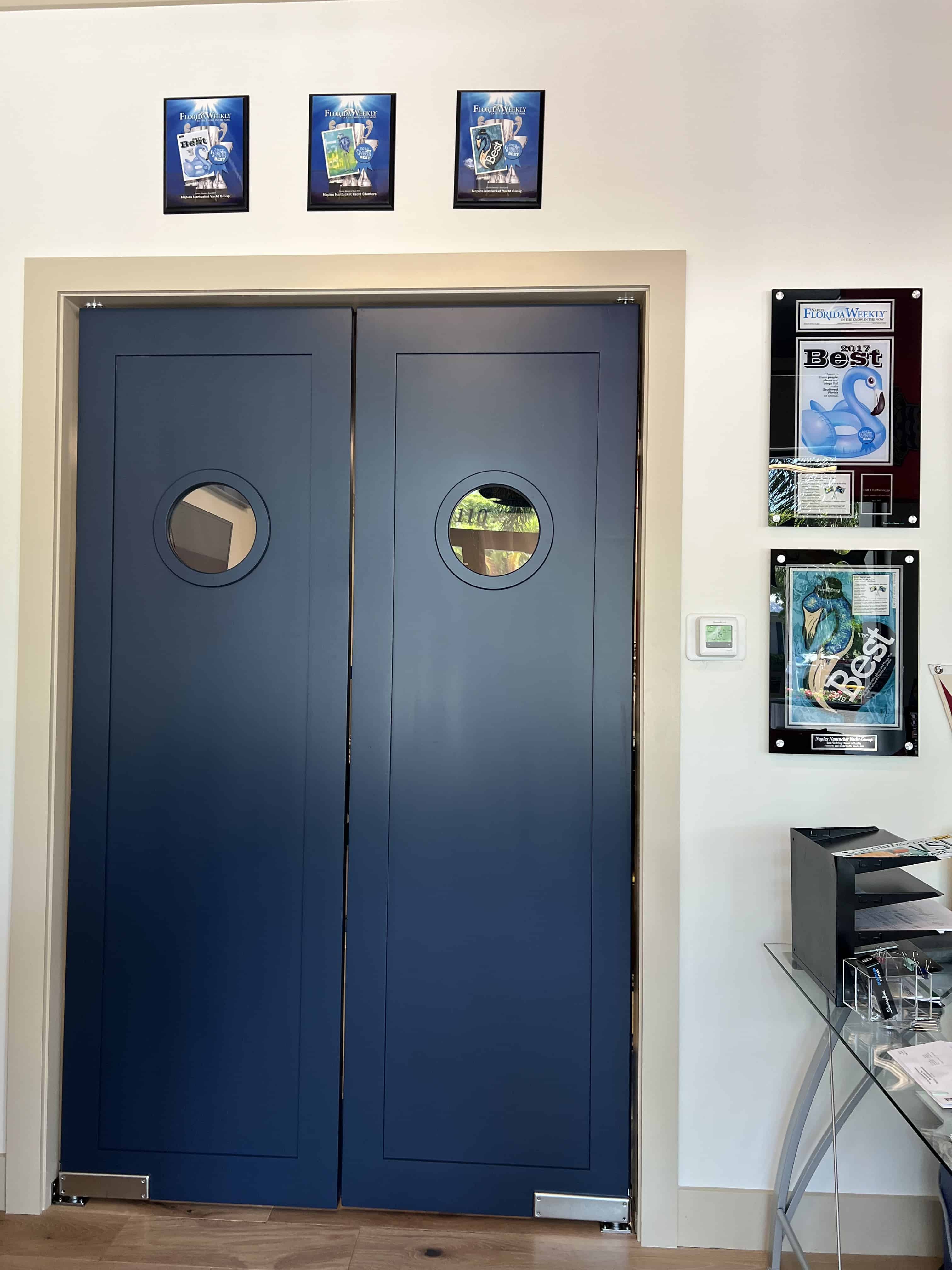 Maritime double porthole nautical swinging doors are a stylish option for your pantry that adds coastal charm. These doors feature two round windows, reminiscent of portholes on ships, that allow light to filter into your pantry space. The doors swing open and closed, saving space compared to doors that slide or fold open.
A Touch of the Seaside
The porthole design gives these doors a nautical vibe, perfect for homes with a coastal esthetic. The brushed nickel or antique brass hardware and frames provide an authentic maritime feel. These doors are made of solid wood, like pine or oak, and the portholes often have a metal rim for an realistic ship-like appearance.
Let There Be Light
The portholes allow natural light to brighten your pantry, making it easier to find what you need. They also showcase a peek into your pantry, putting your organized shelves or cabinets on display. The portholes can be simple circles or have a decorative shape like a ship's wheel. For privacy, you can install blinds or curtains over the interior side of the portholes.
Space-Saving Swing
Swinging doors are ideal for pantries and closets since they don't require extra floor space to open like sliding doors do. The double doors also allow for a wide opening so you can easily access items on either side of your pantry. The doors swing in both directions for added convenience.
Colonial Raised Panel Saloon Doors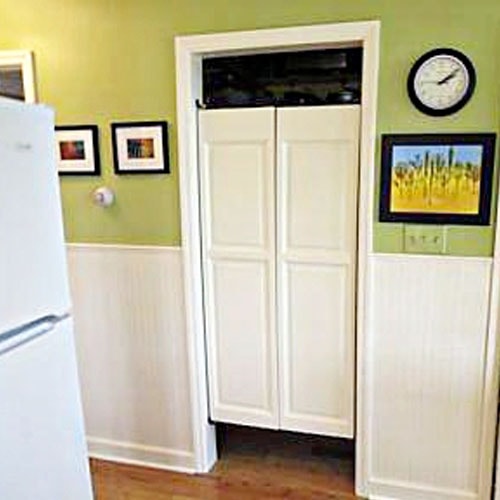 Colonial raised panel saloon doors are a stylish choice for pantries that add architectural detail and drama. These doors feature a frame and panel design popular in Colonial American homes. Within the frame are recessed panels, often two to four per door. The panels are slightly raised in the center, adding depth and shadow.
Materials
The most common materials for raised panel doors are wood and wood veneers like oak, hickory, and maple. For pantries, wood veneers offer an affordable option with a similar look to solid wood. Modern raised panel doors also come in metal, glass, and fiberglass for an industrial or minimalist style.
Pros
Raised panel saloon doors have a timeless, handcrafted quality that works well in both traditional and modern homes. They muffle sound from the pantry and make a stylish statement. The recessed panels also prevent warping by allowing wood to expand and contract naturally.
Installation
These doors are installed using hinges that allow the doors to swing open and closed. For a pantry, consider using two doors that meet in the middle or a single large door. The doors should fully cover the pantry opening for the best look. Installation may require cutting the doors to size and ensuring an exact fit.
Conclusion
So there you have it, some stylish alternatives to that boring slab of wood or metal you currently call a pantry door. Any of these options can add visual interest and elevate the look of your kitchen. Whether you prefer an elegant glass door, rustic barn door, colorful painted door or reclaimed wood door, there's a style that will match your home's decor. And the best part is, switching out a pantry door is an easy, affordable DIY project for a weekend. You'll be enjoying your newly styled pantry door in no time. What are you waiting for? Ditch that dull door and unleash your inner interior designer! Your kitchen will thank you.