Can a Door Open Both Ways?
Doors are one of the most basic and vital components of any building or structure, but without hinges, they would not function. It's impressive when you take the time to consider exactly what goes into making a door work. Most people don't consider that every door has two or three hinges that make the doors move. These hinges will determine how the door opens, how it is closed, and in which direction it swings. Saloon door hinges are unique in their operation compared to traditional or butt hinges.
How do hinges work?
Hinges work through an ingenious combination of physics, engineering, and construction. There are many different types of hinges that can appear to work in similar ways: spring hinges, butt hinges, saloon door hinges, single-action hinges, etc. So how do you know which type of hinge is the best fit for your door application…keep reading to find out the answer.
Basic hinge actions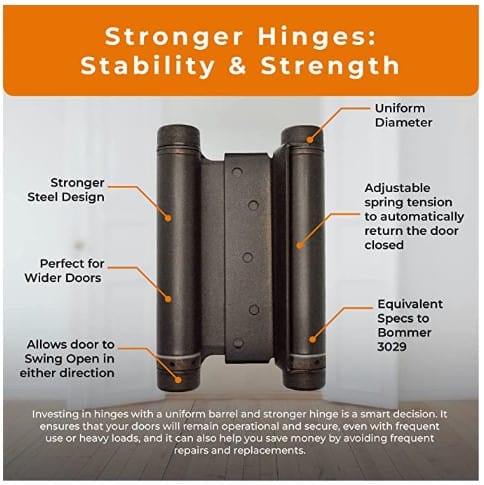 Let's learn the basics of how a hinge works. A hinge is created by connecting two objects with a pin or screw so that they can move relative to each other. In the case of a door hinge, this means that the door can rotate around its axis while remaining attached to the wall or ceiling. The purpose of the hinge is to allow free movement while keeping the object together and intact. The hinge can have various springs, ball bearings, or simply gravity that will work to pull the doors back to the center of the doors will need to be pushed back to the closed position.
When entering a residential home from an exterior door, these hinges only allow the doors to be moved in one direction (most likely inwards) and will need to be pushed closed or remain open. Since the door moves in one direction only and needs a physical push close those hinges are referred to as butt hinges. Butt hinges allow for the doors to be mortised to the opening creating small gaps perfect for exterior entrance doors, for security and energy efficiency.
What makes Saloon Door Hinges Different?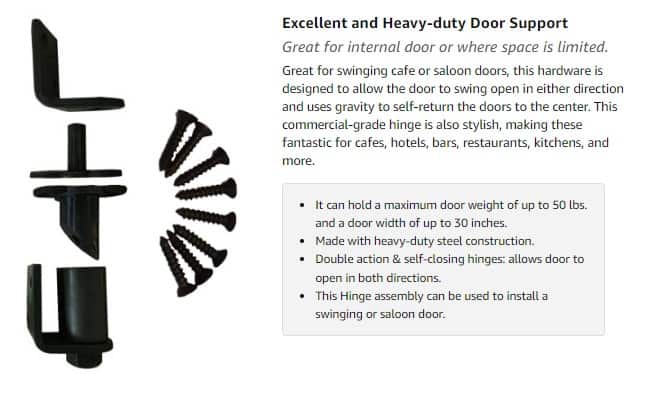 Saloon Door Hinges allow a door to swing in both directions and automatically return the door to the center position. Saloon door hinges will allow the doors to close automatically close after walking thru the door. Saloon door hinges have an anatomy that's unlike that any other kind of door hinge you might find!
Types of Saloon Door Hinges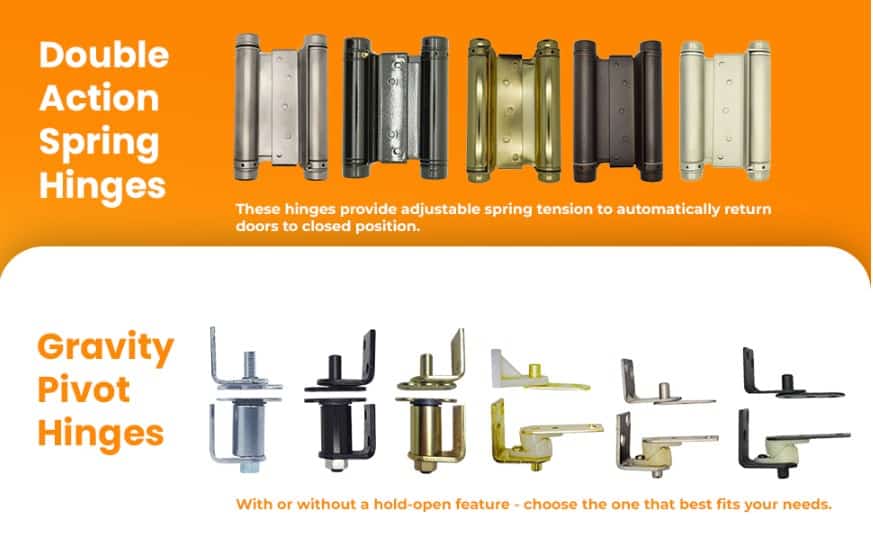 When it comes to saloon doors, there are two types of hinges that you'll want to consider. They are gravity hinges and spring hinges; both hinge types allow for double action and automatically return the doors to the center as well.
Gravity Saloon Door Hinges
Gravity saloon door hinges are a great option to allow for a hold-open option feature. These gravity hinges operate with the use of gravity to pull the doors back to the center. The gravity hinges allow for a smoother operation of the doors, and a gentle swing to the doors. The gravity hinge also functions without any noise, so a quiet operation on the hinge.
Gravity saloon door hinges come in a wide variety of finishes and grades. There is a standard, premium, and commercial grade gravity hinges. A commercial grade hinge will allow for a wider heavier door than a standard gravity hinge. The hinges are made from high-quality steel and plastic material. The plastic material is required for the hold open and quiet operation.
Double Action Spring Hinges
Double action spring hinges operate with a spring that allow the hinge to pull the doors back to center. There is an adjustable tension on these spring hinges, but the hinge must have some tension or it will not operate properly. The spring hinges are similar to gravity hinges but they use springs inside the hone at each end of the hinge. The spring hinges come in a wide range of sizing making them ideal for larger doors that don't have much clearance between them and other furniture or walls.
Double action springs typically come in pairs—one set for each side of the door—and require only one screw per hinge on each side (rather than two). They're also adjustable like gravity hinges because they've got screws around their edges that allow you to loosen or tighten them as needed depending on your needs.
Ease of Use
If you've ever tried to open a saloon door with your hands full, it's so easy because saloon doors can be pushed open with a hip, a hand, an elbow, a butt, or even a finger. You do not have to put down whatever you're carrying, find the door handle and pull it open, then pick up your things and get out of the way before someone runs into you.
It's a big hassle. And even though saloon doors are no longer used in most homes today, they still exist in many historic homes and buildings—and if you're thinking about renovating one of those buildings, you'll need to know how to install new hinges so that it can be opened easily even when your hands are full.
Hardware
There are several different types of hinges that you can choose from, depending on the kind of door you want and the style of saloon door hinge that you prefer. The most basic type is known as a butt hinge and consists of two pieces that join together at one end to form a channel. These hinges are designed to be used with doors that have flat panels, but they can also be used with other types of doors if they are not too thick or heavy.
A butt hinge is available in two different styles: one-piece (which is like a single piece) and two-piece (which has two separate pieces). The one-piece version is stronger than the two-piece version because it has no moving parts, but it is more expensive. Many people choose to use both styles on their saloon doors because it gives them more flexibility when it comes to using various types of hardware.
Great for Commercial & Residential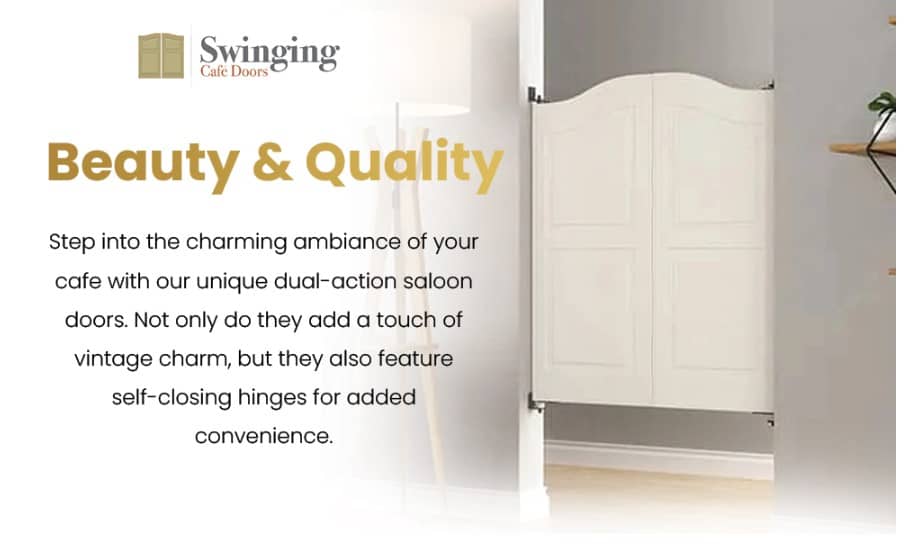 There's nothing quite like the feeling you get when you walk into a place that has been completely renovated. Whether it's your first apartment or your home, there is something about a new space that feels so exciting, clean and fresh.
And while renovating isn't always easy (we've all been there), it's worth it when you're done and have a place you love to call home. But what do you do with all those old hinges?
Well, why not try installing saloon doors instead? These are great for commercial properties because they give an industrial feel and can be used in many different rooms—but they're also perfect for residential dwellings.
If you're looking to create a unique look in any space, then this might be the option for you!