Exploring Luxury Interior Door Styles
When was the last time you noticed your interior doors? If they have become an ornament for collecting dust, forgotten and worn, it's time to change things up.
Your interior doors are vital components in your home. Aside from allowing entry, an interior door can impact your indoor space and appeal. If you overlook them, you neglect adding value to your home. You also miss out on what your home could look and feel like with a luxury interior door.
But what exactly does an interior luxury door do? And which one should you choose for your next interior door or home remodel?
Types of Luxury Interior Door Styles
Consider these popular styles when choosing the right luxury interior door:
Paneled Doors
Paneled doors are familiar and classic interior door designs. While often overlooked, the panels offer exceptional detail. With different panel shapes, styles and sizes, your door can have a distinct design. Whether a raised, arched or circular structure, panel doors are an excellent way to enhance various home areas and entrances.
Single or multi-panel doors can offer a refined and sophisticated aesthetic. They are ideal for many home areas, including kitchens, bathrooms, living rooms and outdoor spaces and are easily customizable to your style.
Chevron and Angular
Chevron and angular doors offer a contemporary touch to your home. They are excellent if you want a luxury door that makes a bold statement. The trendy designs often have geometric patterns like v-shaped lines, adding flair to your door and home. You can customize them for many entrances and spaces and finish them with different colors or wood stains. These modern luxury interior doors are perfect for elevating and transforming your space.
Barn Style
Barn doors offer a traditional and rustic appeal. Like their name, they resemble farmhouse barn doors. However, with numerous finishes and accessories, they fit many classic and contemporary interior designs.
These traditional doors often slide on the rail, which saves space in small areas or enhances your space. They also have rich wood finishes and stains, adding charm to your kitchen, bedroom, outdoor room or other home areas. You can customize your barn-style door with a window to elevate your barn-style door and add natural light to your home.
French Style
French doors offer natural light and luxury to various home areas. They're an excellent choice for entrances and exits you want to keep closed without compromising natural light or openness. French-style doors resemble windows with bold frames added around glass windows. Depending on your frame color and hardware, they can offer a modern and classic feel.
The French-style door fits perfectly in a kitchen and outdoors and can be ideal for dividing home areas and providing a view of outdoor spaces. The minimalist style door can offer your indoor space a clean and refined finish, and the sizes and doors are easily customizable.
Pocket Doors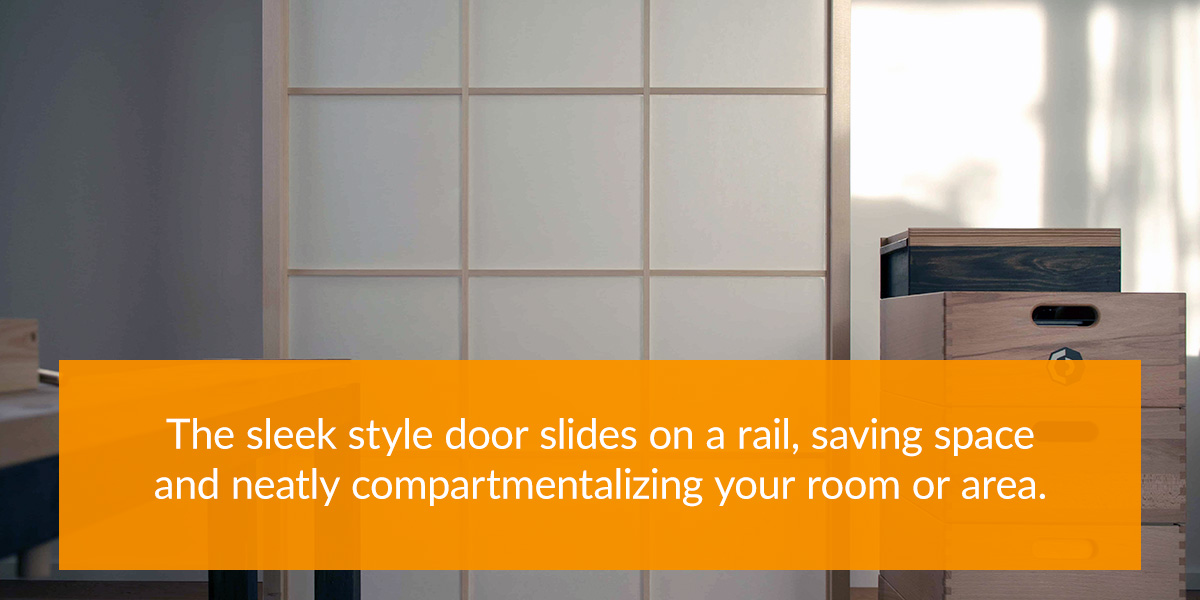 Pocket doors add luxury to your closet, cupboard or pantry walkway. The sleek style door slides on a rail, saving space and neatly compartmentalizing your room or area. Pocket door designs are often minimalist, with glass panes and thin frames. They are excellent for areas where you want to subtly tuck away, like your bedroom closet or bathroom, without limiting light.
These doors also help create continuity when separating different rooms. You can customize the door color to blend in or stand out in your interior.
Butler Swinging Doors
Butler interior doors are versatile and convenient. They swing both ways with a bump of the hip or arm and are excellent for kitchens or pantries. You can get groceries and carry dishes in and out of your kitchen without pulling on a door knob. They have a minimalist style and are easy to customize to your interior design. Butler doors come in modern colors and designs and are ideal for optimizing your kitchen space and layout.
Factors to Consider When Picking a Luxury Door
Choosing an interior luxury door involves understanding different door styles and how they can complement your home and personal preferences. Consider different door sizes, finishes and details and how they'll benefit your home and interior aesthetic. Luxury doors can enhance your interior design and add to your property value. They can also be versatile and offer unique functionality.
Factors like versatility, application and personal preference are essential when picking a luxury door.
Versatility
You want an interior door to fit your space and design vision. For example, a butler door can be attractive, compliment your interior and improve your kitchen functionality. A barn door can help save space while adding a rustic or modern feel to your living space. French doors can add light or a view to a specific area, separating a room and enhancing your home design. Consider how you can get the most out of your luxury door design.
Application
What is the purpose of your door? Luxury interior doors offer many functions, from elevating interior design and compartmentalizing your space to providing continuity and light. For example, a pocket door can separate your bathroom while offering a distinct design element and light.
Customization
Creating or installing a door that fits your home is essential. You can customize numerous luxury interior doors to suit your unique requirements and interior aesthetic. For example, you can personalize your panel door with an arched design to match or enhance the arches in your home.
Hardware
Consider how you can enhance your door and home design with some detail. Luxury interior door hardware like handles, hinges and locks can add a hint of boldness and sophistication to complete or complement your space.
What Do Luxury Interior Doors Cost?
Luxury interior door prices depend on your personal preference. Interior door companies can create a door to match your space and vision. Factors like the door, style material, length, width, design detail, hardware and color influence the total price. Premade, traditional doors can be more affordable, while you can expect to pay a bit more for a personalized door design that suits your space perfectly.
Remember, investing in a high-quality door now can save you money in the long term. High-quality doors are more durable and last longer.
Another thing to consider is how much value your interior door will add to your home. High-quality doors with a distinct or classic luxury design can enhance your interior and property appeal, possibly increasing resale value.
Elevate Your Property With Custom Luxury Interior Doors
While an average interior door can offer access and entry to a room, block out the elements and blend in with your home, a luxury interior door can do so much more. Luxury interior doors offer form, function and aesthetics.
Why should your doors be overlooked as just entry or access tools? Interior luxury doors can be the centerpiece of your home, adding to your indoor appeal and property value. A luxury door can complete your space and fully satisfy your design vision.
That's why we offer handcrafted luxury door designs at Swinging Cafe Doors. We sell customized doors to match your style and vision and deliver the highest quality craftsmanship. We know the importance of providing a luxury interior door that can add value for many years.
Contact us to get a custom quote today!