How Barn-Style Doors Can Transform Your Space
The modern farmhouse trend is still one of the biggest trends this year. Farmhouse chic is taking neutrals, open floor plans, and single purposed rooms with it.
What's replacing these trends?
Industrial farmhouse, bold colors, and multifunctional spaces. And don't expect barn-style doors to go anywhere.
Interior barn doors can be mounted using a variety of hinges including our double action hinges. We offer a variety of finishes and options on saloon door hardware. Our barn style doors can have a single or double door design. Keep reading to discover the benefits of adding barn-style doors in your home.
Sliding Barn-Style Doors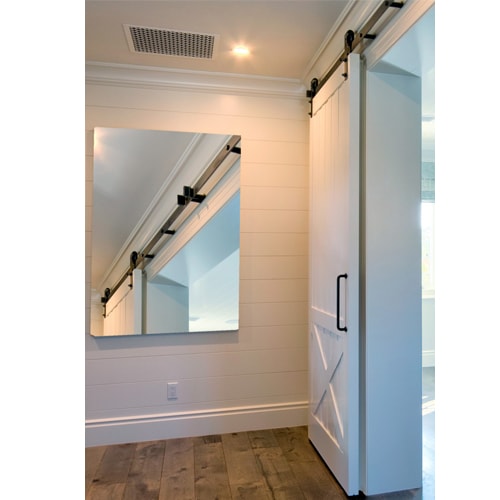 Sliding interior barn doors move along a top-mounted track. Many sliding barn-style doors require small floor hardware pieces. This keeps the doors from moving the wrong way and coming off track.

Sliding barn-style doors are a great alternative to pocket doors. They can fill the need to close off a room that can't accommodate a pocket door. Sliding barn doors can be installed as single sliding door or double sliding doors.
Where To Use Them
Sliding barn-style doors are perfect for hiding those not-so-tidy spaces. Playrooms, bedrooms, even bathrooms are popular places for sliding interior barn doors.

Sliding barn-style doors are perfect for closets and pantries. They're a great replacement for outdated bifold and mirrored closet doors.

Sliding interior barn doors are great for separating kitchens from dining areas. Maybe you'd like your eating space open to the kitchen when guests aren't home. When you're entertaining, it's nice to be able to close off your kitchen mess to guests!

Need to keep your home office private but not too closed off? A sliding barn-style door is perfect! You can still hear what's happening around you, but outside sounds aren't as noisy as when the space is open.

Sliding barn-style doors are great for retail storage spaces and dressing rooms.
Drawbacks
The limited noise barrier is a blessing and a curse. Sliding barn-style doors don't seal. As a result, they're not the best noise barriers. Small children may not be able to operate heavy interior sliding barn-style doors.

Sliding doors are heavy, but not as sturdy as hinged doors. If you've got a lively group of tiny humans in your home, make sure the sliding door is secured well so it won't break or fall off track.

Sliding interior barn doors require blank wall space next to the door opening. If wall space next to an opening is limited, consider swinging barn-style doors instead.
Swinging Barn-Style Doors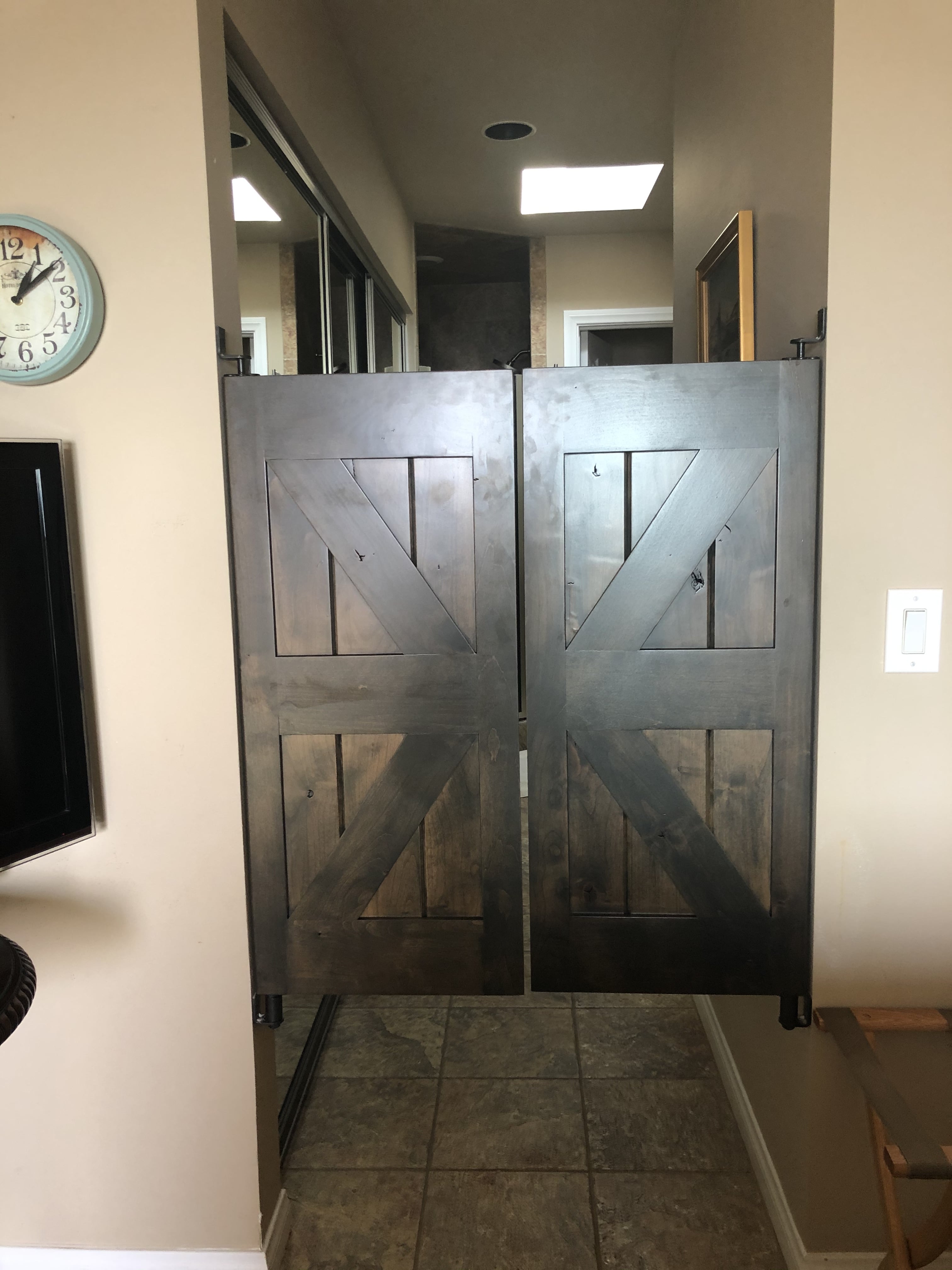 Swinging barn-style doors operate similar to saloon doors, or cafe doors. They can be single doors or double doors.

Swinging interior barn doors are mounted to the side or sides of the door frame via hinges. The hinges are double action and do self-return to center. Swinging barn-style doors offer a similar look to sliding barn doors but require less space and are easier to install.
Where To Use Them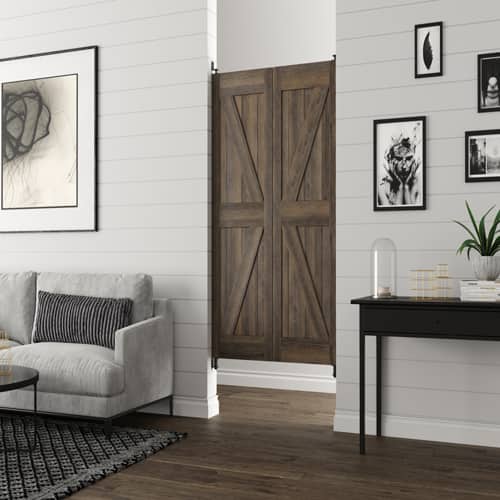 Swinging barn-style doors are great for any location in your home or business. These doors can sit higher above the ground or cover the entire length of the door frame. Doors are available in heights from 38" tall to 95" tall.
Swinging interior barn doors are great for kitchens, mudrooms, laundry areas, and playrooms. They're also a great option for an interior door in she-sheds, mancaves, or shops.
Drawbacks
Swinging interior barn doors won't offer much protection from stairs. If anyone in your home is at risk for falling down stairs, consider another barn-style door.
Mix Up Your Style
It's easy to see why the barn-style door is staying on-trend. It's customizable to almost any space or style.

Interior barn-style doors have moved beyond the farmhouse chic style. Here are a few ways to customize the look of your interior barn door. Barn style doors are continue to evolve with new designs.
Industrial
For an industrial look, use a single wooden sliding door with metal hardware. With basic DIY skills, you can make your wood barn-style door look just like metal.

A wood door is much easier to drill into and lighter-weight than metal. Wood is also less expensive.

If you'd rather not make your door faux metal, consider black or distressed red with black hardware. This will fit in well with almost any industrial-themed decor.
Modern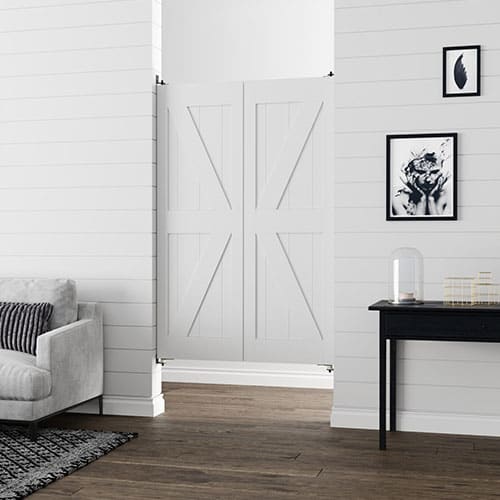 Match your modern theme with modern interior doors. Flat panels and straight lines will compliment almost any modern decor.

Paint modern interior barn doors Pantone's ultimate grey or illuminating yellow. Barn-style doors are a great way to showcase your favorite new colors of the year. Double paneled doors are perfect for pantries or coat closets.
Two-Faced and Functional
There are two sides to every door, right? If your interior barn-style door is separating two different rooms, customize it! Style one side to match each space.

This strategy works with sliding or swinging barn-style doors.
Customize Your Barn-Style Doors
Barn-style doors can solve home and commercial space challenges. They're a great way to hide unwanted messes while staying on-trend. Barn-style doors are a great way to customize any space to a desired style or trend.

At Swinging Cafe Doors, swinging doors are our passion. We provide top-quality, hand-crafted doors.

We create saloon doors, cafe doors, louvre doors, and barn-style swinging doors. We carefully craft our doors with wood sourced exclusively from the United States. Select one of our existing designs or make a custom order.

Give us a call at 1-855-34-DOORS (36677), send us an email at info@swingingcafedoors.com, or complete our online form. We'd love to partner with you to find the best interior barn doors for your space.