What is a Butler Door? New Interior Door Trend
A butler door is traditionally a full-sized single door that swings in and out with a double swinging hinge. Butler doors allow for the mess of a kitchen to be covered. Butler doors were once used to keep the kitchen staff from being visible to the dining room guests. Today, these doors can still hide the mess of a kitchen from view and help to create a more closed kitchen area. Butler doors are a perfect option for a kitchen door, pantry door, butler pantry door, dining room door, laundry room door, and bathroom door.
What Are Butler Pantry Swinging Doors and Why Do You Need Them?
Today, as designs transition to a less open living plan, butler doors are becoming a hot new trend. The doors will provide easy access to the kitchen while still providing a visible barrier. A closed kitchen was the premier design for over 100 years- why? Less energy to heat and cool the home, provides an acoustical barrier, more cabinet space for kitchens, and a barrier from the kitchen mess. The closed kitchen or partially closed kitchen design will continue to become more popular in today's designs and in the future.
These butler doors are known as full length café doors, but you still have a choice of hardware with the doors. There are two hardware options for these style doors. As with all swinging doors, there will be small gaps to accommodate the swing of the doors.
What Are the Benefits of Having a Butler Pantry Swinging Door?
Spring Hinges- these commercial hinges will allow the doors to swing in both directions and self-return to the center. The hinges will mount to the side of the doors and the door jamb. The hardware has a non-hold open feature, so it's perfect for a commercial setting.
Horizontal Spring Pivot Hinge- these commercial grade hinges are a great option for a swinging butler door. They are the perfect hinge for a commercial or residential setting. The hinges do come in a non-hold open or a hold open feature. Typically these doors are sold with the hold open feature making this the most common option. These bottom pivot spring hinges can be installed on the floor or on the jamb- your choice. (Just make sure the doors are sized according to the hinge installation). The top pivot is installed into the header.
Great Butler Door Designs:
Maritime Porthole Nautical Swinging Door | Butler Door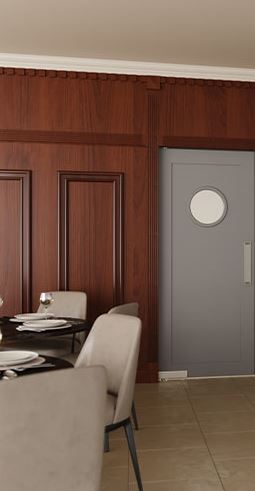 This porthole door is a great option for a kitchen door either commercial or residential setting. The doors will help hide the kitchen mess while allowing for easy access to and from the kitchen. The small porthole window will allow you to see traffic coming in and out of the door. The door will swing in both directions and self-return to the center with the hardware you select. The doors are custom-made for the exact door opening size and hardware selected to ensure a perfect fit for your butler door. This single butler door will make a statement in your kitchen. Add a pop of color to make the door the statement of the room perfect for a pantry door or butler's pantry entrance.
Swinging Contemporary Modern Interior Door | Butler Door
This interior door is available with a clear plexiglass insert or a frosted plexiglass insert. The Swinging Contemporary Modern interior door provides a beautiful statement to any room. The single butler door will provide ease of use and provide a barrier between the two spaces. The doors are perfect as a pantry door, laundry room door, closet door, or swinging kitchen door. Pick the details including wood option, door opening size, door height, and hardware options to have a perfectly fitting double swinging butler door.
Single Mid Century Modern Door- 5 equal Panels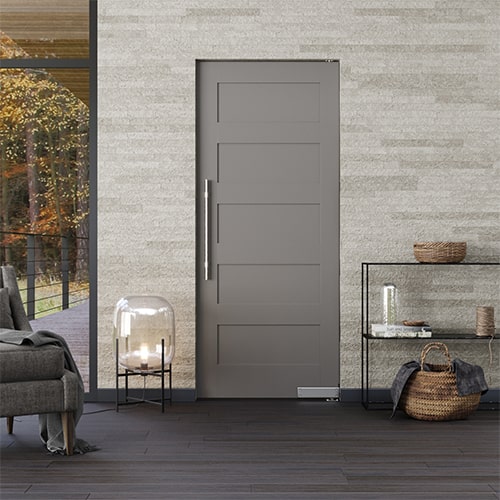 This door will provide a mid century vibe to your home. The doors will still provide a great addition, as well as easy access between the two spaces. The door is a perfect option for a pantry, closet, bathroom, or laundry room door. The shaker panels and the 5 equal horizontal panels add a beautiful mid century vibe to any room. The doors are custom made from quality lumber and made for your exact door opening. You select door material, door opening width, door height, and hardware to fit your door opening size. The simple timeless design and detail of this door design will make it a standout option for your home or business.
What Makes Butler Doors Different?
The butler cafe door will continue to be a timeless trend for years to come. The butler door can offer a simple and functional door for your interior spaces today. These double swinging full length doors are a perfect match for today's busy homeowner and classic design options.