Panel Doors vs Louvered Doors? Which one to Choose?
What type of door do you want? What doors are in style? What are the differences and similarities between panel and louvered doors?
Are you ready to upgrade your interior doors to louvered or panel? We can help you determine the best choice of doors.
Panel Saloon Doors and Louvered Saloon Doors are available at Swinging Café Doors. We offer a wide variety of wood options, door opening sizes, door heights, and hardware options. Saloon Doors are available from 38" to 95" tall, allowing for you to determine the best height for your application.
A popular question is what design is best for me; panel vs louvered saloon doors. Both panel and louvered doors are still popular designs in today's home. Most people decide the door design based on price and the aesthetic (design) elements of the doors.
When considering what design is best for you, we would recommend thinking about these simple questions:
Do I want to mimic my current door design?

What design do I prefer?

Do I need max air flow into the space?

What is my budget for the doors?
Still undecided… Here are the pros and cons of Swinging Café Doors' Louvered vs Panel Saloon Doors:
Panel Saloon Doors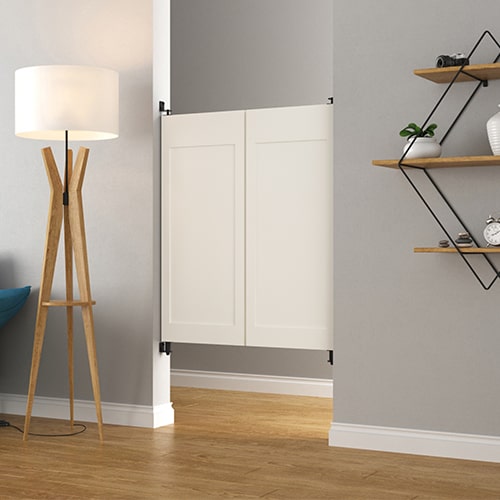 Solid wood panels allow for strong doors

More coverage of the door opening

Slightly higher starting price

More design options available

More height and hardware options available

Slightly more durable since the panels are solid
Louvered Saloon Doors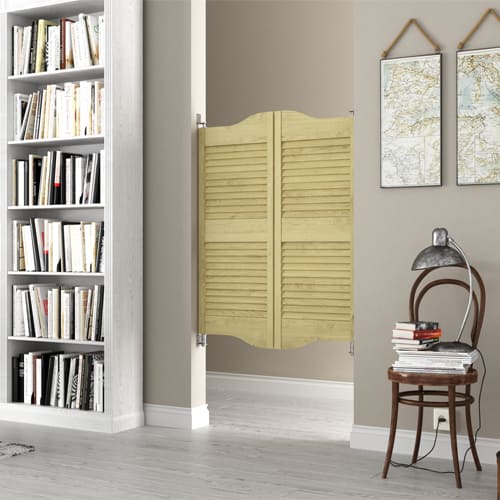 Louvre's allow for more air flow

Less visual coverage

Starting price on custom louvered doors is slightly lower

Stylish traditional door design

Design will allow for more ventilation since air can pass thru the louvres
Louvered doors are still a current and modern door trend. The louvered doors are most popular as closet doors, pantry doors, and laundry doors. The design of the louvered doors allows more air to flow thru the doors. Sometimes the additional air flow is necessary if the space you are closing does not have its own heating and air conditioning. We also offer a slat door design with our modern interior doors. They are like the louvered since they allow additional air to flow thru but are more modern in design.
Panel doors give a more traditional look. The panel doors also allow for more design option such as: glass, shaker or raised panels, arched panels, spindles, and barn styling. Panel doors will allow for additional privacy, full coverage, and a more durable door (because most panel doors are thicker than louvered doors).
Whether you pick a panel or louvered saloon doors, Swinging Café Doors works to make the best saloon doors for your home, office, or business.