Sizing Matters: Understanding Saloon Door Height Options
Are you interested in adding a vintage feel to your home with saloon doors? Perhaps you are searching for that perfect addition to your farmhouse chic style.
Saloon doors are perfect for every occasion, swinging to meet your needs. Whether you're confused about hinge types, average door height, or what saloon doors are for, this article was made for you.
Read on to find your guide on what saloon doors are and where you can put them.
Why Choose a Saloon Door?
Choosing saloon doors for your place is beneficial because of the character it adds. Placing saloon doors in various parts of your home will enhance the structure and add a unique design to your decor.
Also called batwing doors, saloon doors are double doors that normally don't reach the top nor bottom of your doorframe. These doors feature a swinging motion and use bi-directional hinges. Height of custom saloon doors can range from 38" tall to 95" tall.
These doors are also extremely functional and convenient in places like a kitchen or pantry when your hands are full, master bedrooms as a quick in-and-out that adds privacy, and in restaurants between the kitchen and the dining area. Saloon doors fit into any doorframe—standard door height or not.
Saloon doors still serve their purpose today. They are used in many places and add character to every frame.
Understanding Your Saloon Door Height
Every door frame is different, as is everyone's taste in design.That's why having a variety of saloon door heights matters so that you're able to fully customize your saloon doors. A standard doorframe measures about 80 inches (also called a 6/8 door for its 6 foot, 8-inch measurements) and has a width of 32 inches.
Different areas can benefit from different saloon door heights. We offer custom saloon door heights to suit every style. Determine what you'd like hidden from view and what you'd like to be open. This will help with your selection of saloon doors and their heights.
For example, our most popular height is 60"—perfect for your master bathroom, kitchen pantries and interior closets. This height creates a closed effect without the need for door handles or locks while still allowing a feeling of shared space.
70-95" tall doors are also great for maximum privacy while also allowing conversation and airflow.
For a more open feel, saloon doors can still be used. The doorframe can be left more open and visible throughout. 38" saloon doors are perfect for maximum visibility and some privacy. 42" is one of our most popular heights that allows privacy and interaction, placed in areas such as laundry rooms.
48" saloon doors are perfect for kitchen areas, allowing for conversation and airflow. A set of saloon doors will create the effect of a more open area everywhere they're placed.
Choosing the right saloon door height for you can be difficult, but with your design in mind, you'll have no problem deciding what looks most appealing.
Finding the Right Hinges for Your Saloon Door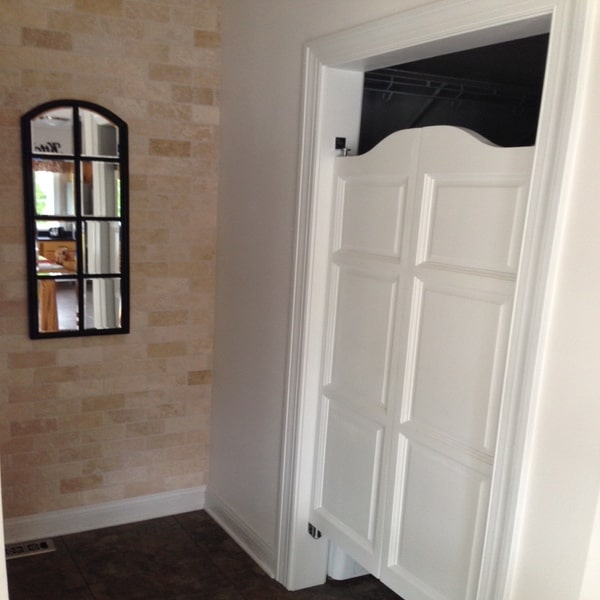 Finding hinges for your saloon doors means factoring in style and function. You'll decide what finish you'd like for your hinges, choosing from satin brass, oil-rubbed bronze, and satin black finishes. Then you'll address what function you'd like your hinges to serve.
Pivot hinges are available in standard, premium and commercial grade hinges. Gravity hinges allow doors to swing back and forth and uses gravity to bring themselves back into their standard position. These hinges are used in most residental settings, such as bathroom and master bedroom saloon doors. Pivot hinges are available for all door heights from 38" to 95" tall saloon doors (depending on width).
Double action spring hinges use a spring effect to bring your saloon doors back to the center after swinging back and forth a few times. This type of hinge is used in kitchens, pantries, and mudrooms—these range from 3" to 8" sizes.
Enjoying Your Saloon Door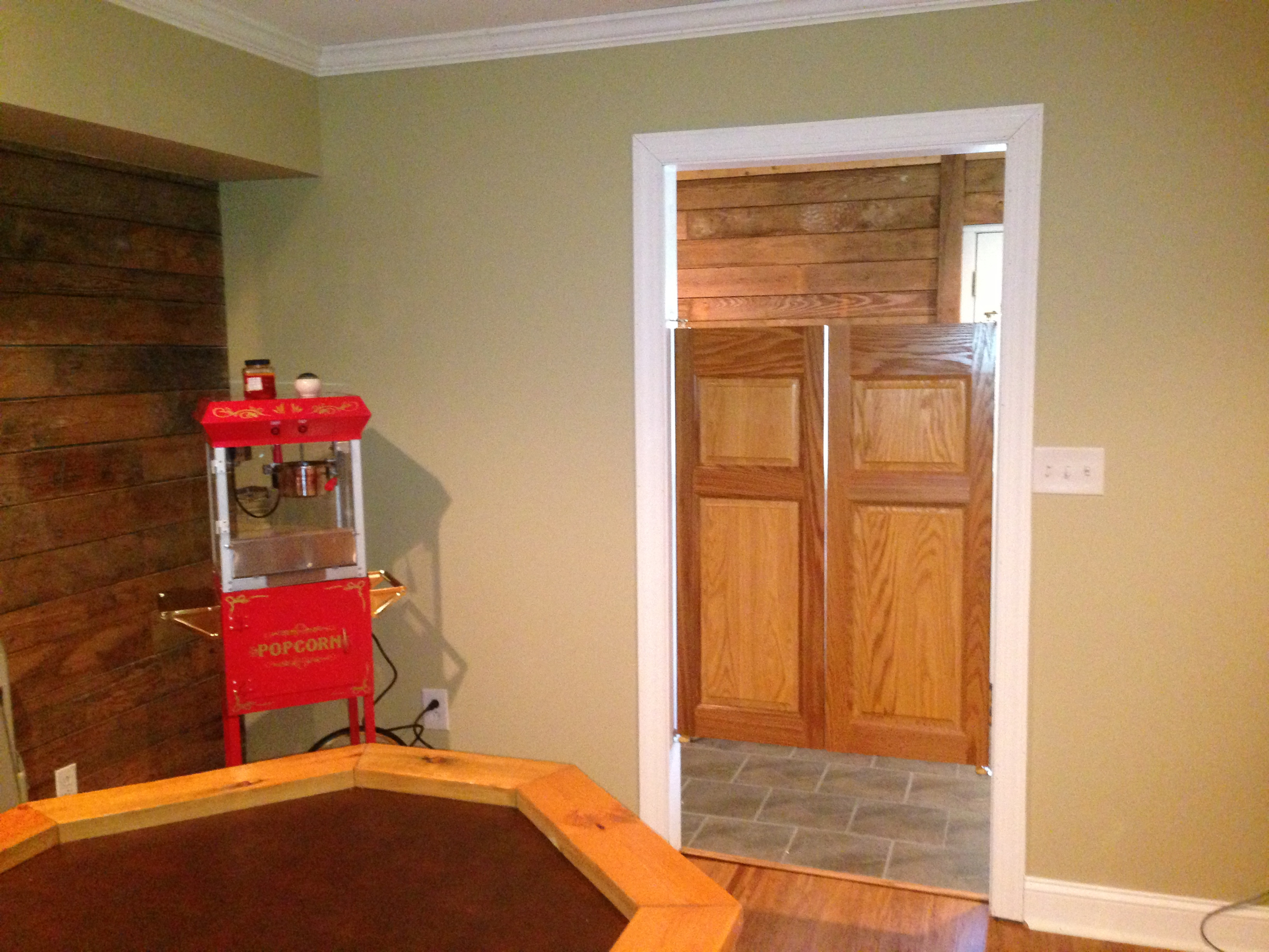 Installing saloon doors factors in several ideas: design, function, and placement. By finding the right door height and the right hinges, your saloon doors will soon be perfect for you. These doors are worth the installation, and they make your place that much more accessible.
If you're interested in installing saloon doors anywhere in your home or establishment, contact us today for a free custom quote.
Remember to check out our other blog posts for additional tips and tricks.