The Complete Guide To Modern Interior Doors
The interior doors have more to offer than just closing off rooms. Gone are the days when they were neglected and considered as another 'structural' element of the house. Instead, with the latest trends in interior design, the doors are what has captured the utmost attention with their flabbergasting designs, pattern, style, and colors.
When having a closer look into the available designs, modern doors are one of the primary considerations for designers and homeowners. The sole reason is the sleek and contemporary look, timeless appeal, and everlasting versatility in amalgamation with the walls, furniture, and decorative accessories. So, are you in search of that perfect modern interior door for your home? Well, here's the ultimate guide for your next home renovation!
Characteristics of Modern Doors
The modern interior doors will always be characterized by straight and sleek lines, contemporary forms, sharp-angled geometry, and a minimalist look. They're typically made of either metal or wood and they dominantly negate the idea of flamboyant patterns, clutter, knick-knacks, and ornate carvings. This straightforward and simple category of interior doors is usually simple painted finish with minimal hardware in either matte black, oil-rubbed bronze, satin, chrome, or nickel finish. They embrace the idea of 'practicality' without compromising on the idea of aesthetics and appearance. Lastly, the modern doors are bound to add a flair of class, sophistication, elegance, and style to your home.
Different Styles of Modern Doors
Now that you're aware of the various features of a modern door, it's time that you consider the existing interior design style of your home and particular subcategories in the modern door styles. Cohesiveness is what you must embrace and that's why you must have an eye on these major styles of modern doors - flush, glass, chevron, or shaker panels.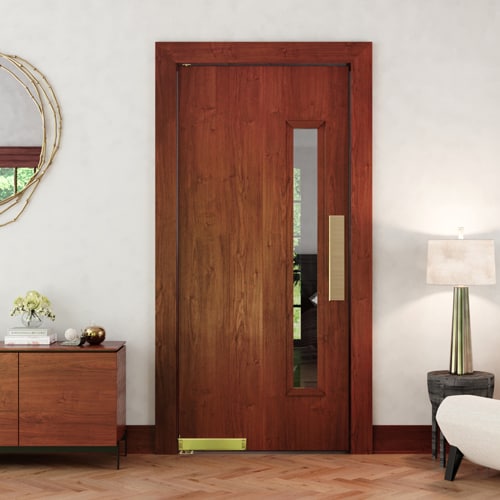 A flush door is mainly characterized as a door with a simple, plain, and flat surface and little to almost no carvings. Unlike the other doors, they either have a solid or hollow core that can work well in modern, contemporary, and minimalist interior design styles. And since these doors have flatter faces, you can expect little maintenance and a very easy-to-clean experience. With swinging flush doors, all the doors rails and stiles are hidden under the veneer, so this add to the cost of some flush door designs.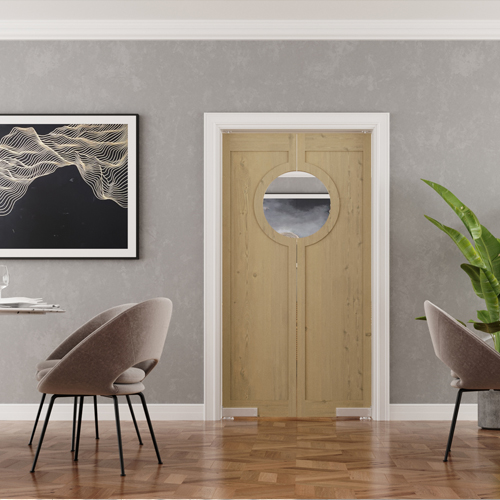 Glass door will add instant light and reflection to all areas around the door. Glass is a very popular upgrade on interior doors because as the aesthetic impact it can provide. Glass can come in a variety of glass, design and location on a door. Glass panels and round glass window are the lastest trends in modern door design. The shape and glass design can be customized for the homeowners needs. Modern interior glass doors are a great way to update your home interior.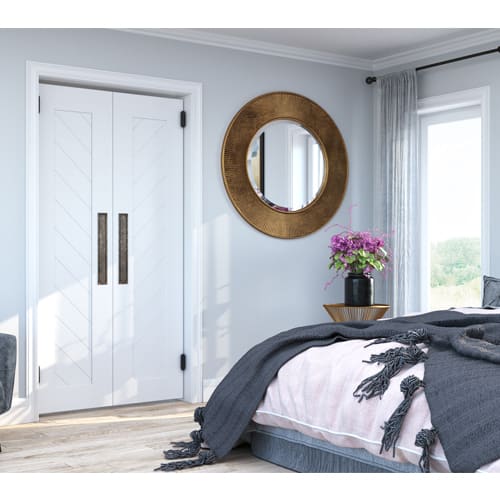 Modern Design Details for example:Chevron
This is a modern approach to a traditional style. The chevron door is characterized by a sleek and modern touch, simple and straight lines, and a unique chevron pattern that runs all across the surface of the door - as a single solid body. You can choose from a single or double door - depending on the utility and function of the room. Also, this door may be slightly less easy to clean as compared to flush doors. Chevron is just one example of modern designs on doors.
A shaker door offers a slightly detailed and traditional approach to a flush door. Whether you're looking for something more contemporary or traditional - the shaker-paneled door is a great way to add more depth and character to your home. Featuring clean, 90-degree edges, these shaker doors offer a wide array of endless permutations and combination ideas. The size of the panels can be altered depending on the overall design scheme and architectural features. Either composed of MDF or glass panels, the shaker doors will always freshen up the look and feel of any home. You can also choose to use them in walk-in closets and pantry/utility rooms.
Hinges For Modern Interior Doors
Just how crucial are the overall appeal and aesthetic of the door is the machinery involved such as hinges and hardware. A hinge is basically an external joint that holds two components together allowing minimal movement. It's attached to the doors and is a visible and prominent element in the overall design of the door. This is a pivot point for opening and closing the door since it's directly attached to the frame. The hinges are available in various materials such as pewter, copper, stainless steel, bronze, and brass. There are three major types of hinges that you must be aware of - double-action hinges, butt hinges, and sliding hardware. Here's a detailed guideline for you to make informed decisions -
Double-action hinges offer double benefits since they swing open in both directions and are fully self-closing. These hinges will automatically return the doors to the center and also allow the door to be pushed without using a handle. These double-action hinges use the technology of spring or gravity to pull back the doors to the original position.
One of the most commonly used hinges, the butt hinge consists of two rectangular leaves knuckled in the middle using a pin. Their application is quite diverse since they can be used on cabinets, doors, as well as windows. When diving deeper into the available materials, one of the easiest to find and work with is stainless steel. One of the major advantages offered by the butt hinges is the utmost strength and durability it brings. It can easily withstand the heavy weight of the windows and doors making it quite a convenient option for all the materials and functions.
Sliding doors offer the utmost modern, minimalist, and contemporary approach to design. Whether you have a minimalist style or rustic, the sliding hardware is available in a number of finishes and styles to pick the best one from. In general, you can either choose from aluminum or stainless steel - depending upon the aesthetics and also the weight of the door. Unlike the generic swing doors hardware (double action and butt hinges), the sliding door hardware includes the use of tracks. So, when choosing these tracks, always remember to check and recheck the overall weight, width, and height of your door.
Summing It Up
Now that you've come across the various types and styles of modern interior doors along with the hardware required - are you excited to incorporate any? Which particular door amuses you the most? Well, do let me know your thoughts in the comments below! Else, reach out to one of our team members and we'd be very happy to help you.