How Do Saloon Doors Work?
Saloon doors aren't just for fancy restaurants and Western movies; they're also perfect for modern-day home and commercial offices.
Why are they useful in these spaces? Hands-free swinging doors can eliminate the need to empty your hands before entering a room. Not only that, they provide a visible barrier between spaces with added pizzaz that your typical door can't, including dividing spaces.
Spice up your room with a unique and custom set of doors!
What Are Saloon Doors?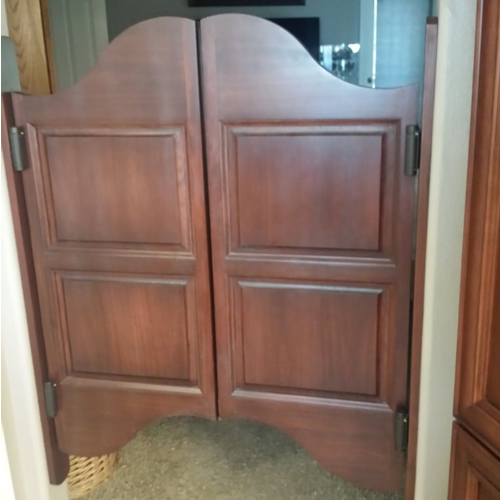 In the most layman of terms, they are double doors that swing in both directions. Meaning, you can push open the door from either room. In olden times, they kept the hoopla of a bar contained, while still allowing easy removal of disorderly patrons.
While they may seem old fashioned, saloon-style doors have cropped up all throughout history. We've all seen the Old West depicted in movies and TV shows, complete with a saloon or tavern. Saloons were as popular in real life as Hollywood lead us to believe!
These doors work with a special type of hinge, called a double action hinge. These are specially designed to allow for the typical swing of a saloon door, while still being sleek enough to blend into the overall design.
Double Action Hinges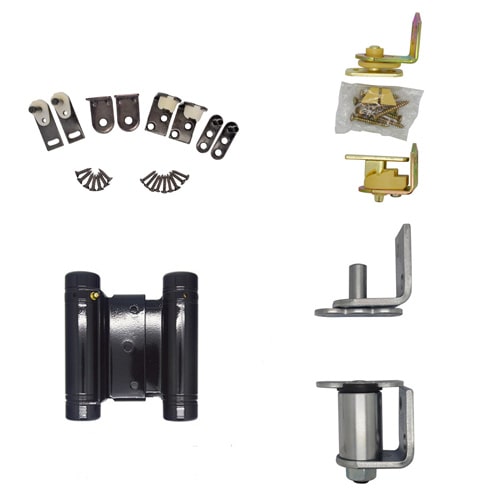 Here at Swinging Cafe Doors, we offer a variety of double action hinges to suit every style and space. Our extensive catalog will have something for everyone. We offer a variety of sizes in our saloon doors too; torso length to full-length doors (up to 95" tall) with any walk-through width desired. This double action hinge allows for the swing in either direction and some even have a hold open feature.
There are 2 main types of Double Action Hinges; Gravity Hinges and Spring Hinges.
Gravity Hinges
These are available in standard, premium, and commercial grades. We offer a variety of finishes in most of the grades, all offering a hold open feature.
Gravity hinges use gravity to bring the door back to the closed position. When the saloon doors are being pushed open, they ride along a small ramp within the hinge. When the door is released, gravity causes the door to slide back down this ramp to the closed position.
Spring Hinges
Spring hinges are available in a commercial grade and a variety of finishes. The spring hinge does not offer a hold open feature.
Spring hinges are as simple as they sound; a spring pulls the door back to the closed position. The benefit of this style of hinge is the ability to adjust the tension on the spring. You can make it swing closed at the speed you desire.
Saloon Doors
Saloon doors are available in a wide variety of design options: Modern designs, barn style doors, traditional style doors, louvre style, and western style doors.
For a more in-depth review of the hinges we offer, check out our blog post about the best hinges for saloon doors.
Whether you're looking for a special feature in your master bathroom or a convenient kitchen door for your home or business, Swinging Cafe Doors can help. We've been in this business for over a decade.
We take pride in our work, offering USA-made products and free shipping to the continental United States. Swinging Cafe Doors is your #1 shop for all your saloon door needs.
Take a look at our blog, we upload regularly with helpful information on our products.