Modern Interior Door Designs of 2021
Doors have been an important part of interior design throughout history. While the elements evolve, doors are still a major focal point in our homes today.
If you're interested in adding a modern interior door design for a focal point in your home, then you've come to the right place. We've put together an interior door guide highlighting the modern trends in 2021.
Trending Materials
When choosing the right door for your interior, materials play a significant role in how a door will mesh with your space. In 2021, there are a few materials that will make more of an appearance in indoor designs.
Wood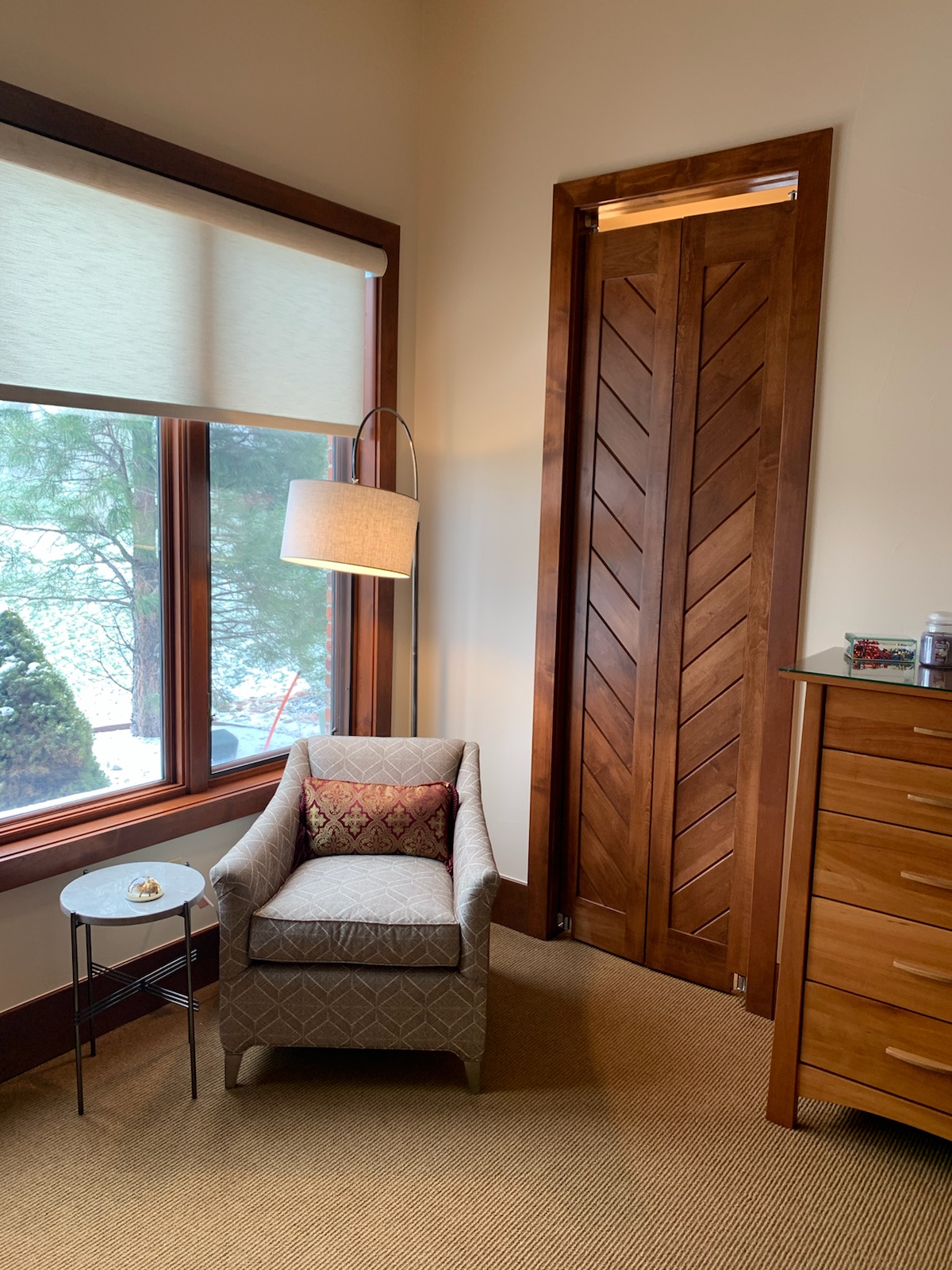 Wood doors are still a tried-and-true material with a timeless place in interior design. Wood is a multifunctional material that elevates style with carvings, glass pieces, and 3D elements. The wood panels can be raised or shaker panels.
Glass

Using glass for interior doors is gaining steam as a popular design style. Glass allows more light to enter a space and will give rooms a more open and airy feel. This material also allows closed-off rooms to feel more spacious. Glass options are available from clear to frosted.
Steel
While steel is not a material often used for the entire door, it is becoming a common framework or accent material. This is due to the popularity of industrial design styles inside homes.
Best Door Styles of 2021
When identifying the most popular interior door styles of 2021, there were a few trends that stood out above the rest.
Crittall
Crittail-style doors are double doors with many panes of glass in a dark steel or aluminum frame. This style melds the function of walls and doors together to create a sleek minimalist look with an open feel.
Jali
For more ornate interior door ideas, the Jali-style is a great option. These doors are wood with intricate designs carved into them. The designs are often geometric or woven and might be filled with glass elements for an added design element.
Grand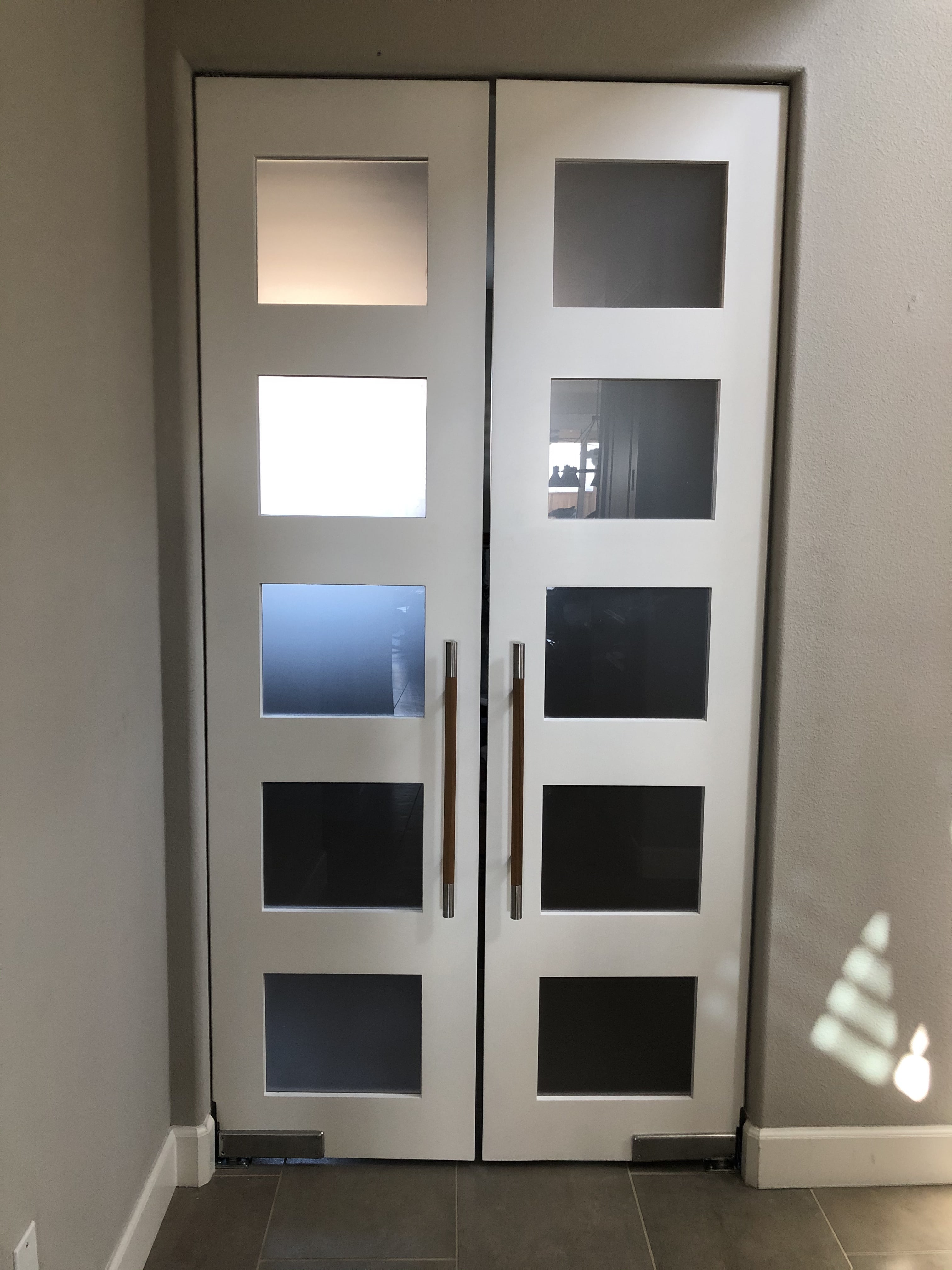 Grand doors have been a key interior feature many times throughout history and are coming back into style in 2021. Floor-to-ceiling height doors are a show-stopping element that makes a room feel larger than it is. Wider than average doors give rooms an additional sense of grandeur.
Industrial
The industrial style has been on the rise in interiors and uses stripped-back industrial elements such as brick, metals, and wood. This style shows indoor trends using mixed materials, such as wood or glass and steel.
Industrial style doors often have a natural primary material paired with industrial hardware like metal railing, hinges, or handles.
Wood Slat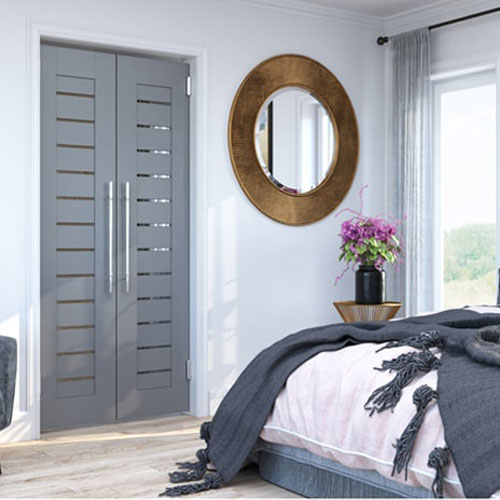 The slats are mostly comprised of wood and add an additional design element to the door. The slats can be installed as a chevron design or left vertical leaving additional gaps for light, air and conversation to travel thru the door.
Color is Key
Gone are the days when plain natural wood or white doors are must-haves in a home. Eye-catching colors are on the rise and guarantee to make a statement.
Bold
Bright and bold colors like emerald, fuchsia, Caribbean blue, and reds have been a popular choice for accenting a home in recent years. Choosing these colors for a door is a daring design style that will breathe new life into your home.
Pastels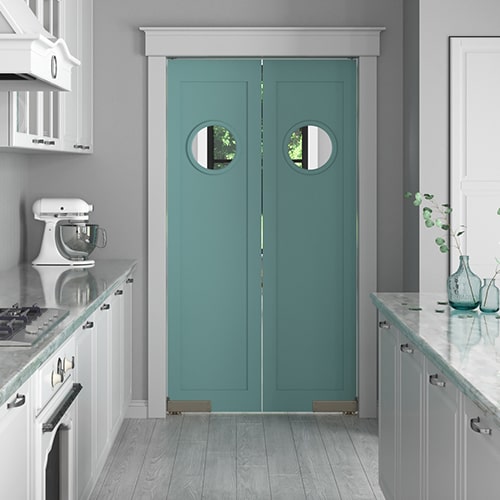 Using pastel colors for your doors is on the rise and perfect for those who wish to have a more light and calming space. Pink, blue-greens, and pale blue are some of the highest trending pastel options for your doors today.
Dark and Moody
These door color trends blend perfectly with the growing industrial styles by creating more contrast in the home. Popular colors that provide this effect are dark blue, dark gray, and charcoal.
Non-Traditional Movement is In
When considering doors, we often think of the more traditional single door on a hinge style movement. In 2021, the trending styles are doing away with tradition for more unique door movements.
Pivot
Pivot doors are a chic, space-saving option that swings on a set of pins mounted at both the top and bottom of the door. These doors swing on a single point which creates a modern, unique focal point in your home. Pivot hinges are available in single action, double action, and hidden options.
Sliding
Sliding doors often contain wood or glass that slides along a rail system to close or open up a space. The exposed railing is often a great opportunity to provide an added design element and works great with more industrial fixtures and barn-style doors.
The sliding movement works well in any sized room and keeps homeowners from having to decide which way the door swings in their design process.
Swinging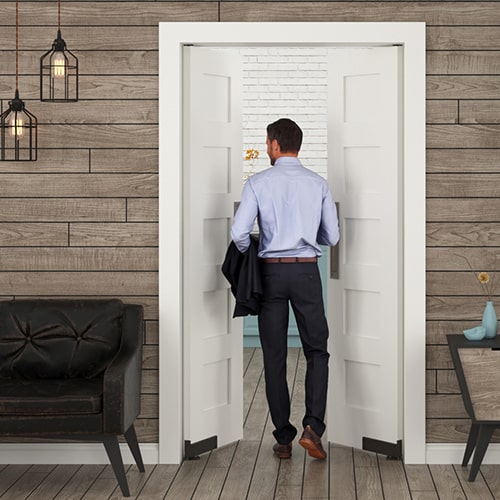 A set of double doors that open in a swinging movement is another kind of unique movement for your doors. Otherwise known as café or saloon doors, these doors open on double-action hinges that swing both ways.
These doors can include glass features for a more open feel or detailed designs. With varying heights and a variety of styles, these doors can help visually define a space.
Pocket
Pocket doors have come and gone in interior design popularity but are on the rise again — especially for bathrooms. These doors are single or double doors on a hidden rail system and move in and out of an area inside the wall.
Don't Forget the Hardware
When choosing a modern interior door for your home, don't forget about considering the right hardware. Current trends for interior door hardware keep with the industrial style using gunmetal colors, mixed textures, unique plating, and long handles.
Modernize Your Home With Interior Door Trends
There are various popular materials, styles, and colors to choose from when considering interior door ideas for your home. With so much to choose from, you will be able to keep up with current trends while including an attention-grabbing feature in your home.
If you're ready to upgrade to a modern interior door design that fits just right in your home, contact us for a custom quote!