The Best Mid-Century Modern Interior Doors for Your Home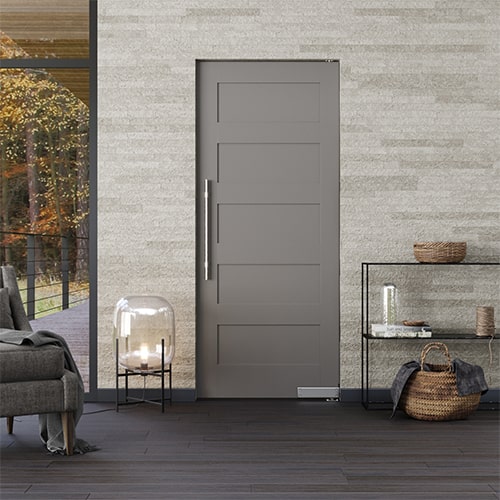 Modern mid-century interior doors have continued to be a hot new trend for homeowners. Adding new modern doors to your home interior is a quick and easy way to add some modern flair. Mid-century doors were very popular in the 1960's-1970's and have never gone out of style. The mid-century design is a timeless look for interior doors that will add value to your home, as well as an eye-catching design.
What is a Mid-Century Modern Door?
Mid-century modern doors are a minimal look with a traditional flair. Mid-century door design is a flush door design with panels of glass or wood. The glass panels are typically square, round, or rectangular in shape. Swinging Café Doors is proud to offer glass panels in all three options for interior modern doors.
Where to buy a Mid-Century Modern Door?
Swinging Café Doors, recently launched a new line of mid-century modern interior doors that will look perfect in your home. These swinging doors allow you to customize the door material, width, height, and hardware for a perfect fit inside your home. Here are some of best mid century modern interior doors:
This door design show the true midcentury vibes: Mid-Century Modern Equal Panels Single Interior Door is a full height door that can swing in either direction and atuomatically return to center. This beautiful door would make a perfect modern closet door, modern bedroom door or an interior door for an office or pantry. You can add a door pull or push plate to achieve an elegant look. This mid-century modern door design will be a center piece to your room and add the modern look without a renovation.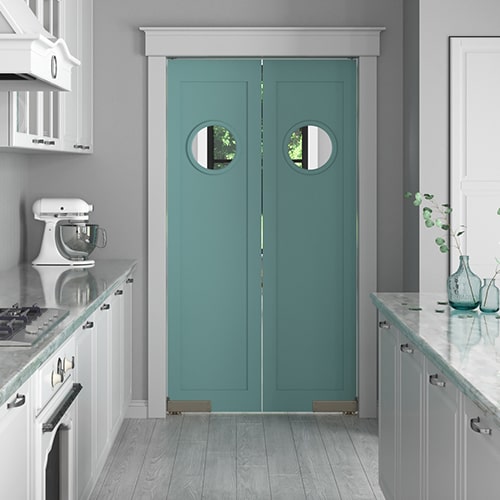 Maritime Porthole Nautical Swinging Doors are available as a single porthole door, double porthole doors- full length, and double porthole half doors. Again, these doors include double action hardware that allows the doors to swing in both directions and self-return to center. These doors include a porthole window that adds a nautical flair to your home or business. These doors are very popular for a residential or commercial kitchen application as a butler door. The porthole doors will continue to be a beautiful addition to your room, become a statement of modern design. The Maritime Porthole Nautical Swinging Doors are becoming one of our most popular designs.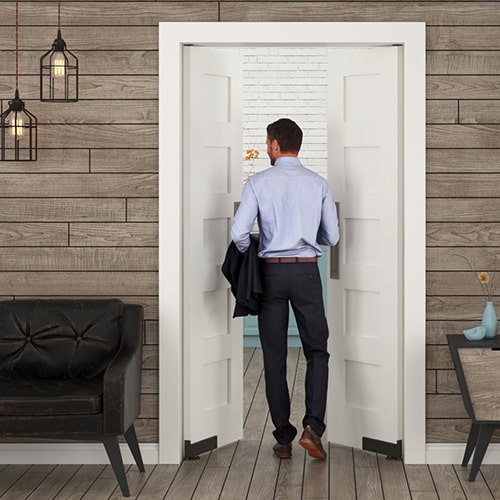 Modern Equal Panel Double Swinging Interior Doors offer the modern mid-century design in square wood panels. We also offer glass panel modern doors. This swinging door can have several hardware options for double action hinges. The most common hinge is the commercial grade horizontal spring hinge, because it allows for the full height doors with minimal gaps.
Sliding vs Swinging Mid-Century Modern Doors?
These modern doors can be designed as a swinging door, double swinging door, or a sliding door. Decide on the best door movement for your application. The beauty of these midcentury doors will make it a focal point. These modern interior doors are perfect for a bathroom, bedroom, pantry, kitchen, office, or closet doors.
Most of all mid-century doors will be available in a wide variety of finished (painted or stained) and unfinished options. At Swinging Café Doors, we strive to produce quality custom made modern doors. The doors are custom made for your exact door opening size. We calculate the door size according to your door opening size and hardware selection. The doors are built, inspected, and then shipped to you as fast as possible.