The Most Modern Doors For Your Interior Decor
In 2018, Americans reported that they spent an average of $9,081 on home improvements. The main reasons for the renovations and improvements were to fix damage, defects, or decay.
Another reason cited for home improvements is to transform dull and uninspired rooms into enjoyable places to spend time. Sometimes your home can feel old and worn, but there are many ways in which you can breathe life back into it. One such way is updating your external and internal doors.
Are you looking for decor inspiration for your property? Read on to discover the most modern doors that will look amazing in your home.
What Types of Modern Doors Are There?
When it comes to renovating a property and giving it a new look, many people choose to update their bathroom or kitchen. Other people choose to give the walls a new lick of paint or new wallpaper. But what many people overlook is the interior doors in their home.
A door not only offers privacy between your rooms and adds functional aspects to your home, but it also provides a big visual impact on your rooms too. According to Money.com, an estimated 3.7 million homeowners replace their doors and windows every year. The average cost of replacing doors or windows is $3,422.
Modern interior doors come in a variety of shapes, sizes, styles, designs, and materials. These are the most common modern doors that you should think about installing in your home:
1. Double Doors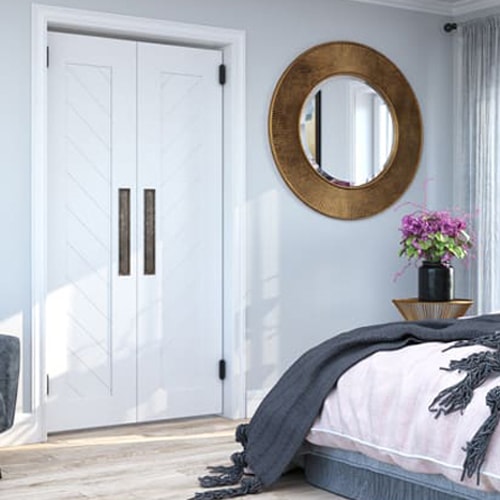 Double doors offer both durability and strength and can make a real statement in your home. The most popular examples of double doors that can be installed in any room in your home are Barn, Swinging, and French doors. Often they are better suited for communal areas, such as living or dining rooms because they're quite large.
There are many different types of door styles, finishes, and glazing options when it comes to double doors. One such style is the elegant Chevron double swinging half doors, these are ideal for dividing spaces, while still letting the light and air flow freely. Double doors are available in a variety of materials too, including wood, finished wood, or glass.
2. Glass Doors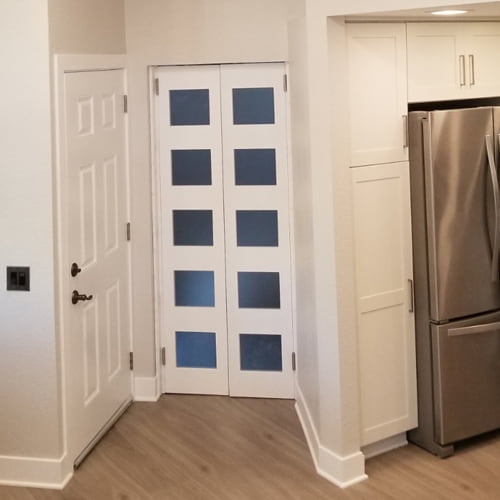 Another popular modern door choice for homeowners is glass doors. Glass doors can offer either a traditional feel to your home or a contemporary and modern feel to your home. It all depends on the style, materials, and finish that you choose.
For a more contemporary feel and finish, you should pick something like the double swinging glass interior doors. These bespoke doors can be customized however you need them for your home.
Choose from frosted or clear panels, so each door can be customized for the specific room. For example, for bathrooms, you would want to install a glass door with a frosted glass panel.
3. Sliding Doors
Modern doors understand that sometimes people have limited space, which is why the sliding door was created. Sliding doors are great for homes that are looking to save space, but not compromise on privacy or decor aesthetic.
There are two main types of sliding doors, the typical sliding door, and the barn door. The typical sliding door offers a modern and sleek look, ideal for minimalist and contemporary homes alike. The barn sliding door offers a modern yet rustic feel, ideal for homes looking to strike a balance between the old and new.
Barn doors are often made out of wood and involve a large wooden slab and hardware to hang above a doorway. While typical sliding doors can be made out of wood, but the more sleek ones are made out of plastic or fiberglass.
4. Slat Doors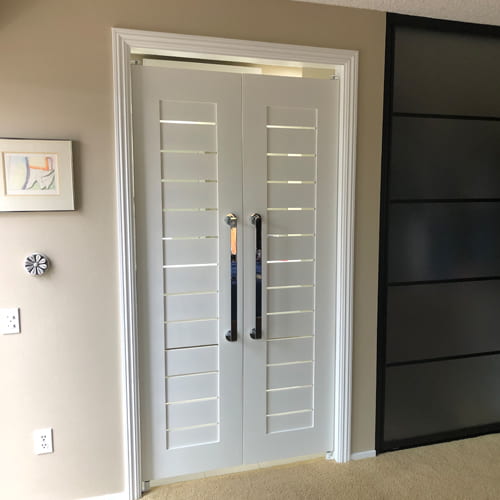 Swinging slat interior doors are ideal for increasing mobility, as the doors swing both ways and return to the center automatically. They also look great, so if you struggle to get around or always have your hands full then installing these modern slat doors might be the solution for you.
These doors provide enough privacy and division so that they look smart and can help create more space in your home. However, the slats also allow you to see through, making them ideal for children's playrooms.
5. Saloon Doors

An alternative option that saves space but can be installed without a professional is saloon doors. These are also known as swinging doors, bar doors, or cafe doors. Relying on double-action hardware, the saloon door swings back and forth and can return to the center easily.
Unlike other modern doors, saloon doors offer privacy and separation of rooms, while allowing light and air to flow. Saloon doors come in a variety of modern styles and finishes, so you can be sure that you'll find the right one for your home or business.
Unlike pocket or pivot doors, saloon doors can be installed without the help of a professional. Have a look at this saloon door installation guide to follow our step-by-step instructions. Hinge Installation Instructions
6. Chevron Doors
If you need modern doors that make a statement in your space but don't compromise on style, then you might want to think about getting some chevron doors. Modern contemporary Chevron double swinging doors, as the name suggests, involve fancy chevron design, with double action hinges. The double action hinges allow the doors to swing back and forth and return to the center.
These doors are great for taking up less floor space and for bringing a contemporary feel to any home. They are also great for separation of space, yet still, allow for great design.
Choose the Right Door for Your Modern Home
The interior of your home matters, which is why you should carefully choose which modern doors suit your home and your style. Use our guide on the types of modern doors to decide which one is right for your home.
Get in touch with our friendly team to find your ideal custom made-to-fit saloon doors now.