Best Hinged Doors for Your Pantry
Pantry doors can be beautiful and provide seamless function to your home. Learn about the best pantry door solutions for your home today.
Bifold Doors
Advantages:
1. Design Options
Bifold hinged doors are available in many different designs, including mirrored doors and folding screen doors, to name just a few. You can find the perfect door for your home by searching through our catalog.
Disadvantages:
1. Handled Door- Door need to be opened and close by Hand
Bi-fold door offer an easy open and close feature with a handle. These type of doors can be used in small areas and still provide great function to your pantry.
Bifold hinged doors are built with tracks that run along the top and bottom of the door, allowing it to slide open easily without requiring much force on the part of the user. This makes them especially convenient if you have small children or elderly family members who may struggle with more traditional doors.
2. Off Track
With a bifold hinged door, it is possible for the doors falling off the track or getting stuck. The door will then need to be placed back on track for a smooth operation. The doors are made from strong, durable materials and are easy to clean with no exposed moving parts that could get damaged by dirt or water.
3. Select Door Sizes
Bifold hinged doors are available in many different sizes, but they're not offered in every size you may be looking for. The size you choose will depend on what you need from your new door. If you have a large space that needs to be covered with one piece of hardware, then Bifold hinged doors might not be right for you. If you want something more versatile with more material options you may want to switch to a different hinge style.
Butt Hinges (traditional door and jamb)
Advantages:
1. Design Options
Readily available and many design options. These traditional doors are normal for must new construction application. All the doors in the house will have the same look for an overall cohesive look.
Disadvantages
1. Need a Door Jamb.
A butt-hinged door is one of the most common types of door and jamb you'll see in older homes. It's also called a "traditional door and jamb," which is what we'll call it from now on.
When you think about it, installing a butt-hinged door isn't really all that different from installing a hinged door except you need to install a conventional jamb. A conventional jamb has vertical framing members as well as horizontal members (the latter usually being referred to as studs). The horizontal members are attached to the vertical members with nails or screws, or they may be connected by other means such as metal plates or straps. This type of framing is necessary for butt-hinged doors because they require more support than hinged doors do. If you are adding doors to an opening adding the door jamb is an extra step, but not all hinges requires door jamb. For less construction work some alternative hinges could work for your pantry as well.
2. Some construction is necessary
Because the butt-hinged door relies on pressure from its parts to stay in place, it requires some construction work to be done before it can be installed. The jamb the part of the wall where the door will be installed, must first be prepared by creating a gap between two studs with a hammer and chisel (or saw). Then you install a pair of hinges on each side of this gap so that they will hold up your new doors. You'll also need to add some sort of lock hardware to keep the pantry door closed.
3. Doorknob Needed
Butt hinges are a traditional style of door hinge that is mounted on the jamb and secured to the door with a pin. This type of hinge is often used in conjunction with a knob or lever handle to open the door. Once opened, however, the pin must be removed from the door and reinstalled on the jamb before closing it. Turning a door knob when your hands are full of grocery is not an easy task.
Double Action Hinges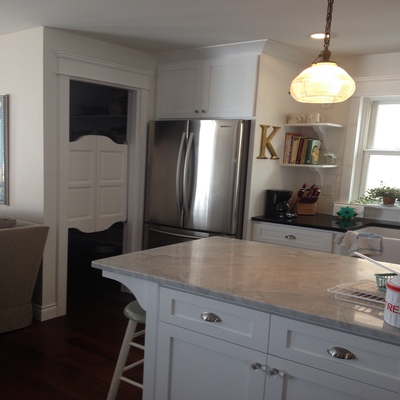 1. Easy to Install
They're easy to install, too—just drill some holes and screw them into place. Custom made saloon doors are easy to operate and install in any door opening size. Saloon doors are a perfect option for pantry doors.
2. No Construction Required
Double Action Hinges are a great way to make sure your door is always ready for action. These hinges can be installed on your existing door and will work with any opening, giving you the flexibility to add them to any space. Double-action hinges are ideal for any door that you want to open in either direction and can be opened without a handle.
3. Design Options
The Double Action Hinges Door has many benefits. The first, and most obvious, is that it's a design option for any size of door. They can be made for full-length doors and saloon style doors. This gives the customer the ability to customize their home in any way they see fit. These saloon style doors can be design to be similar to traditional door or act as an accent piece to the kitchen.
4. Self Closing
Another benefit is that these doors self-close, which means there's no more open pantry doors! The hinges are design to self return to center once you have walk thru them. The self closing feature is an added bonus for double action hinges.
5. No Handles Needed
Double action hinges use a built-in spring or gravity action when you close it, so there's no handle or knob need to open the doors. You can simple push the doors open with a hand, hip, or elbow. This makes them perfect for bathrooms or kitchens where you don't want water or food getting on the handles, and also keeps your home looking clean and modern by eliminating clutter from doorways.
6. Designs Options
Double action doors can be customized to fit your home perfectly, with multiple options for both interior and exterior applications available from many different brands. Whether you're looking for a sleek design that will hide itself behind another piece of furniture or something more traditional that suits your home's style, there are plenty of designs available to suit any taste or budget!
No ordinary door will do, make your pantry door a showpiece to your kitchen today and the best design choices as well.
There are many different doors that could be used for pantries and most people don't know how to choose from them all. To help you, I've created a list of what I believe to be the best hinged doors for your pantry.