Saloon Doors, Accordion Doors, or Bi-fold Doors- Which one is the best option?
Saloon doors are traditional half doors with hardware that will allow the doors to swing in both directions. The hardware also allows the doors to self-return to center. Accordion doors are sliding doors that fold into themselves, accordion style with more than two panels per side. Bi-fold doors are sliding doors that also close onto themselves but are typical only one or two panels per side. Both saloon doors and accordion doors are changing and offering new designs to the modern consumer.
Saloon doors and accordion doors are both great ways to separate spaces. They both offer modern door design options, take up less space than traditional butt doors, and offer a wide range of materials and designs. Saloon doors can offer a lot of the same features as accordion doors and offer many design options. Saloon doors can be installed into an existing opening with very little prep work required. Saloon doors can be custom made to fit into your exact door opening size allowing for easy installation.
Accordion doors are the better option if you are using a large opening over 72" wide or an outdoor application. Accordion doors will require a new door jamb and is a large-scale project.
Accordion Doors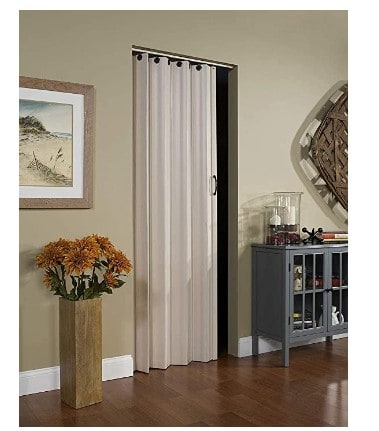 The old accordion doors from your grandparent's house are changing. Today's accordion door designs are now being incorporated into large modern homes. For example, full-length glass exterior accordion style doors will fold onto themselves to revive an outdoor patio or desk. The accordion design is becoming a trendy patio style door that's a must for today home designer and owners. These accordion doors are great space savers since they don't swing in and out like a traditional door and can accommodate very large openings.
The accordion doors still need adequate space at each jamb opening since they fold into one another resting in this spot when opened. These doors will leave a wide-open entrance or exit.
Accordion doors can also be used in interior spaces: to separate large banquet rooms, or for door openings over 72" wide. The accordion doors will slide and close, as an accordion collapsed together. The doors will leave a wide-open space when they are opened fully. The accordion doors are installed on a large track, mounted at the ceiling. Accordion doors can only be full length.
Accordion doors offer only track style hardware, require a large effort to close or open this style of doors and has a larger space requirement when doors are fully opened.
Interior accordion doors have less design and style options than their exterior counterparts. Interior accordion doors don't offer glass, material is not as attractive. Since the material must collapse onto one another, the material is not going to be as solid as a wooden door. Accordion doors will require handles. The hardware on this style of door is prone to failure over time; the doors can fall out of the track, etc.
An accordion door can be made in several sizes including 60" accordion door size. These doors can be a great solution for creating a flexible partition in a room. An accordion barn door can provide a rustic or industrial look to a laundry room or closet. Accordion folding doors can be a great option for a space-saving solution, they can be easily added, folded, or removed and stored away when not in use.
Bi-fold Doors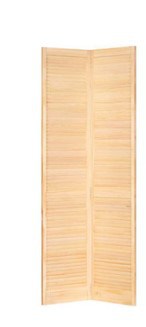 Bi-fold doors are very similar to the accordion doors. Bi-fold doors are sliding doors, that also fold into one another when closing. These types of doors will require additional space at the jamb when fully opened. Again, the bifold door will operate on a track system. The doors require maintenance to the track to ensure the best operation of the doors. Bi-fold and accordion doors are made for common door openings only, do require a frame to be installed, and design is limited.
The bifold doors will require a handle to open, will need to be manually closed, and does require additional effort for both opening and closing the doors.
Saloon Doors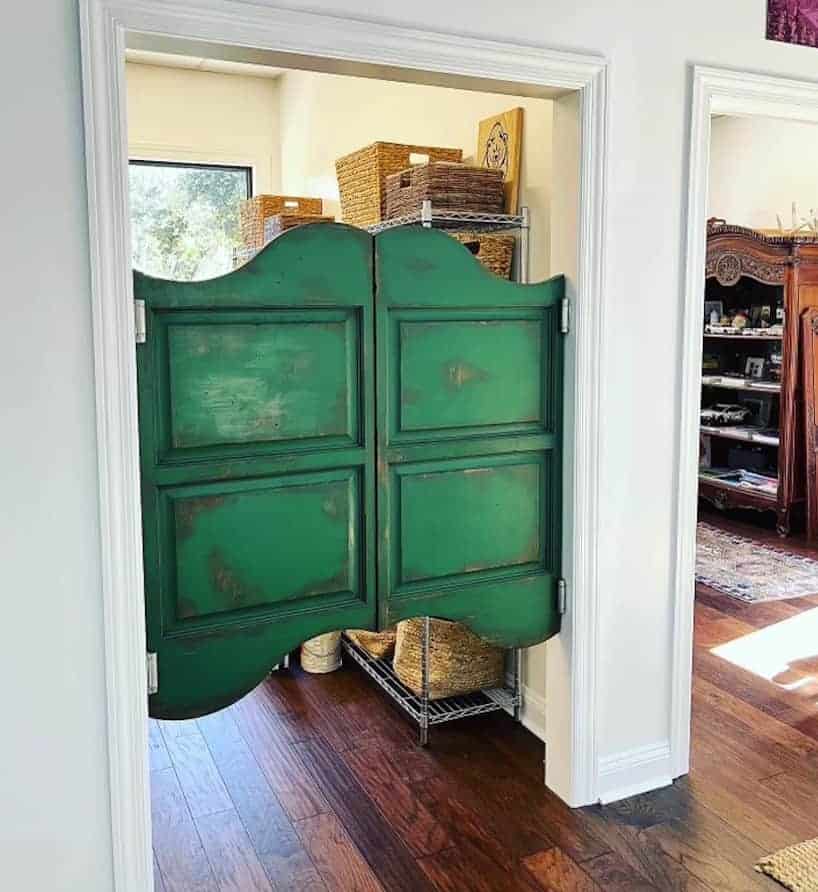 Saloon doors also offers a unique way of separating space as well. We recommend considering saloon doors for your interior applications up to 72" wide door openings. Saloon doors will be double swinging interior doors, that self-return to center (self-closing). Saloon style doors are again not the typical swing doors from the past. These doors are trendy, modern, and offer great function in today's home.
Saloon doors can be installed with minimal effort and do not require a new door jamb to be installed. Saloon doors are a great option when looking to separate spaces and still create a functional unique design. The saloon style doors can be opened with a finger, hand, elbow, or hip with very minimal effort. They do not require a handle for the doors to operate. The hinges are long lasting and will operate smoothly and effectively.
Saloon doors can be customized for your door opening, height requirements, and offer several hardware options. Saloon doors are available from 38" tall to 95" tall. Saloon doors are offered in modern, traditional, western, cottage, and louvered designs. The doors can be made from a wide variety of wood species. Saloon doors can also be painted or stained.
Saloon style doors are available with hardware that can remain open at 90 degrees in either direction.
Saloon doors are a great alternative to traditional doors, bi-fold doors and accordion doors- no new jamb required and great customizations are available. Double saloon doors are going to take up less space than a traditional door with butt hinges. With saloon doors you can open one door only or both if you choose. Saloon doors make a perfect choice when deciding on interior doors. They are easy to install, have great design and hardware options, and are custom made for your door opening size. Saloon doors will operate with more ease, no handle required to open the doors, and the hardware is self-returning, meaning the saloon doors will close itself.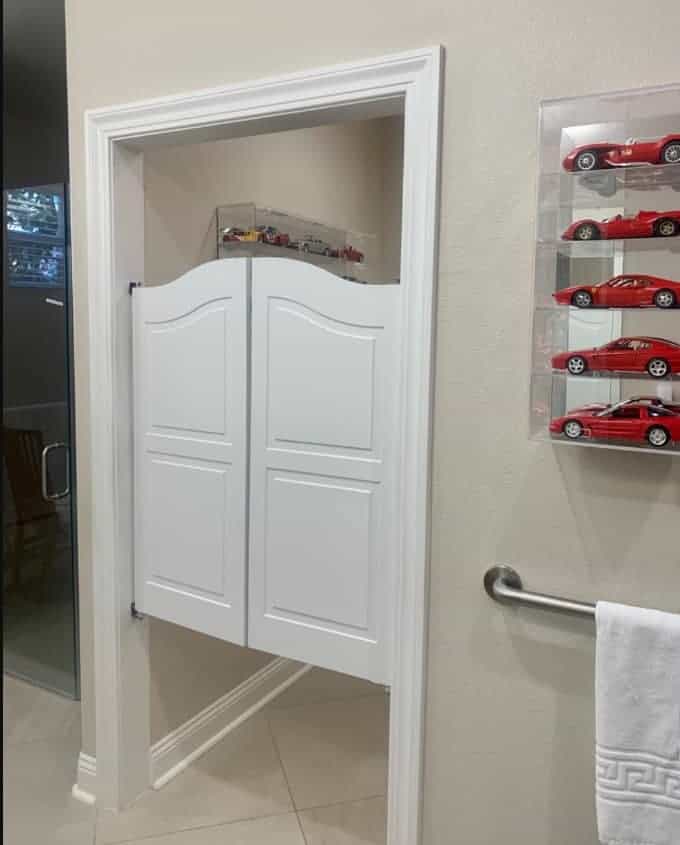 Saloon doors, also known as swinging café doors, are a type of foldable door that swing open and closed on a hinge. They are commonly used in restaurants, bars, and homes to add a rustic and charming touch to the space. Accordion doors, on the other hand, are a type of foldable door that fold in on themselves like an accordion, allowing for a wide opening width without taking up much space. These doors come in a variety of sizes, with 72 inch wide accordion doors being a popular option for larger spaces.
Additionally, accordion closet doors are a practical solution for those looking to save space in their bedrooms or closets. Bi-fold doors are another type of foldable door that fold in half, typically consisting of two panels hinged together. They are commonly used for closets or as room dividers. Flexible vinyl is a popular material choice for foldable doors due to its durability and affordability. Foldable doors and folding windows have become increasingly popular in recent years due to their versatility and space-saving benefits.
Saloon doors and accordion doors are both popular options for adding style and functionality to any home or business. Accordion doors can be found at home improvement stores, with options like accordion closet doors at Home Depot. These doors are available in a variety of sizes, including 24 inch accordion doors for smaller spaces. Custom doors or saloon doors can be used in a variety of settings, such as a bathroom or bedroom door. The flexible vinyl hinges make them easy to open and close, and they can also be used as double doors for larger openings.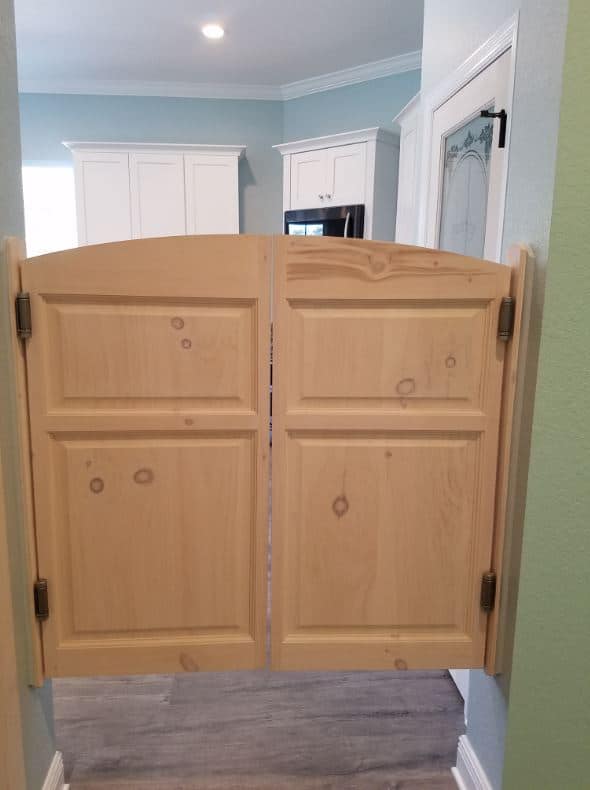 If you're looking for custom doors near you, some stores have them available for purchase, but a wider selection is available online. Online prices may also be available, with options for both ground and expedited shipping. To find the best deals on your doors, it's important to check both in-store and online prices. Some stores may even offer a store menu with information on available products and prices. When ordering online, it's important to check the shipping options and rates, including any additional fees for ground shipping or expedited shipping.
With so many options available, it's easy to find the perfect accordion door for your home or business.
Need help with custom doors for your home, contact Swinging Café Doors for a custom quote on saloon doors made for your exact door opening size. They specialize in custom made interior doors.