Top 6 Reasons to Choose Double Swinging Doors vs a Traditional Hinged Door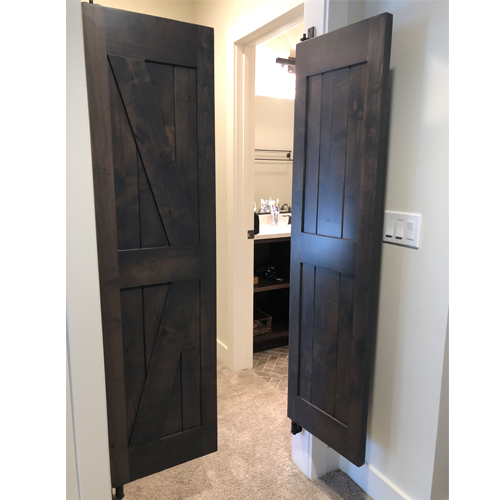 1. Double Swinging Doors offers narrower doors vs. a single swing door. This will allow them to be used in applications where swing space is limited.
Sometimes you need a door installed in a location but when the door swings…it takes over an additional space. Double Swinging Doors allows for the space where the doors swing into to be about half the size. If a standard 36" door cannot swing, but an 18" door could swing into the location this is a great saver of space.
2. Double Swinging Doors are easier to install and don't require a traditional door casing.
Double Swinging Doors can be installed into a hallway, a standard door opening, or a cased opening. Offering the flexibility to put doors anywhere in your home. If you are installing in a hallway and have no studs for the door to be located on, we offer trim boards to make the installation seamless.
3. Double Swinging Doors have hinges that will automatically return the doors to center…no more forgetting to shut the door!
Do you have a door that always need shut; double action hinges will return the doors to center. No more having to shut the doors behind you.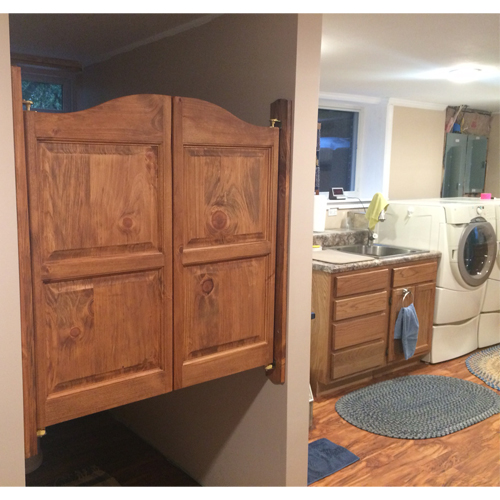 4. Double Swinging Doors require less effort to open, therefore you can push thru the doors without having to twist a door handle
Double Action Hinges allow your doors to be easily pushed open and are non-handed. That means you can simply open the doors with a push of your hand. The doors will open, you can walk thru, and then the door will swing back and forth and self-return the door(s) to center. Additionally, gravity hinges allow the doors to hold open if you so desire.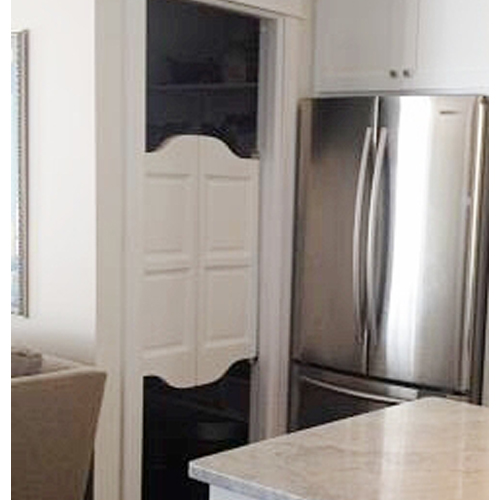 5. Partial length Double Swinging Doors allow air and light to pass between spaces.
Do you need air conditioning or heat to transfer into a space but still need privacy; Double Swinging Doors are a perfect option. Since the doors don't need to be full height this can easily be achieved. The partial length will also allow for light to continue to flow into the room. Double Swinging Doors come in a variety of heights. The most common height is 42" and 60". Depending on the coverage you need, Swinging Café Doors offers these standard sizes 38", 42", 48", 60", 70-95" tall. We can also customize a door for your height requirements. We have done doors as tall as 95" and as short as 24", we can customize the door heihgt and width for your exact opening.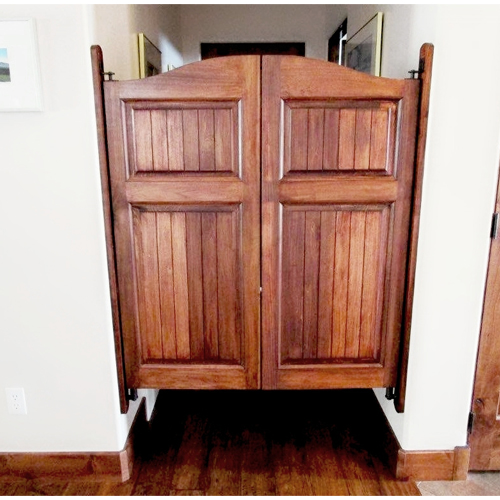 6. Custom Double Swinging Doors can be made to fit your existing opening. No need to modify the opening to fit the doors.
The Double Swinging Doors will be custom made to fit into a cased opening, traditional door jamb opening, or a hallway. The hinges do need to hit a stud, so if you are going thru drywall you will need longer screws. If you don't have studs located where the doors are going, you can use trim boards. The trim boards we offer come in the same material/finish as the doors. Please refer to this video showing how to measure your door opening.