The 4 Best Arch Top Saloon Doors From Swinging Café Doors
Market analysts say that 2.5 trillion in extra savings brought on by economic stimulus and lack of consumer spending represents pent-up demand. As America reopens for business, people will be ready to spend some cash.
Whether you are interested in updating your business or residence, now is the time to invest in your interior decoration. As people look to spend their money, one of the best places to spend your money is in your home. One of the best upgrades you can make is installing new saloon doors.
Is your cafe, restaurant or home ready for a style upgrade? Read on to learn about the four most stylish saloon doors from Swinging Cafe Doors.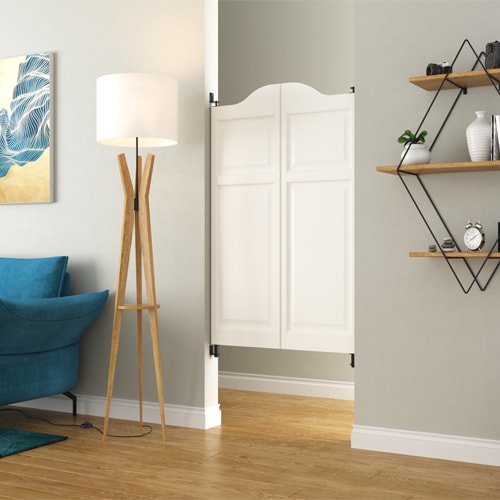 What's your goal when researching how to decorate your space? Saloon doors provide a level of privacy while facilitating conversation and allowing air to flow. Saloon doors create a perfect barrier and are easy to install.
Saloon doors will provide maximum amount of mobility and privacy for your door application. These doors allow you to carry laundry, plates or etc without turning a knob or pulling a handle. These swinging Arch Top Raised Panel Saloon Doors from Swinging Cafe Doors provide mobility and room separation.
Saloon doors will provide maximum amount of mobility and privacy for your door application. These doors allow you to carry laundry, plates or etc without turning a knob or pull a handle. These swinging Arch Top Raised Panel Saloon Doors provide mobility and room separation.
Features
These doors are custom made to fit any opening. Our team calculates the correct size for the doors depending on door opening size and door hardware selected. As with all our doors, you'll receive them ready to hang.
Some of the other features include:
Solid wood raised panels on both sides of the doors
Made in the USA
Professional finishing available
Multiple wood choices
Hardware to fit your specific needs
These doors are the perfect fit for any restaurant, cafe or residental application design that seeks to combine class with function. There's no need to choose between utility and beauty.
Upgrades
These saloon doors are available in a wide variety of heights and widths. You can add additional upgrades like Commercial Grade Doors- Resulting in 30% stronger doors. Push plates, door handles and trim boards are available to add as well.
2. Farmhouse Arched Top Saloon Doors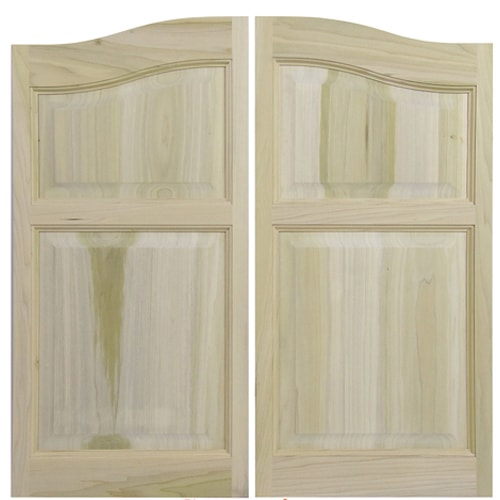 Are you interested in a more classic farmhouse decor? The farmhouse look is perfect for a more laid-back, breezy, cozy style. These are the best doors to make your home or business feel inviting and relaxing.
They also serve as great kitchen doors for any home remodel. Design trends these days lean toward a more austere and tastefully worn aesthetic. These Farmhouse Arched Top saloon doors make a fantastic addition.
Features
These classic farmhouse-style doors fit any rustic design aesthetic, especially one that features a lot of bare wood and metal. Like all our other doors, they are U.S.-made for guaranteed quality.
These Farmhouse Arched Top saloon doors also feature:
Custom builds ensure a perfect fit
Bi-directional operation and self-return to center with double action hinges
Superior woodshop craftsmanship
Multiple material choices to suit your design needs
Beautiful Arch Doors with Arched Panels to match
Raised Panels on both sides
Swinging Cafe Doors also offers multiple hinge styles to suit your restaurant or home needs. Standard gravity hinges and commercial-grade spring hinges all come in a variety of finishes to complete your design.
Upgrades
Not all restaurants or homes are the same, and neither is every opening. What you need for a cafe kitchen door may be different for a dining room entryway or a home office.
That said, these Farmhouse Arched Top doors come with multiple upgrade options, including push plates and design accents.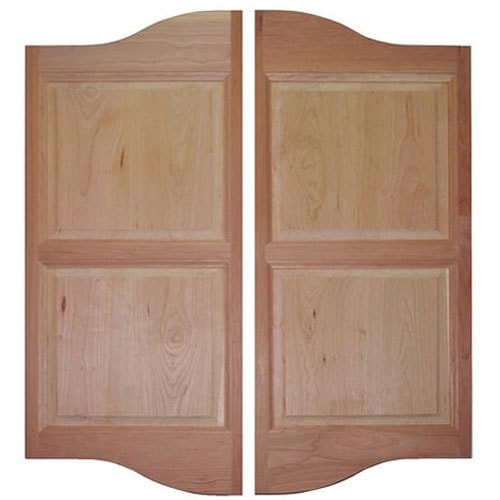 Saloon-style doors are for more than cafes. They can add a lot to your home's interior design. One of the latest home design trends is Cottagecore.
Cottagecore is a design aesthetic harkening back to English countryside motifs. This style invokes a cozy nostalgia for simple times pre-technology. These Cottage Style Saloon doors are perfect.
Features
Cottage Style saloon doors come in many wood varieties. A lighter wood like poplar or Eastern White Pine might match your color scheme, but darker stains like Ebony or Perry are also available.
These doors also feature:
Raised wooden panels on both sides of the doors
A 1-3/8" thickness for maximum strength
Double action hinges, that self-return to center
Easy installation
Customization for a perfect fit
These cottage saloon doors can make your Cottagecore design dreams come true. Try an unfinished poplar or a soft maple for a homey design.
Upgrades
All Swinging Cafe Doors come with multiple upgrades. Double action hinges, commercial grade rails and stiles, and push plates are all available. We also feature a wide variety of door accessories to fit any of your home or cafe needs.
4. Western Spindles Saloon Doors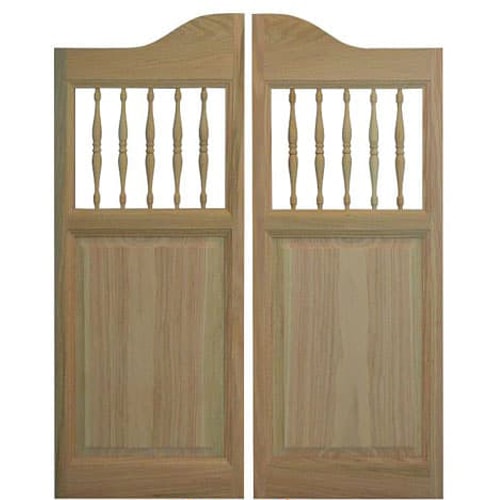 Do you want to invoke the feeling of an old-school Western saloon? These spindle doors can transport your cafe back in time. Spindle doors work great for restaurants or home because of their increased sightline.
Easy way to add a western touch with these Western Spindles Saloon Doors from Swinging Cafe Doors.
Features
Doors for cafes need to be functional and stylish. The spindle doors add a window that allows your staff to see who's coming on the other side. If you're a restaurant vet, you know how valuable this can be.
These doors also feature:
Strong rail and stile joints
Bi-directional opening for easy maneuverability, that self-returns to center
Raised Panel on both sides of the doors
Multiple hardware option and finishes available
Does your city have a western-style saloon? Or do you want to add a western design edge to your home? These spindle doors could be a perfect fit.
Upgrades
Accessorize your doors for a unique look. We offer iron door pulls, commercial door plates, and latches of all kinds. We also add custom nail heads, and our hand-forged iron stars are the perfect match.
Saloon Doors for Your Home and Business
Saloon doors add a distinct design touch to any home. They're also a popular choice for cafes and restaurants because of their function.
Now that America is reopening, your cafe or restaurant needs to look its best. You have to increase your business "wow factor," and one way to do it is to install custom saloon doors.
Swinging Cafe Doors are made in the U.S.A. with pride by expert craftsmen. Get a quote today for quality custom cafe doors