Top 6 Reasons to Buy Saloon Doors from Swinging Café Doors
Swinging Café Doors has specialized in saloon doors since 2004. Based in Spring Church, PA we offer a wide variety of saloon doors and double action hinges. At Swinging Café Doors, we strive to provide unique and high-quality swinging saloon door solutions.
Why buy from Swinging Café Doors?
1. Endless Ways to Customize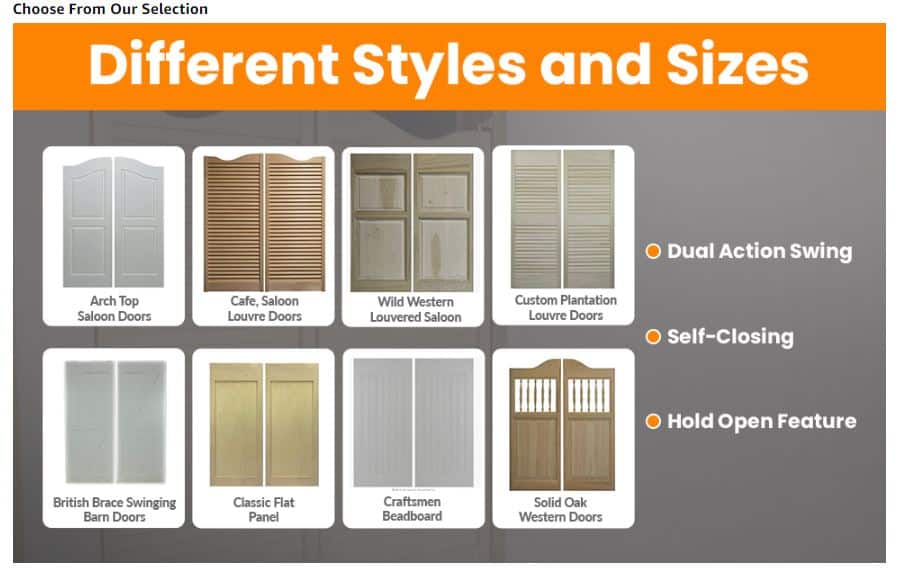 No one offers more options than we do! Swinging Café Doors offers over 80 designs of saloon and café doors. Swinging Café Doors also offers heights ranging from 38" tall to 95" tall. Expansive collection of wood materials and finishing. We offer many hardware designs (both hold open and non hold open) and various finishes. You can customize a door to fit an existing design. We will gladly customize a door to your needs.
2. Made in the USA Door Quality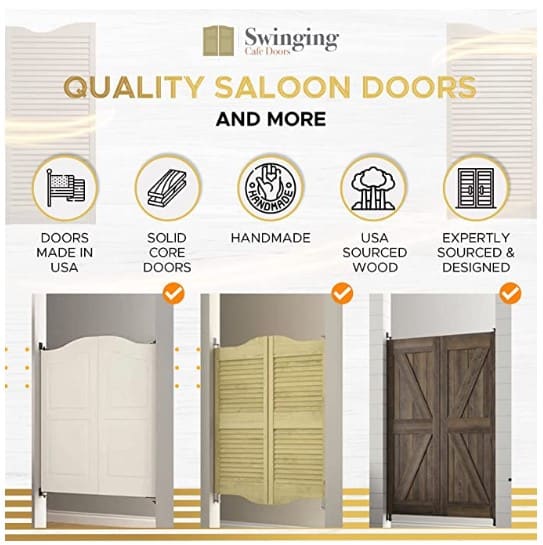 All custom doors are made in the USA! Master craftsmen use the fine wood and material to build your saloon doors. The expert craftsman strives to provide the best wooden saloon door quality. Each door is handmade for your door opening size. Once the doors are finished, the doors go through a quality check before shipping.
3. Decades of Specialized Knowledge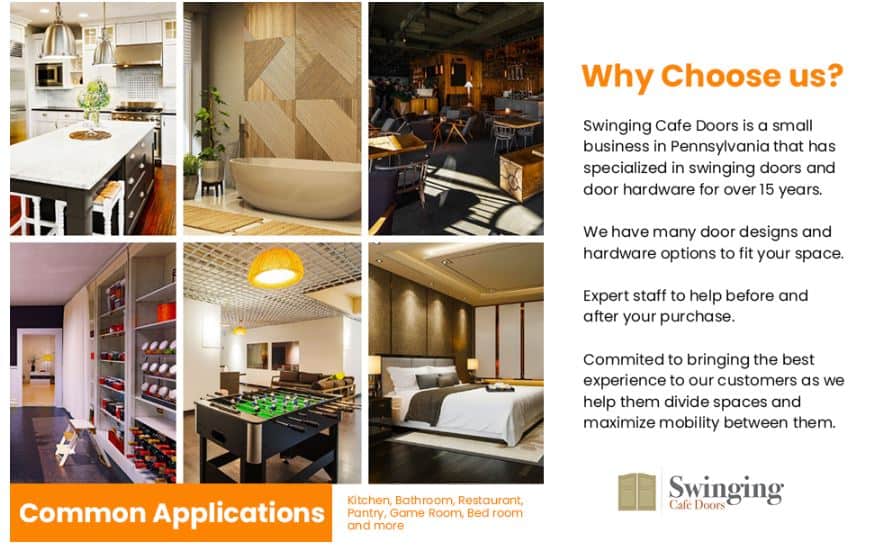 Swinging Café Doors can offer expert knowledge in swinging doors and double action hardware. We can offer years of experience with double action hardware, allowing us to provide you with the best hardware option for your saloon doors.
4. Perfect Fit Guaranteed
Whether you are purchasing a barn door or saloon doors, Swinging Café Doors will make the doors to fit your openings. If you are ordering saloon doors, you will enter your opening width, wood material, door height, door hardware and hardware finish. We will custom make the doors to fit your opening based on your opening size and hardware selected. We do allow for a small gap between the doors, allowing them to swing freely, we also calculate all the clearances needed for the hardware. We guarantee the doors will fit your opening size listed on the order.
5. Made with Real Wood
Most custom doors are made of REAL WOOD. We offer a wide variety of wood species and many finishing options. We recently enabled over 150 stain options on the website. Check out these stain options here.
6. Expert Help Before, During & After the Sell
We are here to help, before, during and after the sale. Swinging Café Doors is expanding visual content, adding install and product videos to better serve our customers. We can also provide some tips for installation or aligning the hardware for troublesome installs. We pride ourselves with providing unique and easy solutions to door openings.