The 7 Best Door Designs Trending in 2021
In 2020, the market sales for the latest trending door designs were 140.5 billion USD worldwide. This comes as no surprise because choosing the right door styles for your home is essential when completing a remodeling job.
There's a wide variety of interior and exterior doors of all sizes, materials, types, frames, and formats. So, where do you begin?
It can be challenging to make the right decision for your upgrade, so we've put together a list of modern door designs for you. Here are some of the top trending designs in today's market. We promise they'll make this decision a fun experience!
Barn Doors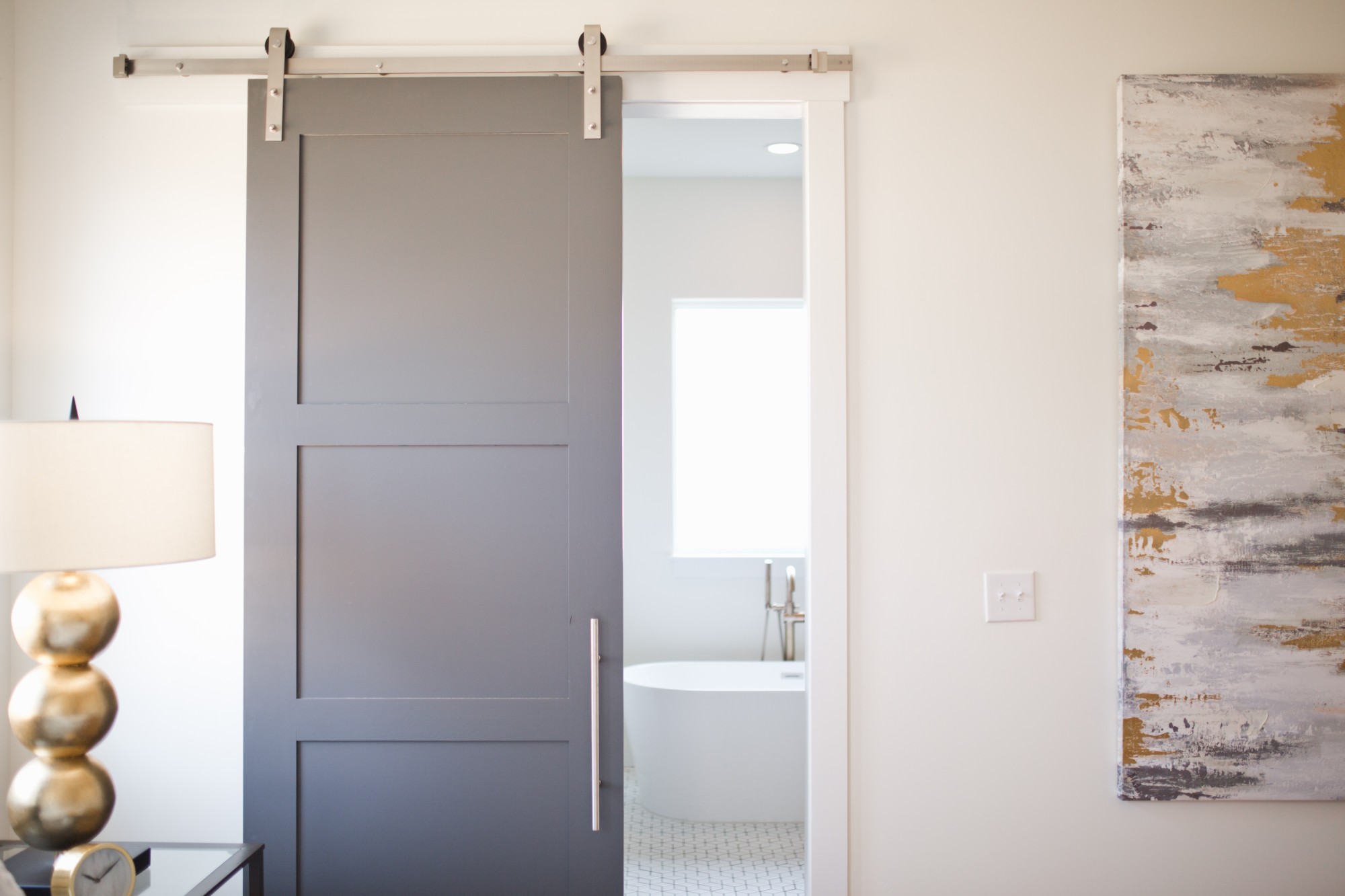 Through the years, people have said this trending door design would be on its way out soon. We found articles as far back as 2015 saying it would become obsolete that year.
To this day, it's still going strong and is an extremely functional choice of door styles. It doesn't seem to be going anywhere anytime soon. These barn doors offer a sliding barn track that installs onto the wall.
One size doesn't fit all with this barn door style. It offers a wide variety of styles as well as sizes.
Barn doors can be very versatile in design. They can be custom-made to your liking and door opening size.
Here are the most popular barn style doors:
British Brace
Framed Batten
Double Z
Single X and Double X
Modern sliding
Rustic sliding door
Distressed
All of these options add a charming farmhouse style to any room. This style is very customizable and can be made to fit your door opening with ease.
The barn door style is available in both a swinging cafe style or a traditional sliding barn door style. You also have the ability to choose what wood and finish you want for your door. Barn doors can be stained or painted.
The installation of this interior door design is among the simpler designs of doors. Whether it is a traditional or non-traditional door opening, barn door designs allow you to choose a diverse location for your installation.
Barn doors provide privacy. They also allow conversations, air, and light to flow through both spaces.
The most popular style options trending is the British Brace and the Framed Batten. They give an antique vibe while still appearing modern in your space.
The rough exposed hardware help to create a farmhouse interior design. Yet, it is diverse enough to be used in an industrial space as well.
Saloon Doors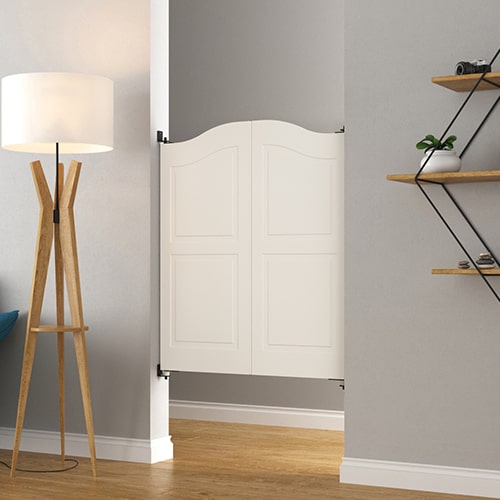 This fun, classic design will probably direct your mind to the old west. It may come as a surprise, but it can add an exquisite touch to your home or business because there's a wide range of interior designs available with saloon doors.
To get you in the swing of things, you can customize these doors in any size, shape, color, and texture. In addition, this simple design can fit in door openings ranging from 24 inches to 60 inches.
Saloon doors are swinging doors that are easy to install in comparison to a traditional door and frame. In addition, since they're installed within the door frame, this interior door style doesn't take up any extra wall space. The saloon doors can be installed into a traditional opening or a non-traditional opening with the use of trim boards. Saloon doors come in a wide variety of styles from barn style to modern designs.
Modern Doors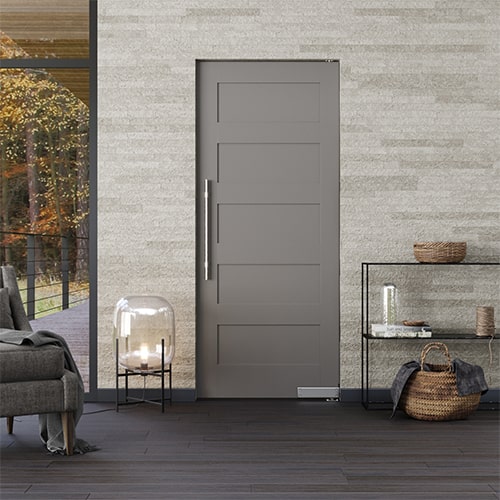 Modern interior doors are the upcoming trend. The addition of modern style doors to your space is simple yet produces a large viusal impact. You have so many to choose from with this category, so here are a few ideas to get you going:
Shaker Panels
Porthole Window (Butler Door)
Glass Interior Doors
Modern French Doors
Contemporary Chevron or Slat Panels
Butler Door
Mid Century Equal Panels
These styles are usually customizable to your preferences with options such as:
Double or single
Hinged or swinging
Half or full-size
Modern interior doors are a trend that's popular to buy or use in DIY projects. They are perfect for residential and commercial use, whether for a closet, pantry, kitchen, or a doorway. These modern interior doors are a great way to bring a big impact to your interior space. The mid-century simple design will continue to be popular for years to come.
You will be well on your way to making your space shine with these mid-century modern door styles.
Pocket Doors
This design is the perfect door style for any space. It's stunning and makes a statement yet takes up very little space within your doorways.
It is a little tricky to install this style of the door because they hide inside the wall. Yet, they are an exciting design and really can go anywhere.
Pocket doors became a part of the interior design of homes sometime in the 1850s. They add a practical but quaint touch to a doorway.
Due to its extraordinary disappearing act, it's both functional and entertaining for first-time onlookers.
These doors are customizable with different materials such as metal for an industrial look, wood for a decorative appeal, and glass. Many enjoy them on a bathroom stall, a closet doorway, or even a room divider between a living and dining room.
Louvered Doors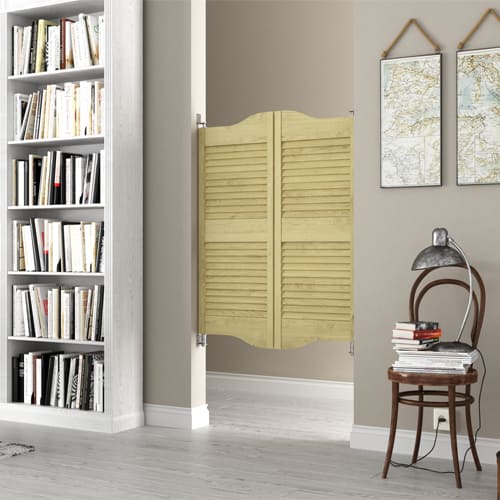 This interior doors design has been around forever. The design is simple and will allow additional airflow into both spaces. The louvered design can be simple or decorative by adding arched to the door rails. Louvered style doors will continue to be used for their function and design options.
Louvre style doors make a perfect closet or pantry door, allowing for extra ventilation in these smaller spaces.
The Best Door Designs
Upgrading your space with the latest door designs doesn't have to be overwhelming. Creativity awaits! Now that we've taken a look at all the trending options, which style will be right for you?
Here at Swinging Cafe Doors, we deliver a unique edge to our customers' homes. Swinging Cafe Doors offer great doors and all the accessories for the doors as well- including push plates, door pull, kick plates, plus antique and rustic accents.
To price your new and improved modern interior door, check out our custom quotes! We know we'll have what you're looking for. And, if we don't, we'll make it for you.