Where to install Porthole Doors? The 6 Best Place for Interior Porthole Doors
The porthole door is a beautiful design that can be installed in almost any interior location. The porthole window will allow for light to pass between two rooms. The porthole window will give a nautical feel to your space. Keep reading to see the best locations for porthole doors.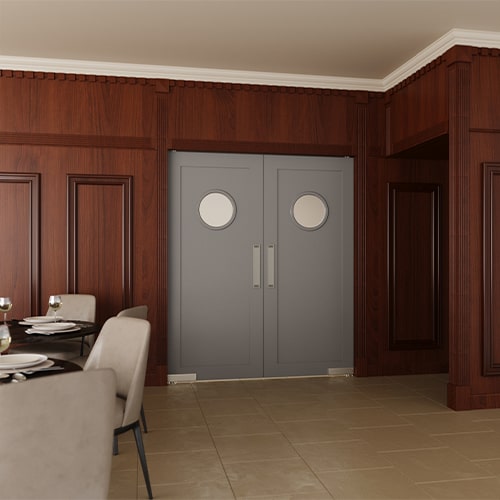 These porthole doors are a perfect solution for a restaurant swinging door. The porthole window will allow for visibility when passing between the kitchen and dining area. The porthole doors can also be installed to designate one door to be the exit and the other door to be the entrance to the kitchen, this will allow for an efficient flow of staff in/out of the kitchen. The porthole window can be adjusted to different heights, allowing for maximum efficiency.
The porthole door(s) provide an eye-catching design for your kitchen. The porthole window will give a glimpse between the two spaces but will provide privacy to the adjacent room. The porthole window will allow for a messy kitchen to be concealed. The double action hinges will allow for the doors to swing in both directions and automatically return to center. Certain hardware does allow for a hold open feature, so the doors can be closed or open when needed.
Porthole doors can be full length or half doors. Depending on the space you are trying to conceal you may prefer saloon style doors, that are only partial length. The porthole half doors would allow for more light, air, conversation, and noise to move between both spaces, whereas full length doors will allow for less light, air, conversation, and noise. The porthole style doors are an eye-catching design. The double swinging porthole door will take less swing space than a traditional single butt hinge door, allowing for maximum space within a tight space.
Pantry doors are continuing to become a popular and decorative element for an updated kitchen. Adding a timeless porthole door design, you will get a trendy impact that will last for years. These porthole doors will continue to add a trendy vibe to your kitchen. Whether you are looking to replace a pantry door, building a butler pantry, or adding a new pantry door we recommend the porthole design to add a decorative impact to your kitchen. The porthole swinging action will allow for ease of use, when carrying items to and from your pantry. These double swinging doors will allow for the most efficient use of storage space, the swing of the doors will take less space than a traditional single butt hinge door.
Porthole doors are a great choice for a commercial bathroom door or a residential bathroom door. The doors will add functionally and privacy to the opening. Adding doors to a master bathroom suite can be a difficult and expensive renovation when there is no existing door jamb. The simple addition of saloon style doors is a great choice for this space. The porthole doors will provide additional privacy, decorative accent, and still provide ease of use. Adding a saloon style door, a door framed door opening can be easy and cost effective. A saloon style door does not require a traditional door jamb, just studs to attach the doors too.
An entrance closet door or a master bedroom closet door can be beneficial with double acting hinges. The doors will swing in each direction and self-return to center automatically. The doors will allow for maximum storage space, with minimal swinging into the closet. Porthole doors can also be installed on a sliding door track allowing for a great option in small closets.
Porthole doors have been around for ages, these are some of the great places that porthole doors can be installed. Looking for a great option for custom porthole doors? Select from these trendy designs today.