GALLERY PHOTOS OF INSTALLED SALOON & CAFE DOORS
See Our YouTube Videos Below
Popular DIY Show "Man Caves" features our Solid Oak Western Cafe / Saloon Doors with Arched Top, as they build a Wild West Saloon in which our doors are used as an entrance point. Click Link below to see the doors and the show.
"They are finally done and hung... Beautiful!!!" Buy Now -Rochester, Mi
"Just had them antiqued and hung." Buy Now -Southlake, TX
"Doors look great!" Buy Now- Winston Salem NC
"They look wonderful!!!! Great job!!"- Buy Now Oviedo, FL
"Love the doors! Thanks for all the help with customize (the doors.)" Buy Now
"They are nicer than we expected. We love the doors!" Buy Now Vicksburg, MI
Customer ordered with 60" Tall upgrade Buy Now Franksville, WI
"Our customer wanted a water closet for the toilet but they did not want a solid door. Our internet search brought us to your company and our clients have been very happy with what was delivered." BUY NOW Omaha, Nebraska
"The café door works great and is exactly what we were looking for." BUY NOW -Lake Forest, CA
"They really look great and hide the pantry mess. The quality was such that absolutely no sanding was needed and the finish is as smooth as silk. Thanks for a truly GREAT product!" Buy Now -Bristol, Connecticut
"Everything was received prompt and your customer service was top notch." BUY NOW - Chicago, Illinois (Door was made with two equal panels not three.)
"The doors arrived, they look fantastic! They came out great!" BUY NOW - NEW HARMONY UT
"My husband and I love the doors. The doors are beautiful and are so pleased." BUY NOW -Milton, New York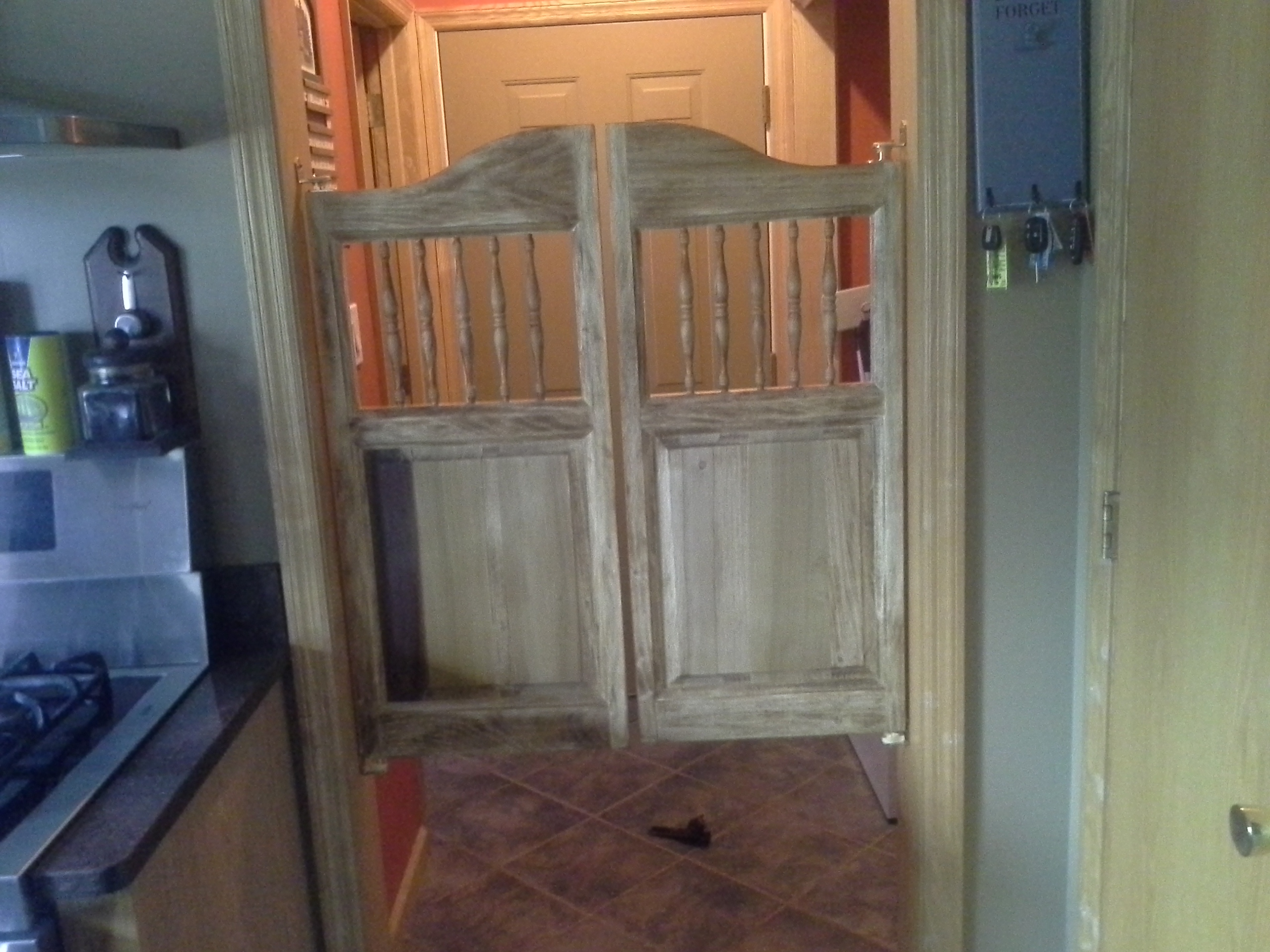 "My wife loves our new pet/child doors at the top of our stairs. The doors are so beautiful we're thinking of staining them to match the railing and floor. When the grandkids are staying over, we can latch the doors and not worry anymore about them falling down the stairs at night and our cat can keep an eye on what's happening downstairs." BUY NOW -Naperville, IL (email us for this option with no arches)
"Received my doors, love them... they are TOP quality. Thank you so much!!!" Hagerstown, MD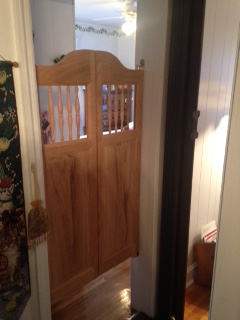 "The doors were delivered as promised and I could not be more pleased with them! They were sized perfectly and needed absolutely nothing but stain and varnish, but then you probably already knew that! I didn't even need to sand or clean them up. Thanks for delivering a high quality product." Doors shown in Oak material- BUY NOW (Poplar Material) -Middletown, VA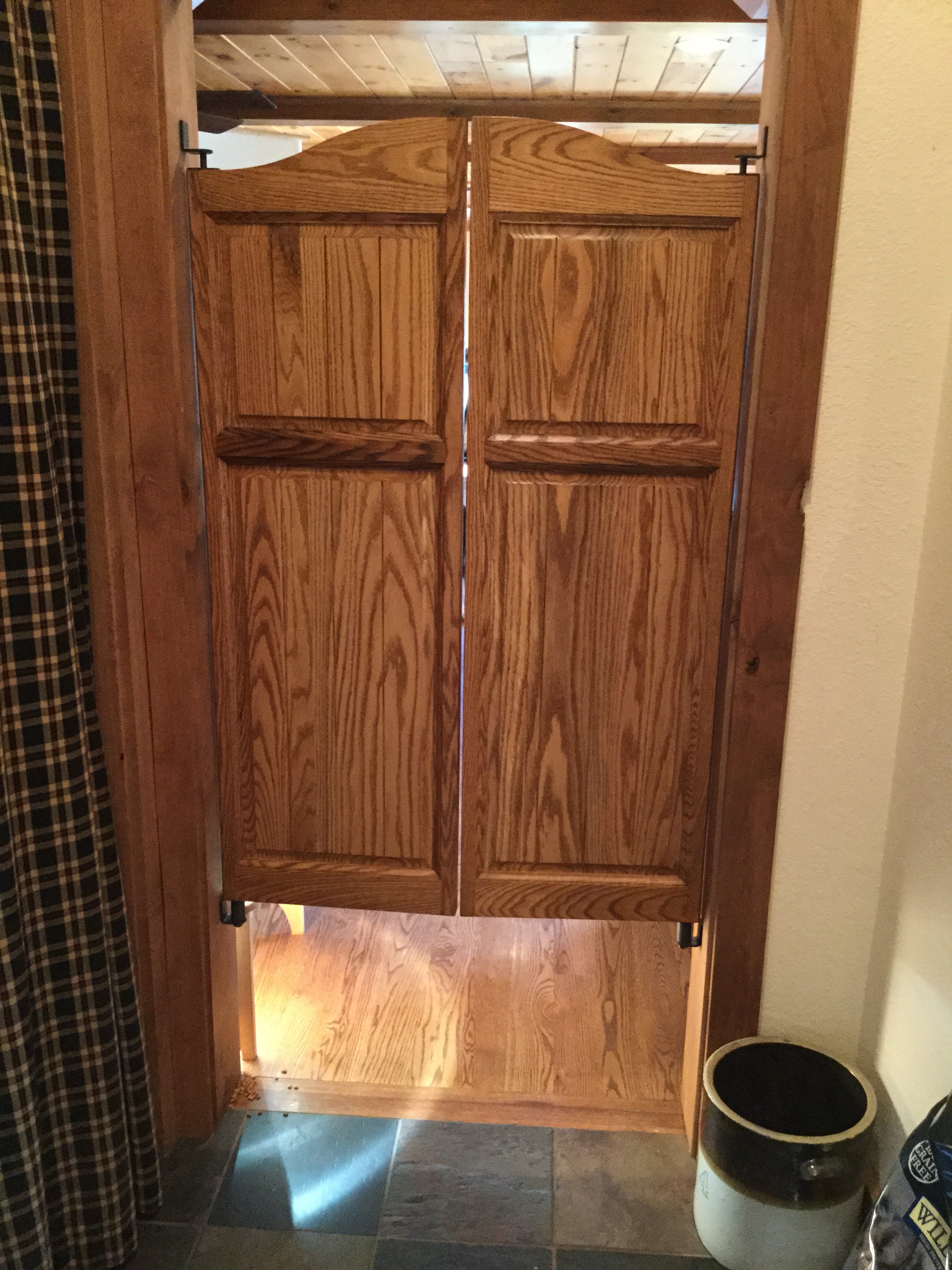 One of our Newest Style installed in Rocklin, CA BUY NOW
"The louvered doors maintained the open feel and permitted the light to flow between the two rooms. The staff was very helpful with my getting the correct size doors, determining the width of the filler trim strips and recommending the best hinges for our application. The doors were sent out quickly and were very easy to install. They are "Made in America" and excellent quality … both materials and workmanship. The most important thing is my wife is extremely pleased with how they function and how great they look. We would definitely recommend Home Décor Store and Swinging Café Doors."- BUY NOW- Surprise, AZ
"The new doors add a touch of class to the optical showroom." - BUY NOW Sarasota, FL
"Thanks Todd, the doors arrived this morning. Had to install them. Here are a few pics for you." - Yucca Valley, Ca (Custom Doors- Pine Double Arch with Lattice Panel) Poplar Double Arch BUY NOW
"Ordered a second set of doors. Here is the first set that we installed." BUY NOW Markleeville, CA
"Thanks for my custom swinging doors, I'm so pleased with them!" BUY NOW Salt Lake City, Utah
"Here are photos of our doors. We used walnut stain and clear glossy varnish. The strap hinges work well on the pantry application along with the spice racks for extra and pretty storage. We are very happy with our swinging doors." BUY NOW St Augustine, FL
"We are very happy with our doors from Swinging Café Doors! We installed our doors between our master bedroom and master bathroom. The doors were easy to install and adjust and we have found them to be the perfect balance of openness and privacy. We love the look and so convenient for the master suite. Thank you!!" BUY NOW - Grand Fork, ND
"They were installed as bathroom stall doors... Thank you again for everything." Buy Now-Woodstock, NY.
"Received the doors today. Pretty impressive... I was wondering how you folks would package and send them.. first class, that was a job itself. Here is a photo of the doors installed." BUY NOW Sheridan, Montana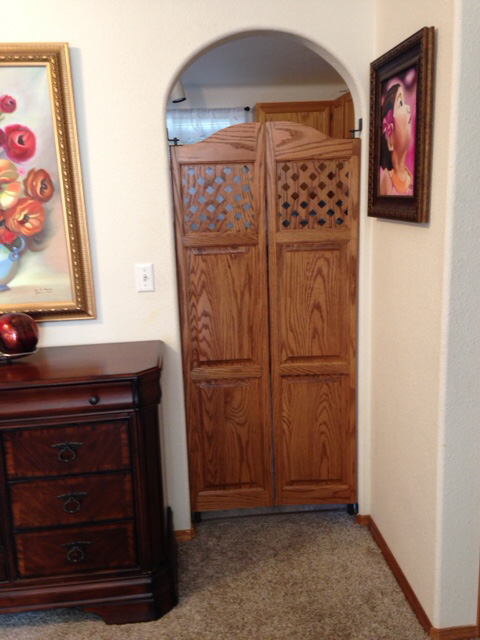 Custom Doors- two Window Kits-for a Daycare Facility - Albany, NY- BUY NOW
"I'm very pleased with the saloon doors that we ordered from you. They arrived in a timely fashion, were well packed, and are very well made. We wanted something that would showcase the nice stone work in our shower and these doors do well. I will most definitely order from you in the future." - BUY NOW Newcastle, OK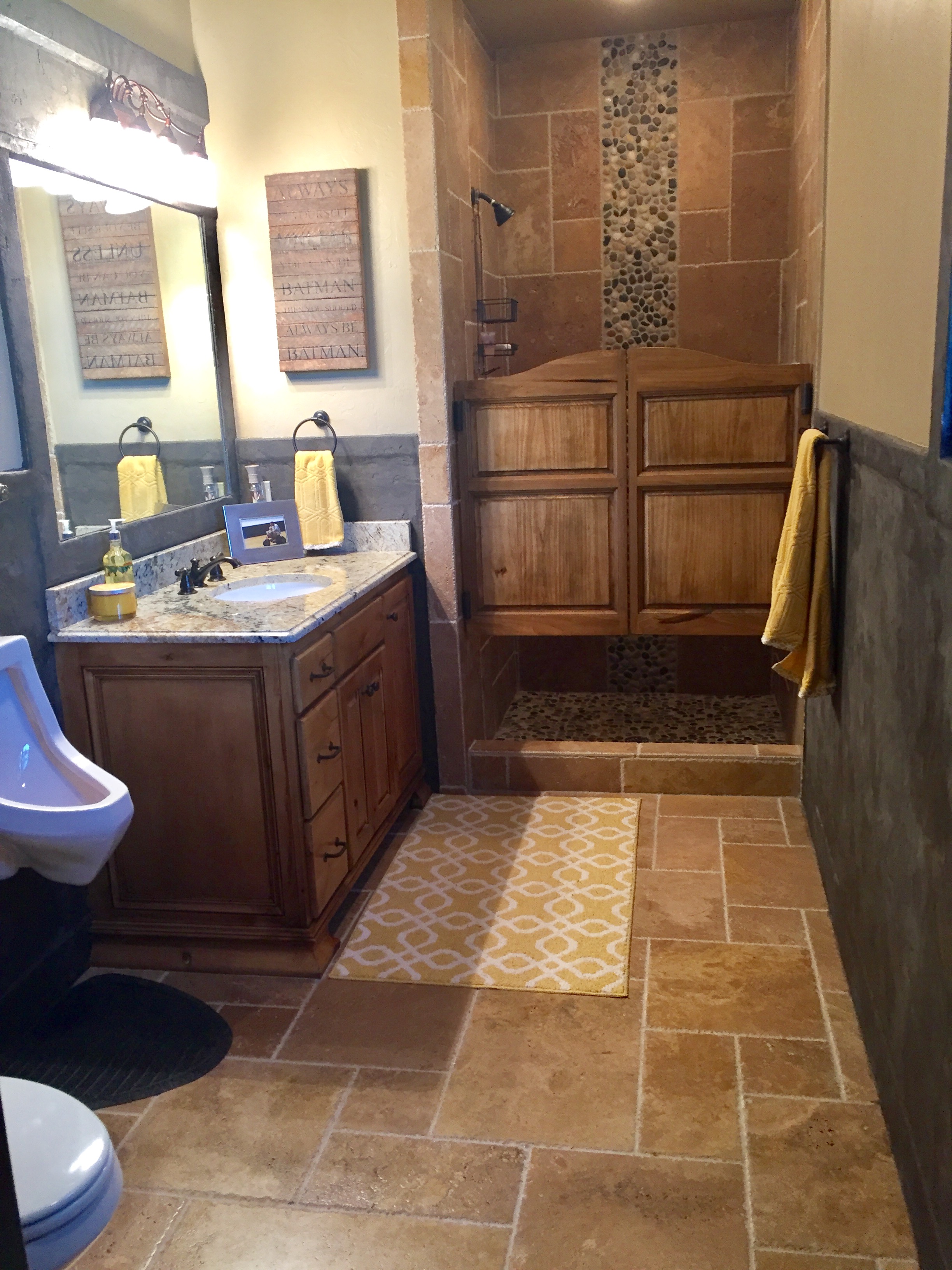 Custom Glass Window Kit Saloon Doors for a bathroom -Tucson, Arizona - Glass work done by- Dos Sirenas Glass Studio www.dossirenasglass.com