Rustic Santa Fe Western Saloon Doors | Swinging Cafe Doors
SKU:

SXX24-42-38-48H

Availability:

Ships in 1-2 weeks

Custom/ In Stock:

Custom Made

Material:

Pine

Material:

Cedar

Door Feature:

Arch Top

Door Style:

V-Groove

Door Opening Size:

Door Openings Between 24"-36"

Door Opening Size:

Door Openings Between 36"-42"
WOODEN WESTERN RUSTIC SANTA FE V-GROOVE SWINGING BAR SALOON / CAFE DOORS DOOR SET
for any 24"- 42" door opening
"V-Groove" Rustic Santa Fe Saloon / Cafe doors
Doors will be custom made to fit any door opening between 24" - 42". We do the hard work for you.... we will calculate the correct door sizes allowing clearance for the hardware and between the swinging doors. Sending you a ready to hang set of beautiful doors perfectly sized to fit your opening. No cutting, shimming or demo work required.
Select door height from options listed above. The default height is 38" (at the tallest point).
Purchase includes a pair of doors as shown in the image.
Features
• HAND CRAFTED from Solid Wood- See Available Wood Options
• Doors are 3/4" thick
• Custom made to fit your opening and delivered in Perfect Condition
• Doors are Made in the USA in a small woodshop
• Easy to install
• Doors are completely sanded and ready for paint or stain
• For Home or Business
• Provides privacy, yet allows light, air, & conversation
• Doors swing both ways & can stay open when needed
Wood Material (See Examples Above)
All doors are custom created using the finest natural woods available
• Eastern White Pine - Unfinished wood, Commonly has knots and is a pale brown, with occasional reddish brown streaks (Stain Grade)
• Cedar – Unfinished wood, Reddish brown heartwood, while the sapwood is paler-ranging from dark yellow to almost white
Rear View of the doors: (shown in Pine Material)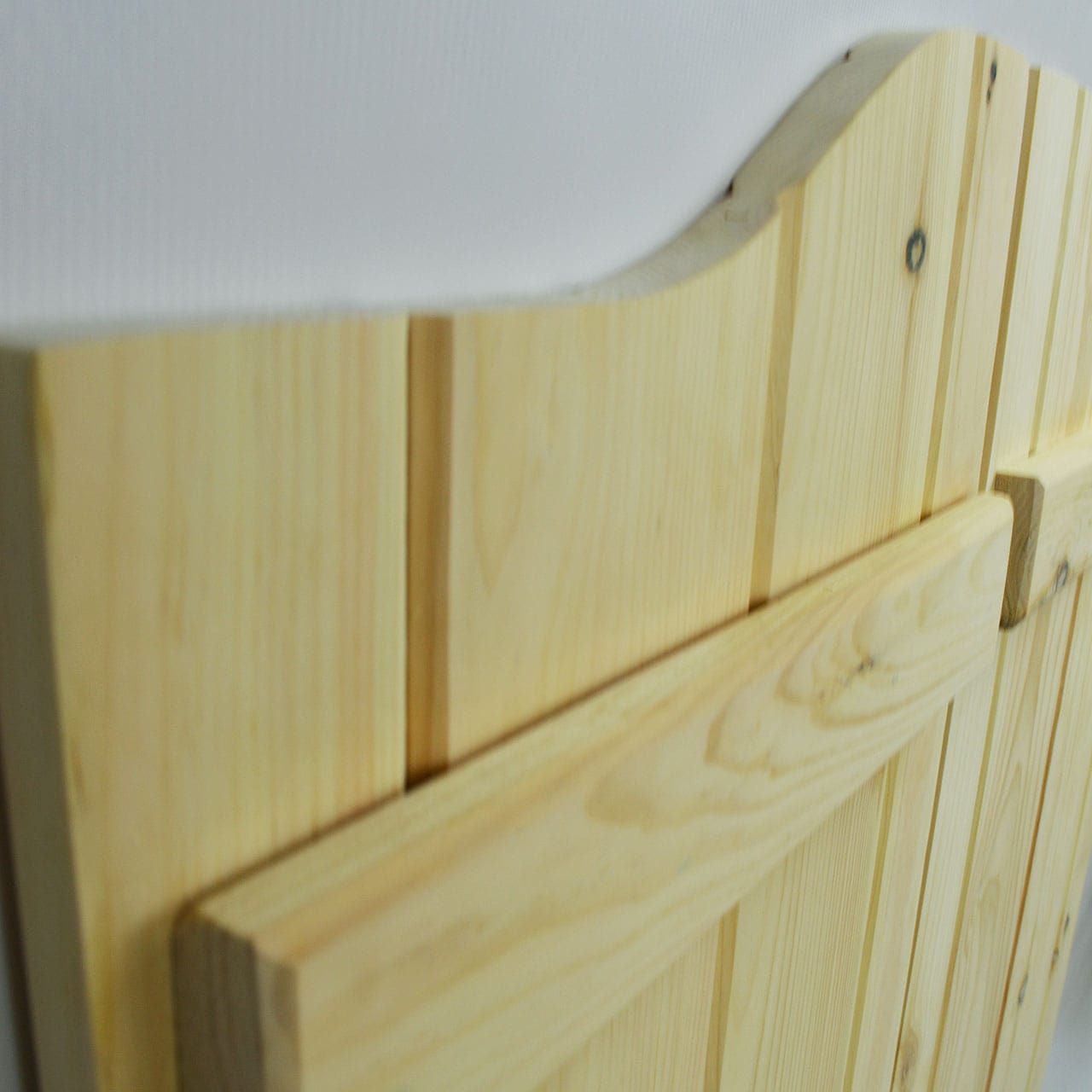 View of the V-Groove Design:(shown in Pine Material)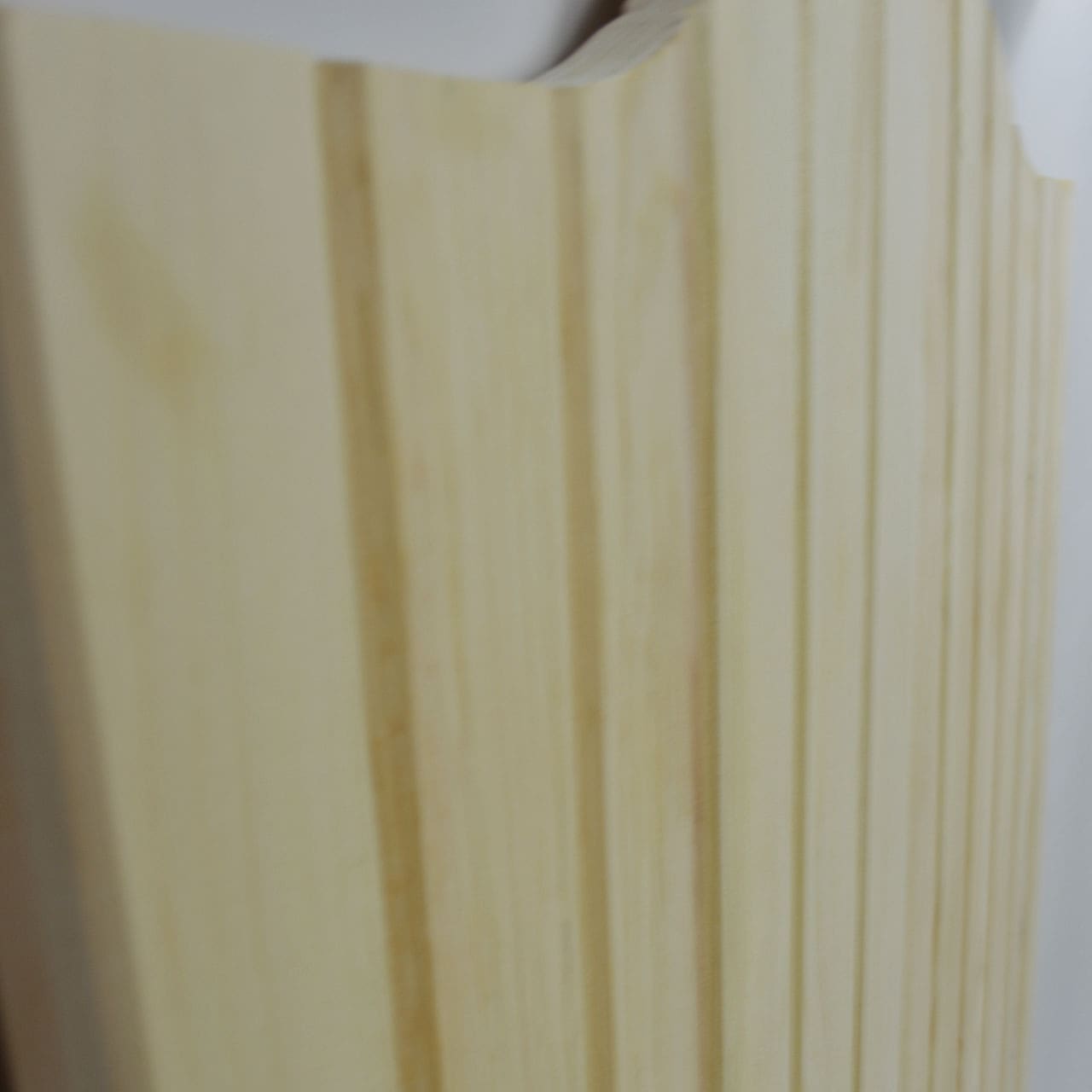 Hardware (See Examples Above)- All hardware is double action; allowing the doors to swing in both directions and self return to center
• Standard Gravity Hardware- Hinges available in Brass, Satin Chrome or Oil Rubbed Bronze
• Premium Gravity Hinges- Heavy duty hinges includes "hold open" feature (Brass Finish only)
• Commercial Grade Spring Hinges- Non-Hold Open, adjustable tension; Available in Brass, Gloss Black, Satin Chrome, & Oil Rubbed Bronze
Upgrades
The following upgrades can be added to your cart with this set of doors. (Scroll down to the bottom of this page to choose from the options below or Click on "Saloon/Cafe Door Upgrades" sub-category at the top of the page under DOORS.)
• Trim Boards- to finish your door opening, trim boards will be fastened to the wall; the door hardware will be fastened to the trim boards