5 Best Swinging Door Designs for 2023
Swinging doors are one of the most popular choices for the interior doors of a home. They're practical, functional, and extremely efficient for smaller, medium, or larger spaces. One of the best characteristics of the swinging doors is the utmost privacy they offer while still allowing easy access to the space. And since they automatically return to the center, they definitely make a topmost door design option for kitchens, bathrooms, bedrooms, mudrooms, home office, kids' rooms, and laundry rooms. The swinging doors can also make a great entryway door for your home!
Double swinging doors can either swing in one direction or both directions and can either have a large single panel or two. Depending upon the functionality of the space, the panels may be adjusted. For instance, in order to make a bold statement in the entryway of your home - choose a set of double swinging door for a majestic look. Meanwhile, choosing a single swinging door for the spaces like the laundry room and bathroom would be ideal - to save space and offer utmost privacy. Here is a list of some popular swinging doors for your home to make a modern, contemporary, traditional, or farmhouse appeal!
Saloon Style Doors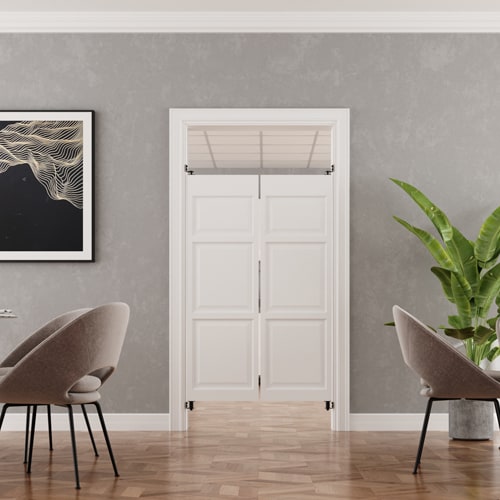 Often termed as cafe doors, double action doors, and bar doors - the saloon-style doors can either have single or two-door panels swinging in both directions. They're not commonly used in homes - rather, have an impactful function in commercial spaces such as restaurants, bars, cafes, and saloons. Not only do they offer an optimum amount of privacy but also make it easier for the servers to pass through easily.
The saloon-style doors are available in various styles - Modern Farmhouse, chevron, louvered, Craftsman, Colonial, glass, Porthole, Traditional, and barn door. The most common material is wood but you can even choose from MDF, glass, steel, aluminum, or metal. These swinging doors are a blend of both - adequate privacy and easy passage of natural or artificial light in both spaces.
Modern Glass Doors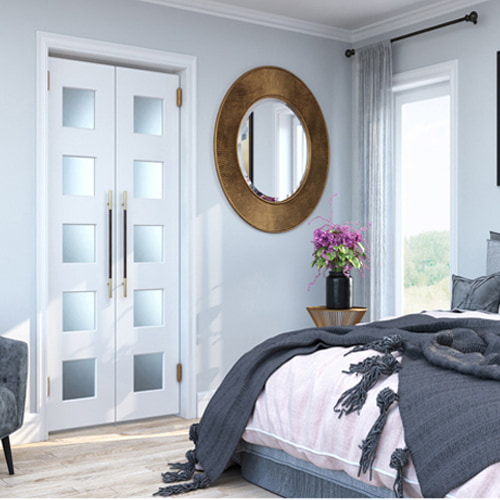 Glass can easily add a statement of luxe, elegance, and sophistication to a space. The full-swing modern glass panels can either be clear or frosted - depending upon the function of the room. For instance, the beautiful design of the walk-in closets can be best embraced in clear glass doors. Whereas it wouldn't be a bad idea to offer privacy to the utility rooms with frosted glass panels. The swinging glass doors can have around 4 to 6 panels running throughout the frame for optimum privacy while allowing considerable natural light to enter.
The modern glass doors are perfect for the kitchen, hallway, kids' rooms, home office, bathroom, walk-in closet, balcony, porch, and master bedrooms. Here, you also have the opportunity to either style with a single-panel modern French glass door or a double-panel glass door. It majorly depends upon the overall size allowance, the size of your room, and the budget.
Nautical Porthole Doors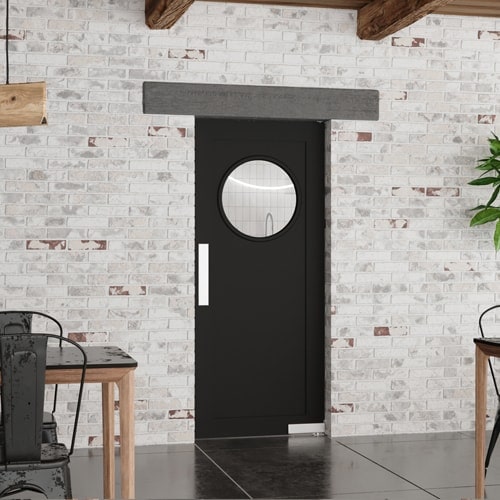 Available in single or double-door options, the Nautical Porthole doors make an efficient statement in commercial kitchens, dining rooms, bars, and restaurants. In your homes, you can introduce a nautical vibe with the help of these doors in your master bedroom, bathroom, and walk-in closet. Unlike the generic flush or modern glass doors, the nautical Porthole doors have the potential to add a flair of style and drama - especially if you paint a fresh coat of bold and bright color. In your homes, you can even allow this door to play a focal point of a space!
The Porthole window can draw in more light from the adjacent space and potentially make your space look larger. While offering the optimum amount of light - these doors equally offer a sense of privacy to the rooms.
Flush Swinging Doors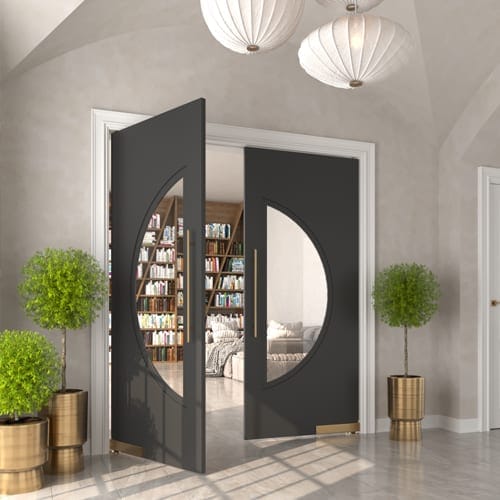 Looking for a seamless visual aesthetic in your space? Well, have a look at the timeless and versatile flush swinging doors. In recent times, these flush swinging doors have gained a ton of attention from designers as well as homeowners. Their utmost sleek appearance and practicality make a great choice for any interior and exterior application. And do you know one of the best characteristics? Well, you can easily blend the appearance of your flush swinging door depending on the adjacent design style and architectural elements. Yes, choose from a wide array of wood veneers to enrich the surfaces of your flush swinging doors.
The flush doors are versatile and can be used for any room of your home as well as a commercial setting. Bathroom? Yes. Bedroom? Yes. Kitchen? Yes. Entryway? Yes. A flush door sits in line with the door frame to offer a statement of luxe, sophistication, seamlessness, and extreme privacy. These doors can be single or double swinging!
Shaker Doors
Traditionally used for kitchen cabinets, the shaker doors revolve around the concept of simplicity and practicality. With a flat center panel and a raised wooden frame, the shaker doors have multiple rectangular glass frames that could either be clear or frosted. Even though they have a touch of traditional flair, the doors may lack any extravagant detailing and profiling. These shaker doors emphasize clean lines and simple patterns - thus, allowing the ultimate beauty of timber wood to shine through.
Shaker doors are well-suitable for traditional and rustic designs or modern and minimalist. And since they're generally made of MDF or high-quality timber like oak or walnut - they're bound to be extremely strong, durable, and long-lasting.
Need Help Deciding?
It's time to decide the best possible swinging door option for your space. Looking to make a bold statement or simply embrace simplicity? Well, these various above-mentioned swinging doors are something to have an eye on. Whether you are looking for a swinging door for your bedroom, walk-in closet, entryway, hallway, bathroom, pantry, or kids' room - let us build you the perfect swinging door. Get in touch with us in the comments below and we'll soon revert to you!