The Curious History of Swinging Saloon Doors
You see them in every western movie. Every time someone new comes into town they enter the saloon through those iconic swinging saloon doors. These doors will swing back and forth, creating a dramatic entrance for the villain or cowboy. But haven't you ever wondered if that's historically accurate, and if they are, where did they come from? Keep reading to learn the curious history of swinging saloon doors.
Where Did Swinging Saloon Doors Originate?
The only thing certain about swinging saloon doors is that their history is very uncertain. We're not 100% positive of where these doors originated from, but we are sure they've been around in the Old West since there was an Old West. These saloon doors were used as an entrance to saloons and other stores/establishments quite often in western towns throughout the USA.
Swinging saloon doors have been two doors, split down the middle in order to make an easy entrance and exit. These swinging doors were easy to open and make it a breeze to swing the doors open with your hands full to carry in and out goods of the store(s). These swinging saloon doors would have been the wild west equivalent of today's automatic doors. I think we have all seen a drunk cowboy with a beer in hand swinging open a set of saloon doors. But that probably did happen.
The double action hinges made it easier to enter or exit with your hand full since the doors did not require a handle to be turned. These double doors are still currently used in many applications including restaurants, bars, storage closets, etc. Bommer started making double action hinges in the 1870s and continued until 2022. This long-standing company is just one of the world's manufacturers of double action hinges. The saloon doors would have made it inviting to enter, allowed a cross breeze to flow through the stores, and provide some privacy for actions that might be happening behind these doors. All of these reasons made them very practical for more businesses and homes before air conditioning and modern amenities.
How Did They Become Iconic?
The style of the doors was praised by saloon owners as they let fresh air in and smoke out while allowing a cross breeze to cold the air. They also were able to maintain some privacy by having empty doors while still enticing people to come in when they hear the laughter and music. With Hollywood keeping the vibe of saloons alive in Old West movies, we've seen the rise of old saloon doors in modern decor. They are continuing to evolve with design, options, and features.
So, while the function of the doors might be as old as time, the style has been updated to modern décor standards. These doors and hardware can be used in your home and business to create a beautiful dramatic entrance. Saloon doors are increasing in popularity, being used in both designer and celebrity homes. Making them trendy and offering new uses for these tried-and-true swinging doors.
Modern Uses for Saloon Style Doors
Nowadays bars or 'saloons' don't use these doors anymore because they are not secure. However, they are still adapted and used in unique ways today. Check out some of the coolest ways we've used saloon-style doors. Some of the same reasons these doors were used in the past apply to their new applications as well.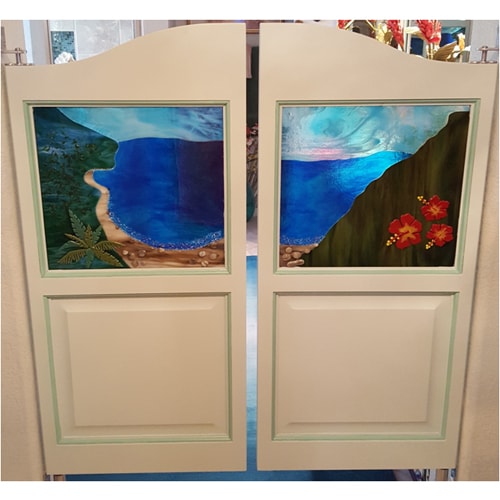 Even in the most modern of homes, it's nice to have something old in it as a homage. You can use a beautiful saloon-style door to add a rustic feel to your bathroom. It's a great option for a master bathroom with no doors and can easily be installed and come in a variety of styles and finishes. These doors can also be installed to offer privacy to a water closet or an attached closet. The easy installation and multiple design options make bathroom saloon doors a must.

If you want to separate your kitchen from the rest of your house without having a traditional door, saloon doors are a great option. Much like their original purpose, you can keep the kitchen private, while still leaving it open to allow easy access. The double action hinges will allow you to breeze thru the kitchen and dining room with your hands full..

Many people have mudrooms in their homes, and what better way to separate that from the rest of your home than with traditional saloon doors? The doors still make it easy to walk in and out of the room but close off any clutter to your home. Adding saloon style doors to your laundry room can help hide a messy laundry room from guests, but still, allow the doors to push open easily with laundry baskets in hand.

If you're like a lot of homeowners, you'll notice your closet doesn't have a door. Add these swinging doors to it for a little privacy without compromising space or appeal. These swinging doors will allow air to flow through all space and make sure the clothes stay fresh. The doors will also allow for maximum space within your closet as well.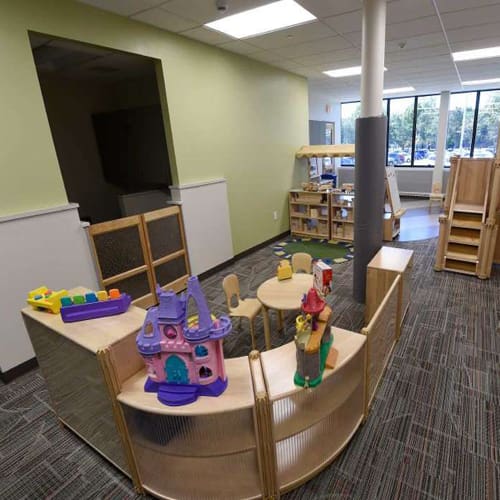 A stronger stylish option for pet gates or baby gates. We have options with slats, windows, spindles, or full plexiglass to allow for visibility that still provides the necessary separation of space.

Whether you are looking for a full length double swing pantry door or a half size pantry door they will make a great addition to your kitchen. The doors can be pushed open with your hands full so no need for a door handle with the double action hardware. Perfect doors for a kitchen pantry. Maritime Nautical Porthole Double Swinging Doors, full-length swinging doors, are a great option for a butler pantry or swinging kitchen door, adding a whimsical nautical design to your home plus a functional door that will hide your butler pantry.
With the growing number of companies allowing their employees to work from home, the need for a home office has increased dramatically. These home offices can be built into a space you currently have with some creativity and privacy. Using swinging saloon doors is a great way to add privacy without major construction.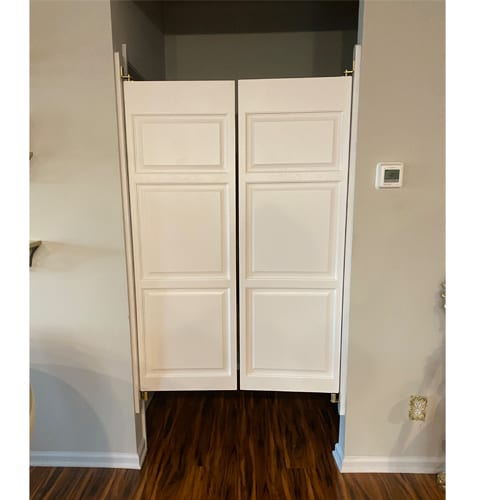 When having guests at your house, it's always nice to give them some privacy. Since most secondary bedrooms do not offer an ensuite bathroom, you can use saloon doors to help with privacy. These doors are great installed in a hallway offering privacy when moving from the bathroom to the bedroom.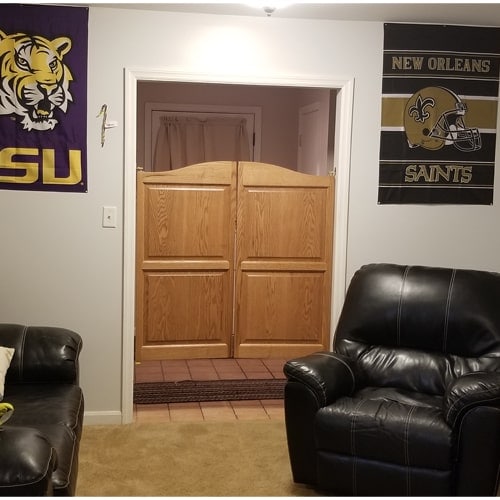 Man Caves and She sheds are a great way to offer some entertainment space. Saloon doors make a perfect entrance to a man cave or a She shed.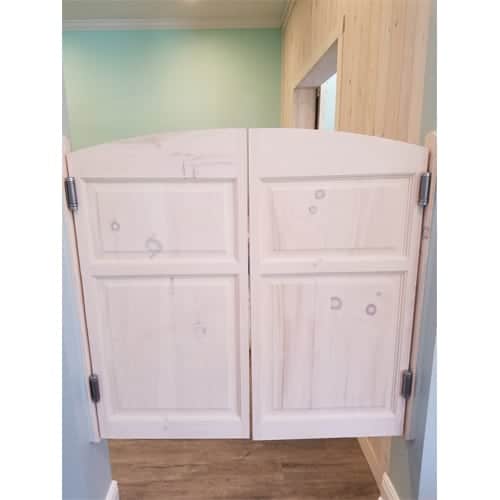 Since the pandemic, people are spending more time at home and renovating their spaces. Bathroom reno is a great place for saloon doors, they can serve several functions including bathroom doors, guest suites, home offices, and storage closet doors. The possibilities are endless.
Get Your Own Iconic Doors
If you're looking to get your own iconic swinging saloon doors, get a custom quote today. We can install and recommend a variety of doors to fit your exact needs. Swinging Café Doors offers a wide variety of styles, heights, widths, and hardware options.