Top 7 Pivot Hinges
Pivot doors remain a design trend because of their stylish and elegant appearance. They're also very functional for many types of interior spaces.
Have you considered saloon doors, interior barn doors, louvre doors, or butler doors as a modern option for your home or business? Pivot hinges are the hardware that makes these doors possible.
Learn more about pivot hinges and how to find the best ones. You'll get some inspiration for your next project.
What Are Pivot Hinges?
A pivot hinge is what allows a pivot door to work. The door pivots from a single point at the top and bottom instead of opening from the side of the doorframe. Pivot hinges are an alternative to traditional butt hinges.
Pivot hinges come in sets. One mount attaches to the top of the door and the head of the doorframe. The other attaches to the bottom of the door and the jamb/floor.
Uses for Pivot Hinges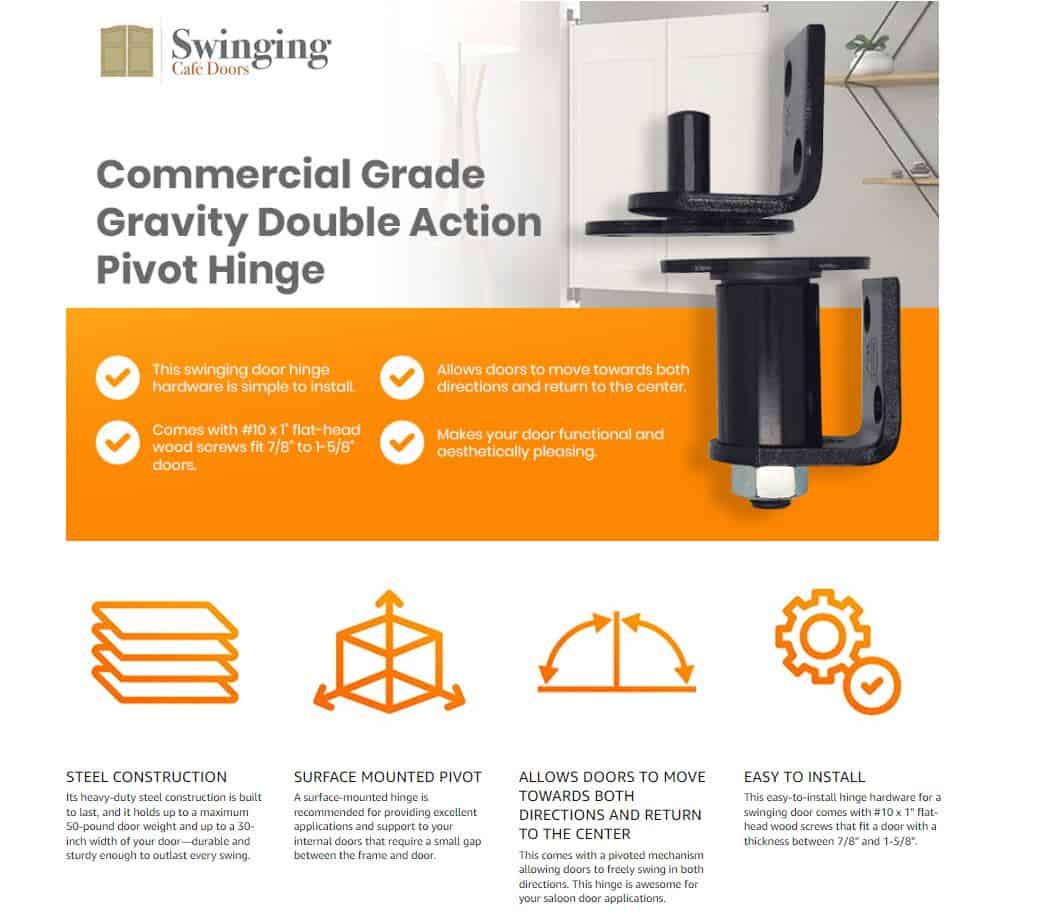 Pivot hinges give you several advantages over butt hinges in certain circumstances.
First, they're well-suited for doors that are especially wide or heavy. Pivot doors can weigh more than 1,000 lbs.
The bottom bracket of a pivot hinge is anchored to the jamb/floor. The floor mount design lets the bottom arm and the floor support the weight of the door instead of the doorframe. The door puts less stress on the frame, so the door and frame won't sag.
Secondly, pivot hinges are ideal for high-traffic doorways. You can open a pivot door by pushing on it. For example, pivot doors are popular in restaurants because the wait staff can move in and out easily while carrying trays.
Some pivot hinges let you open the door in either direction. The door can open inward or outward, which is another benefit for areas with heavy traffic. Some pivot hinges are even double acting means the door will open in either direction and self-return to center.
Finally, pivot hinges can be hidden inside the door. A pivot door doesn't need a doorframe or handles. You can create a cleaner look or even a secret passage.
Top 7 Best Pivot Hinges
You have many types of pivot hinges to choose from. You want to find hinges that are well-suited for how you plan to use them. Here are seven of the best pivot hinges for a range of applications.
1. Bommer Commercial Grade Gravity Double Action Pivot Hinge
Bommer is a global leader in the manufacture of pivot hinges. They've been making quality builders' hardware since 1876. You know Bommer hinges will be durable and long-lasting.
This commercial-grade hinge is double action, which means that the door can open freely in either direction and self-return to center. The hinge uses gravity to return the door to the center. These hinges don't have a spring to return them to the closed position, so we get a softer swing than double action spring hinges.
You can choose these hinges with or without a hold-open feature. This feature will hold the door open at 90º or more in either direction. The bottom hinge can be recessed into the door(s), but some clearance is needed for these hinges.
This Bommer hardware is designed for cafe doors or saloon doors with a maximum weight of 50 lbs. They have a durable steel construction. A variety of finishes are available to blend seamlessly with your interior design. These hinges are sold individually.
2. Standard Gravity Cafe Hinge/Saloon Door Hinge

For a standard-grade gravity hinge, try this model. The door will swing in both directions and hold open at 125º. Gravity returns the door to the center-closed position.
The standard grade gravity hinges are double action hinge, and also use gravity to pull the doors back to center. These hinges will handle a door that weighs up to 30 lbs. You can choose one of four finishes.
These hinges are easy to install and can install a set of doors. They come with the hardware and instructions you need to start enjoying your cafe or saloon doors in no time.
3. Stainless Steel Hidden Door Pivot Hinges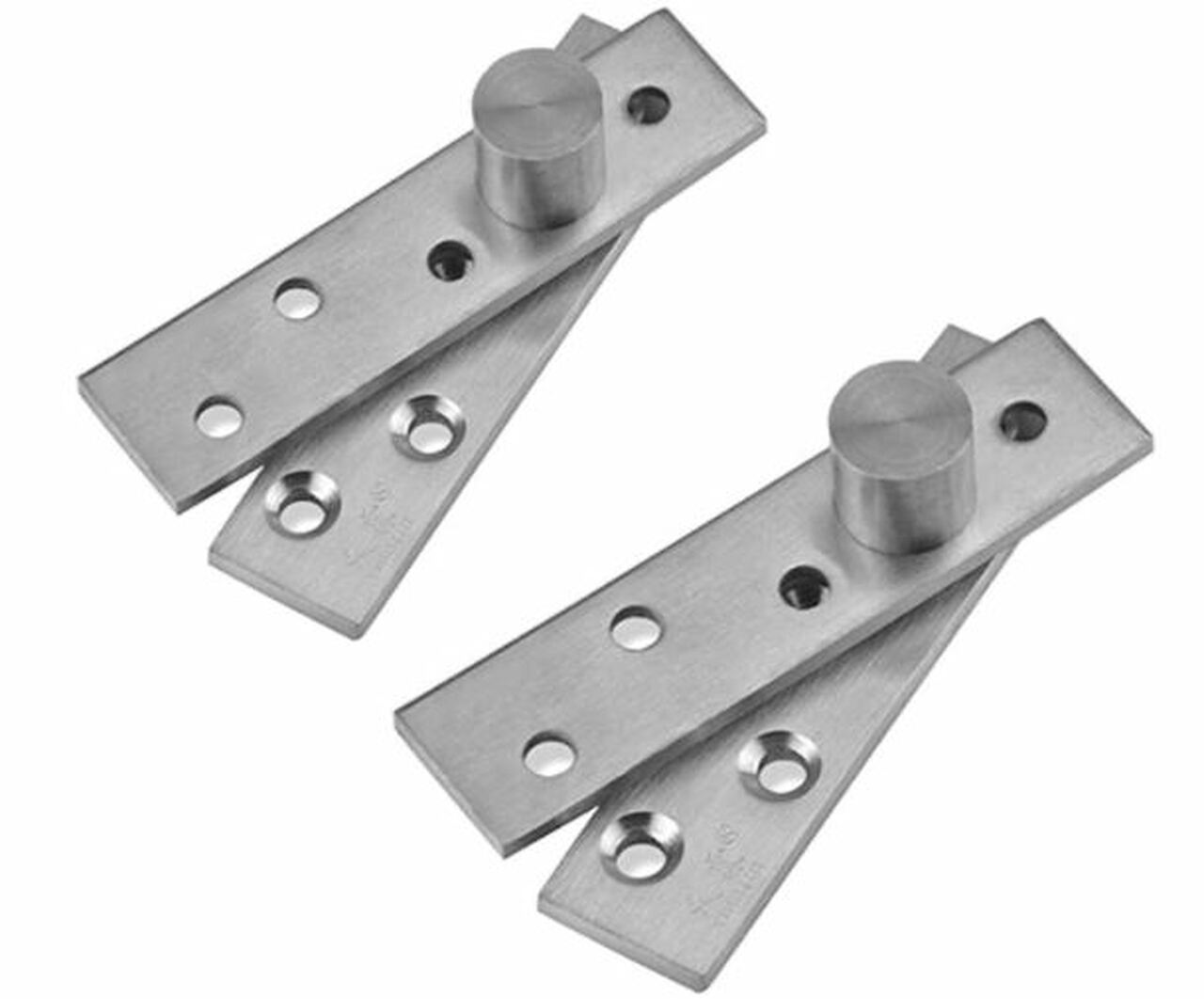 If you're looking for hinges that won't be visible after installation, these stainless steel pivot hinges are a great option.
The hardware mounts to the top and bottom of the door. It sits internally within the door. Concealed hinges are popular for modern interior doors because of the clean, minimalist look you get.
The high-quality stainless steel of these hinges gives you durability and a long lifespan. These hinges are available in a small and large size.
The hinges have 360º rotation. You can choose large or small hinges depending on the size of the door or cabinet you're installing.
4. Bommer 7812 Horizontal Adjustable Spring Pivot Hinge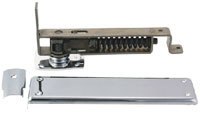 This Bommer horizontal pivot hinge is great for saloon doors where you want maximum door coverage. The hinges are double action with adjustable spring tension. You can set how hard and fast the doors close.
These Bommer hinges can hold open in either direction at around 75º-90º. These are durable, medium-duty hinges that can handle a maximum door weight of 90 lbs. These hinges are recessed into the bottom of the doors but no clearance is needed for these hinges.
You can choose from several finishes that include brass, nickel, bronze, zinc, chrome, and black.
These hinges are considered invisible pivot hinges, each hinge is slightly different but offer a hidden style hinge.
5. Heavy Duty Stainless Steel Pivot Hinge (Murphy Door Hinge)

These heavy-duty pivot hinges have an 18mm diameter shaft. They can support up to 250 lbs and are made from 304 stainless steel.
You can choose from an I-shape or L-shape. The offset L-shape works well for recessed and flush doors where you want the door to swing outward from inside the frame.
These hinges are single action, so they open in one direction.
6. Rixson Heavy Duty Center Hung Pivot Hinge
This Rixson pivot hinge is another great choice for a heavy-duty hinge. The set can support 250 lbs.
Rixson is a leading North American provider of pivots. They've been making quality hardware since 1900 with products that are built to last.
These hinges allow the door to open in both directions using the laws of physics. The doors won't automatically return to the center using these hinges.
These Rixson heavy-duty hinges come in four finishes.
7. Stanley 327 Heavy Duty Pivot Hinge
The Stanley 327 pivot hinge is another high-quality option for a heavy-duty hinge. Stanley has been a trusted source for hinges and other hardware since 1843. Their products give you long-lasting performance.
The 327 heavy-duty pivot hinge can handle up to 150 lbs.
These pivot hinges are non-handed so that you can use them left- or right-sided. The doors can open 180º.
Choosing Your Pivot Hinges
One of these top pivot hinges can get your project moving in the right direction. When you're ready to buy the hinges for your interior doors, Swinging Cafe Doors is the partner you need. We've been producing saloon doors, cafe doors and hardware for over a decade.
Our selection of single action and double action pivot hinges gives you the options you're looking for. Check out our pivot hinges today to order the perfect hardware for your door.