What's Missing from your Home: Saloon Doors
It's easy to get overwhelmed by home maintenance. Simply, it's hard to keep up with the upkeep! There are necessary projects that come with the territory of being a homeowner.
Owning a home is its own culture. There are rules and regs to abide by and it's easy to get caught up in what others are doing. Maybe now you are getting caught up on some projects. That said, we have the latest interior design secret that will make you the town's next trendsetter.
Two words: saloon doors. Seriously? Seriously.
When it comes to interior doors, there are umpteen sizes, styles, and options. We're here to simplify things for you.
Any room in your home could benefit from a saloon door.
So, Like, Western Saloon Doors?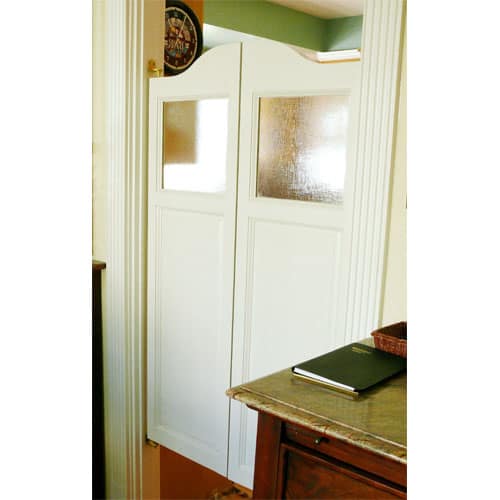 Consider swinging saloon doors to be the black sheep of the door family. While they may be misunderstood, they're extremely lovable. Despite saloon doors being known for the Wild West, they have many functional and aesthetic purposes.
If you have any of the following rooms in your home, you could benefit from these half swinging doors.
Bathroom
Master bedroom
Kitchen
Man (or woman) cave
Game room
Laundry room
Water closet
Pantry
Home theater
Because saloon doors have Western roots, it's true they're naturally suited for rustic homes. Our varying styles and custom options, however, make them valuable in any style home, including mid century moderns or contemporary styles.
Saloon doors are becoming universal to homes everywhere. Just think—where there are doors, there can be saloon doors. What other door could do that?
Benefits of Swinging Saloon Doors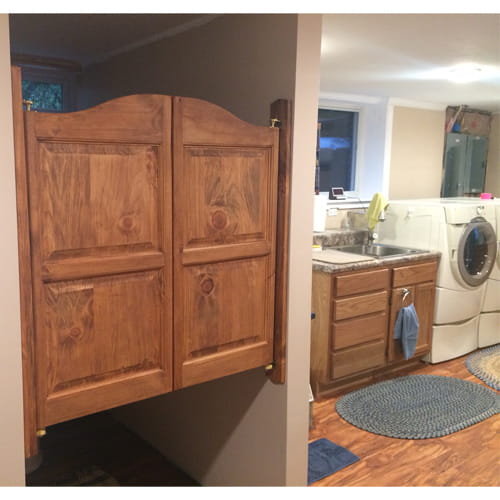 It's easy to drown in the interior door decision-making process. There are many types of doors, from paneled doors to dutch doors, hinged doors, pocket doors, accordion doors, barn doors, galore! Having too many options can make it easy to doubt your decision.
The versatility of a saloon door will leave you wondering why other doors even exist. Saloon doors offer the following benefits:
They're low maintenance
They can be fun and playful or classy, barn style and modern
They create a softer barrier between rooms, offering separation instead of division
They allow light and air to flow throughout
They don't involve locks or knobs
They have varying lengths, either in full or half-length
Once pushed, they return themselves to center
They're quiet
You can choose which way to swing it!
Other doors—like pocket doors, barn doors or accordion doors—have more hardware involved. They're likely to get sticky frames or misaligned bases that require more time and energy. Saloon doors are everything you need in a door without the hassle.
Let Your Saloon Doors Woo You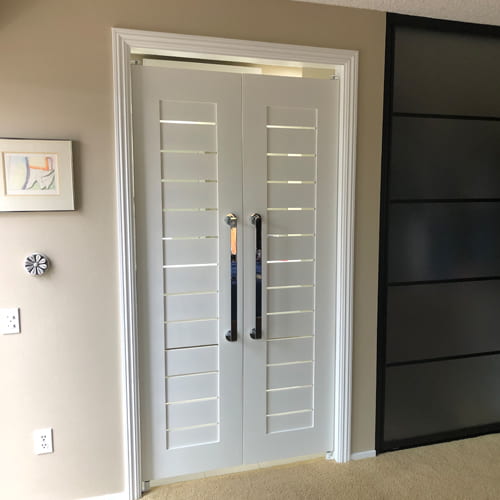 Aside from owning a smart house with voice-activated commands, it's hard to find a door that self-corrects. Consider saloon doors to be the new "smart" door. It's just the wise way to go.
Swinging Café Doors makes unmatched, hand-crafted wood saloon doors to spruce up your dormant interior door life. Our easy-to-install, custom sanded wood or professional finished option are ready to meet your interior door desires. Saloon doors offer some great solutions vs other traditional interior door designs.
With our two-day shipping from the largest double action hardware selection around, we know your saloon doors will woo you. Whether you are looking for barn style doors, modern doors, classic door style or a custom design, Swinging Cafe Doors can make a double action door to your home.
If you find yourself frantically writing down door dimensions, making a saloon door wish list or scanning your house for ideas, we're ready to help! Get a quote today!