Swinging Barn Door Designs for 2021
The barn door trend is still going strong. Barn doors are a beautiful way to add some farmhouse charm to your home. Swinging barn doors can be installed into a traditional door jamb or as saloon style doors. Things to consider when installing swinging barn doors are door design, hardware, finishing and where to purchase. Continue to read to learn all the best options for swinging barn doors.
Best Design Options:
Barn door design is one of the most important decisions when deciding on a barn door. There are simple barn door designs like the board and batten design; this refers to the doors construction of boards in a row parallel and held together with stiles. Barn door bracing is going to be installed on top of the board and batten giving the barn doors a more detailed design. The most popular barn door bracing includes X's, British Brace, and Z designs. The British Brace design is one of the most popular designs. The board and batten make the door look like a traditional barn door.
Best Wood Options:
To pick the best wood option, you should first decide the finish for the doors.
Staining: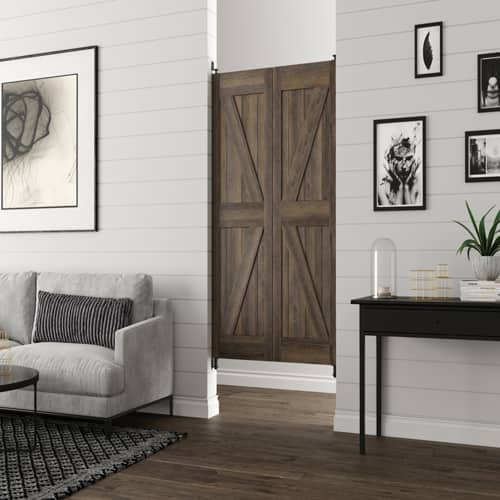 If you are planning on staining the barn doors, alder wood is a great selection. The alder wood is great for adding character with knots and a beautiful grain. Alder wood adds a rustic element to the barn doors making it an overall beautiful design. There are also pine, ash, oak, and cherry wood for staining all these wood will have a beautiful grain to stain as well.
Painted Door: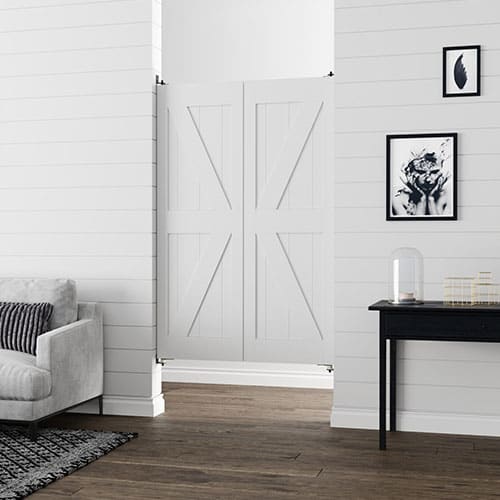 Soft Maple is the best wood selection when you are painting doors, the grain of soft maple will be easily covered with paint. Poplar is also an excellent option for painting wood, but the wood grain will most likely still show after painting is completed on poplar.
Best Hardware Options:
Barn doors are most traditional installed with sliding barn door hardware, this is a track that is installed above the door opening. The track allows the doors to slide on the wall. You will need additional wall space for the sliding barn door to work. These sliding barn doors do not take up additional floor space. Sliding barn doors are perfect for small spaces including closets, bathroom, and pantries.
Swinging barn doors are also a great option. Double Interior Barn style doors British brace are double swinging barn doors. There are two doors in an opening, each door can swing independently, self-return to center, and swing in both directions. Double swinging barn doors allows for the doors to take up less floor space than a tradition single door. These double swinging doors do not require a handle to open the doors, they can simple be pushed open by a hand, elbow, or finger. Swinging Barn doors can also be installed with traditional butt hinges and a jamb. The doors would still allow for the beautiful barn door styling to be the featured design.
Best Place to Install Swinging Barn Doors
There are many applications that work well for swinging barn doors. The best applications are laundry rooms, home office, kitchen, pantry, closets, and bathroom. The doors can be custom made for your exact door opening size. You can also select the best door height for your application. Swinging barn doors can be installed as saloon style doors, allow for some height above and below the doors. These doors will work to keep some privacy without completely separating the two spaces. These swinging doors can be installed with a jamb, but the hardware is required to hit a stud or trim board. Adding swinging barn doors is a great way to add some character, privacy, and function to a door opening.
Swinging Café Doors has been selling double action saloon style doors for over 15 years. We offer fast lead times on custom doors, allowing almost complete customization, and fast delivery. All swinging or sliding barn doors are custom made from quality material, expert knowledge, and with competitive pricing.