When to Use Louvered Doors?
Louvered doors can be used in almost any interior door opening. The most popular locations for louvered doors are in a kitchen, bathroom, closet, or pantry. Louvered doors are still a popular design in today's home. Louvre style doors can be added to your home today. Updating your interior doors can be a quick and easy project with a large impact.
Design Feature
The louvered doors are a versatile and traditional design that will continue to be in style for years to come. The louvre design is still a staple in today's home. Whether you prefer a modern, traditional or farmhouse look, these doors can work to fit within your design. Louvered saloon doors are available as a traditional full louvre door with center rail, louvered over panel design, arch top, scalloped arch top and cottage arch top and bottom, as well as a window over louvre design. The custom louvered saloon doors from Swinging Cafe Doors offer many wood options, height options and hardware options. These doors are custom-made for your door opening size. Once you provide your finished door opening size, we can custom make the doors in about 1-3 weeks.
Function
Louvered door designs are best for maximum air flow and ventilation while still providing a barrier. Louvered saloon doors are a perfect fit for max air flow and ventilation because these doors can have a custom height. Full-length doors are not required plus the doors have the slats as well. The slats in the doors, the "louvres" will allow for extra flow of air into and out of both spaces. This is a great benefit of the louvered style doors. The louvered design allows for additional flow of both air conditioning and heat.
Kitchen Louvre Doors
A new trend for kitchen renovation is a broken-plan or a semi-opened kitchen plan. A semi-opened kitchen can help hide a messy kitchen. Adding half doors or swinging doors is a great option to still allow for a semi-opened kitchen area. Whether you are using the saloon doors to create a semi-opened kitchen or create a dining nook these doors are a great option for kitchens.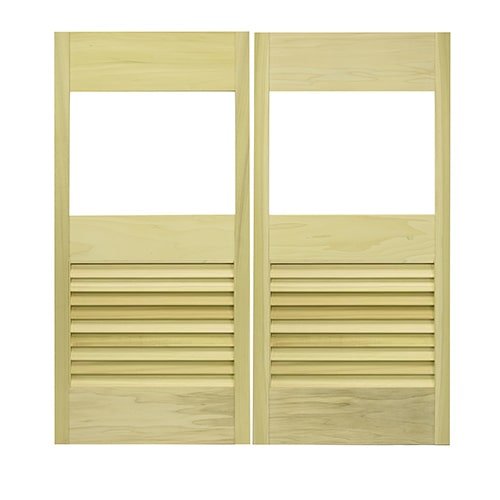 The Window Louvered Café Doors allow for extra ventilation and a partial visual view of the kitchen.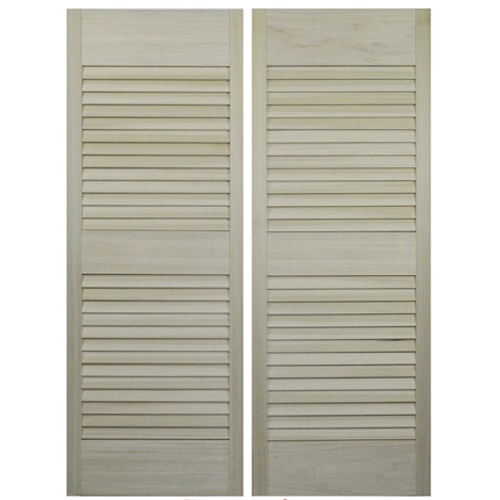 The Custom Plantation Louvered Doors are a classic traditional door that works with all designs, a simple door design perfect for all design decors.
Bathroom Louvered Doors
The louvre doors will allow for extra ventilation vs a panel door, so that steam from the bathroom does not get trapped in the room even with the doors closed.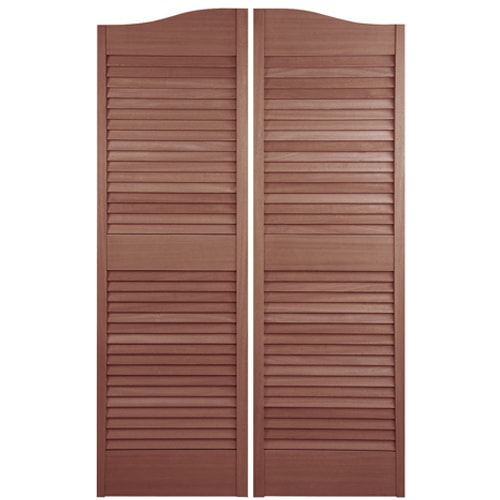 Custom Arch Top Louvered Doors adds a classy arch top to the doors while still allowing for extra ventilation with the louvre panels.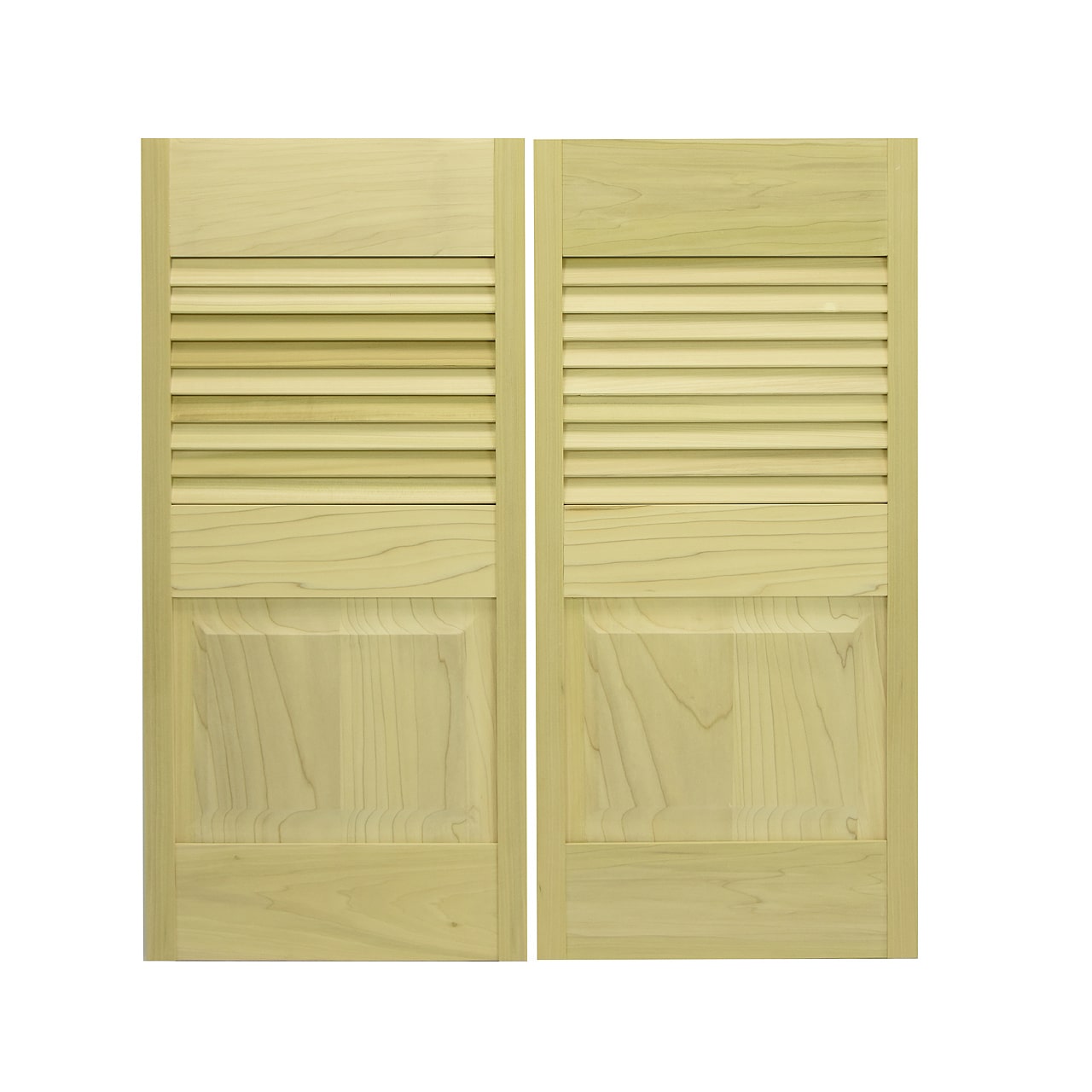 The Cape Cod Plantation Louvered & Panel Doors will give you the best of both worlds, a louvered design and panel design. The doors are a great option for all rooms.
Pantry | Closet Louver Doors
Pantry and closets call for louvered doors to allow for air flow and ventilation. Closet doors have been traditionally a louvered style for this reason.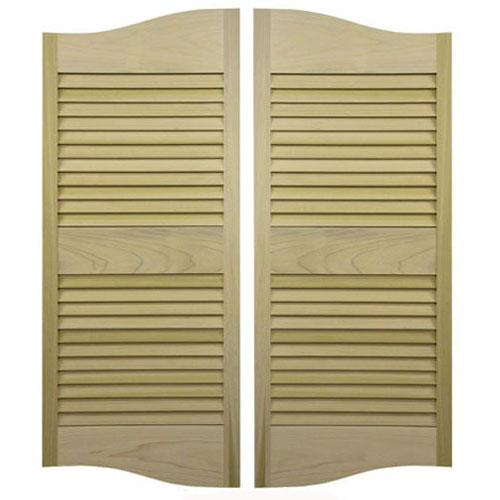 The Cottage Plantation Louvered Doors offers an arch top on the top and bottom. These doors will add character to your pantry and closet and offer partial coverage.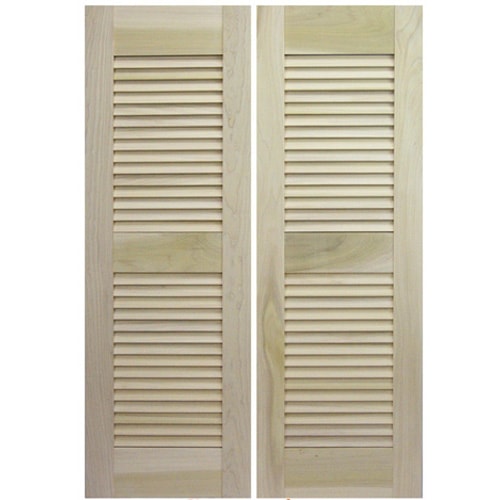 Louvre Doors- Commercial Saloon Doors are a more modern take on the louvre style door. The extra wide rails and stiles make the door stronger and provide a modern look on a traditional door.