Benefits of Commercial Swinging Doors
Durable doors in busy establishments like restaurants, hospitals, shopping malls, offices and warehouses are vital. An ineffective or weak entryway can make it challenging to move through buildings. It can also impact customer and staff experiences.
With commercial swinging doors, establishments can promote movement through different spaces, especially in high-traffic buildings. They can also add to their interior design and building value with custom and durable door designs.
Benefits of Heavy-Duty Commercial Swinging Doors
Heavy-duty commercial swinging doors offer many benefits. They are made with rigid materials like natural wood, steel and aluminum and can withstand high-traffic areas and wear. Commercial swinging doors are also easy to clean and operate and promote free traffic flow in busy places like restaurants, kitchens, hospitals, supply and break rooms and receptions. Here are some more benefits of commercial swinging doors:
Strong and Durable
Think about how often restaurant attendants rush through the kitchen doors laden with trays full of food and drinks. The attachment of push plates helps with protecting the door finish.
Commercial swinging doors are specially made to withstand the commercial environment. These swinging doors have wider rails and come in various styles, making them about 30% stronger. Commercial swinging doors also have kick plates to protect them from damage from foot traffic and constant kicks from vacuum cleaners and mops.
You can also opt to get doors with armor plates that protect your doors from damage caused by carts or trucks (we do not recommend using carts/trucks to open doors without armor plates).
Easy To Operate
Commercial swinging doors are easy to operate since they don't require you to use a doorknob. You can easily pass through them with your hands full. Your restaurant staff can efficiently deliver food orders without delay caused while trying to twist doorknobs.
These swinging doors are equipped with bi-directional hinges that are commercially rated. These high-quality hinges ensure that the swinging doors are restored to their place after you pass through. Swinging doors with push plates can easily be opened and protected from oils or dirt.
Provide Privacy
Commercial swinging doors enhance privacy in your establishment. With commercial swinging doors, you can easily block views from the customer to the kitchen, bar and similar. They prevent outsiders from getting a view of your operations. For instance, in a hospital setting, a patient will feel more at ease confiding in you when there are doors that ensure their privacy.
Versatility and Aesthetics
Commercial swinging doors come in various styles and colors, depending on your preference and taste. You can use them in different commercial applications and still provide the desired outcome. Some commercial settings include:
Educational facilities
Restaurants
Grocery stores
Warehouses
Office Spaces
Health Spas
Improves Traffic Flow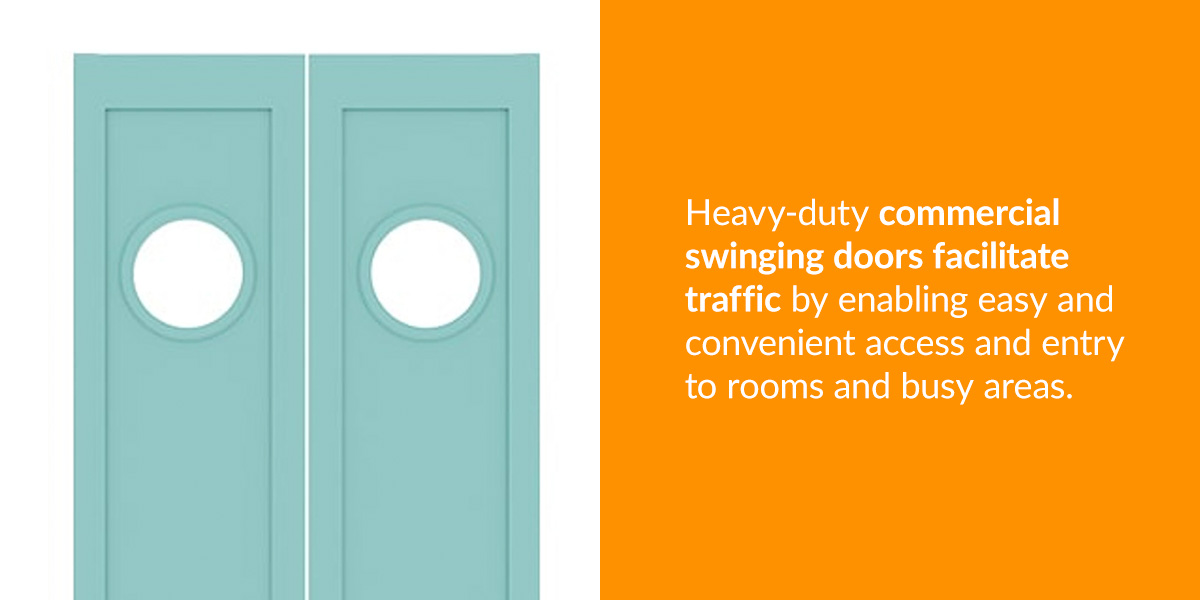 Restaurant kitchens, hospital admissions units and store supply rooms often have high traffic volumes. With staff running or walking back and forth in these areas, entrances and doorways can become congested. Without an organized traffic flow, teams can get in each other's way, causing accidents and delaying productivity.
Heavy-duty commercial swinging doors facilitate traffic by enabling easy and convenient access and entry to rooms and busy areas. Employees can move in and out of rooms efficiently by pushing on a swinging door, as the double swing feature prevents staff from pulling handles, holding up traffic and bumping into each other. It can promote seamless movement through walkways and busy areas, leading to better productivity and service.
Noise Reduction
Noisy kitchens, service areas and hospital lobbies can be distracting. Heavy-duty commercial swing doors are made with thick materials and round edges to help secure entryways and block out noise. With commercial kitchen swinging doors, restaurants can silence or muffle noise from meal prep and service areas, improving restaurant ambiance and customers' dining experience.
How Do You Keep Restaurant Swinging Doors Clean?
You can clean restaurant swinging doors by wiping them down with mild detergent, water and microfiber cloth daily. Restaurant staff often walk to and from the kitchen to the dining areas with food and dishes. Dirt, spills, bacteria and stains can build up in no time on your swinging doors. You can remove bacteria, dirt and stains by sanitizing high-touch areas on swing doors like the edges, window and center.
Choose High-Quality Commercial Swinging Doors
You can ensure efficient traffic flow and better organization productivity with high-quality commercial swinging doors that can withstand high-traffic volumes and wear. Commercial swinging doors are aesthetically pleasing and eye-catching. They have a modern and elegant touch that makes your business stand out. You can choose a color that complements your establishment's décor or brighten up your space.
Commercial swinging doors are robust, durable and easy to operate. Heavy-duty commercial models also have protection plates that provide additional protection against hazards.
Swinging Cafe Doors is your best bet if you require high-quality commercial swinging doors. Contact us today to get a quote.