Are Louvered Doors Out Of Style?
Louvered doors are still a popular door design. Louvers can be traced back to the Middle Ages, where they were used for ventilation of turrets. To this day, louvered doors continue to be used as closet doors, bathroom doors, and pantry doors. Louvered doors are used in today's modern, farmhouse, and traditional design concepts. These doors offer a versatile design that can work with almost any décor that your home currently has. Louvered doors are great as double swinging doors- lightweight, great design, many hardware options, and available in various lengths. Sometimes louver doors are referred to as shutter doors, slatted doors, louver, louvre, or louvered doors. The louver door design consists of a frame with horizontal wooden slats installed at an angle. The wooden slats are referred to as "louvre", making the term louvered doors.
Louvered doors are still being used in home's today because of their many versatilities.
Top 5 Reasons to Choose Louvered Doors:
Doors are lightweight

Allow for light to pass through slats

Air ventilation helps eliminate stale air

Allows for privacy- hard to look thru the slats

Variety of door design options and customizations

Can be made at different door heights and widths
Louvre saloon doors are perfect for closets or pantries where extra ventilation and air flow is important. The double action hinges will make opening the doors a breeze. Louvre saloon doors can be custom made in lengths from 38" tall to 95" tall. The doors can be custom made from paint grade wood, soft maple, ash, red oak, eastern white pine, and sapele. There are also stained wood and painted wood options available. Louvre saloon doors can be customized by door opening width, door height, and hardware options. Louvered saloon doors offers some great design solution vs other traditional bi fold doors.
Best Louvered Saloon Doors Design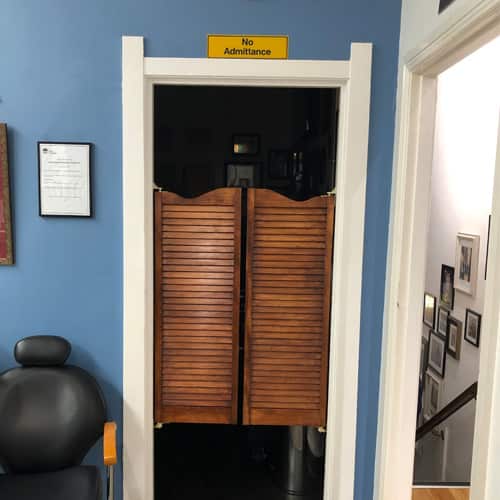 Quick ship louvre doors are in stock and ship same day or next day. Doors are made for standard door openings of 30", 32" and 36" in width and measure 42" in height at the tallest point. The doors are made from pine wood; they can be stained or painted. These doors are perfect for a pantry, closet, kitchen, or bathroom.
Plantation Louvered Saloon Doors
Custom-made Plantation louvre doors can be made for 24" wide openings up to 48" wide door openings. The doors are made for your exact door opening with allowance made for the gaps needed for hardware. Just send us your door opening size and we will do the rest. These doors are used in both commercial and residential settings.
Commercial Grade Louvre Saloon Doors
Custom-made Commercial louvre doors include extra wide rails and stiles for a more durable door. These commercial grade louvered doors can be made for door openings up to 60" wide. The wider rails and stiles will keep the double swinging doors sturdy and strong.
Cape Cod Planation Louvered Saloon Doors
Custom-made Louvre Over Panel Doors- This design combines the best of a louvered doors and a panel door. The louvered door still allows for the extra ventilation, air flow and privacy. These doors are a perfect combination for a bathroom, closet, pantry, or kitchen door. The double swing action of the hardware will allow for easy operation of the doors.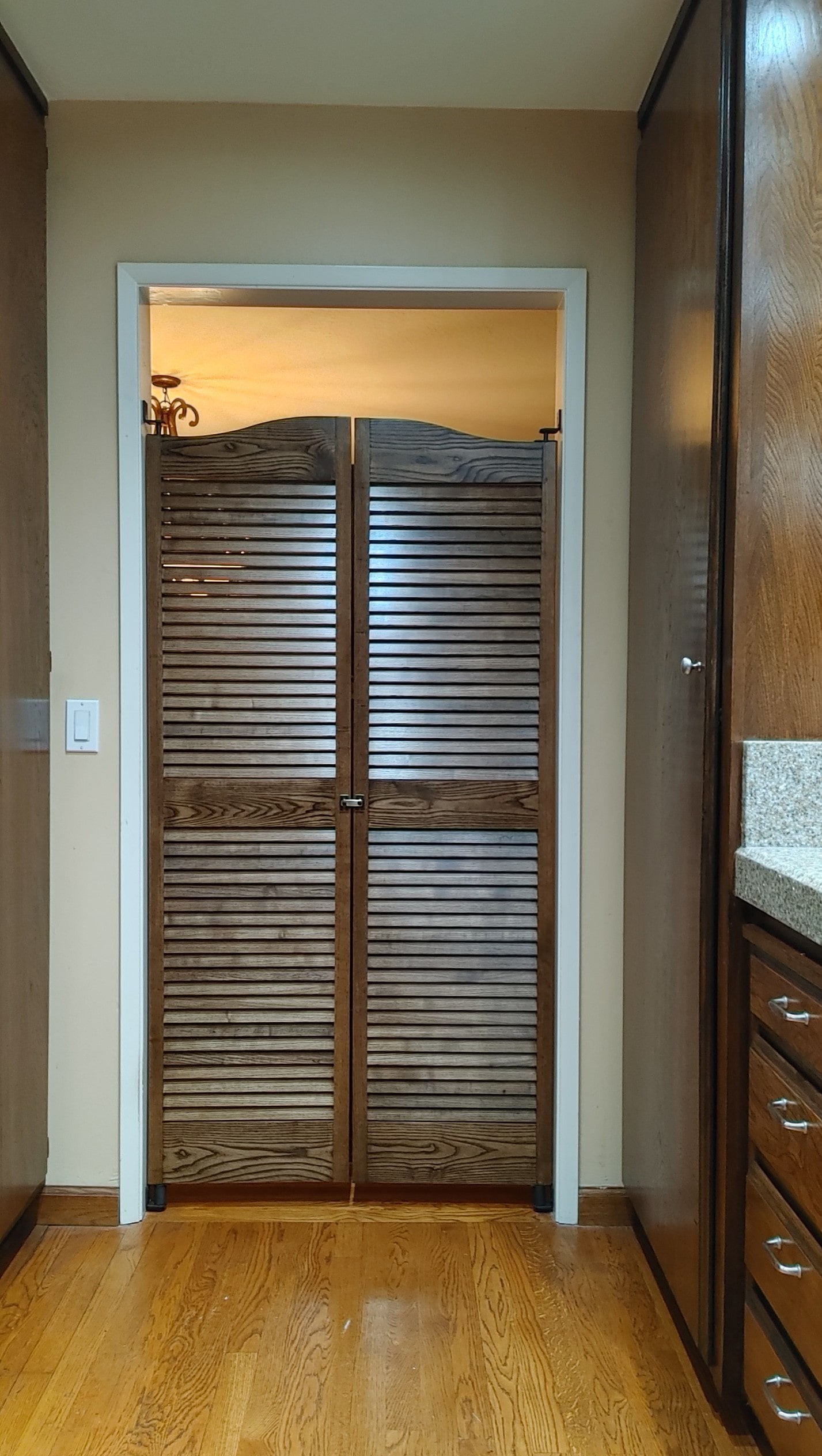 The arch on the custom-made Arch Top louvered door adds a classic touch to the design. These slatted doors add a new twist to the traditional louvre design. The Arch Top Louvered Doors can be customized for your door opening width, height, and hardware options.
Wild Western louvre doors were designed to achieve the look of Old Western saloon doors. The doors offer the icon arches that are typical of the Wild West. The double saloon doors are perfect for a man cave or a saloon, pub, or bar.
Louvered Saloon Doors Best Features
Double action hinges allow doors to swing in both directions

Doors self-return to center

Perfect for residential or commercial applications

Many design and customization features

Lots of hardware options and finishes

Allow for ventilation, air flow and privacy

Perfect for a bathroom, bedroom, pantry, closet, man cave, or home office
Whether you are looking for a full length louvered or a half louvered saloon door, there are many options available today. Choose your custom louver door today.